Recipe for eggless no bake mango biscuit pudding with graham crackers, fresh mango pieces and condensed milk. Learn how to make an easy mango biscuit pudding that's eggless and needs no baking or oven.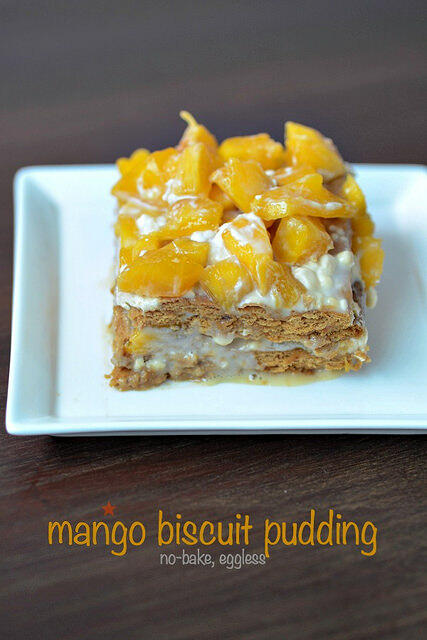 Since mangoes are in peak season now, I am buying batches of them happily and chomping away. Mango desserts are a favourite for TH and I so I was looking for a recipe that would be easy to prepare and delicious, like this no-bake mango cheesecake that's one of the most successful recipes on this blog.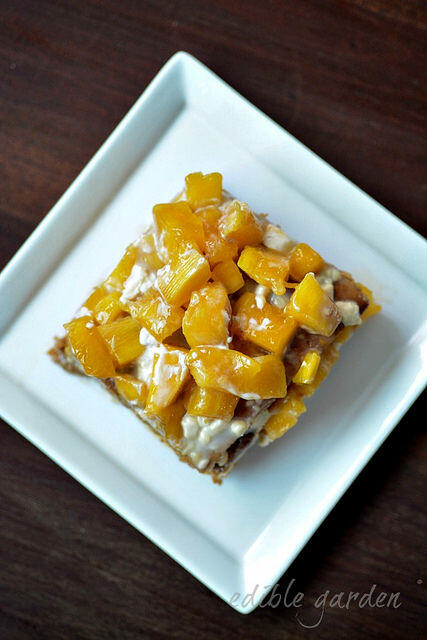 This recipe is based on the popular Filipino dessert mango graham cake which my sis-in-law made for the family in large batches when we were all in Kottayam last year. The best part about this dessert is that it uses delicious graham crackers, ripe and sweet mangoes, and condensed milk. No cooking, no baking. Just mix, layer, refrigerate, and bham – eggless no bake mango biscuit cake is ready!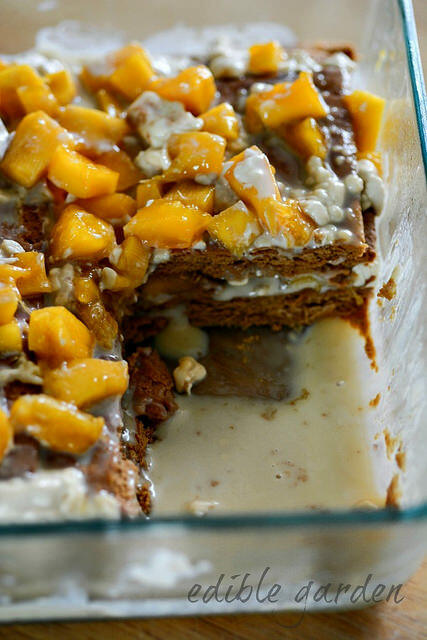 I took the step by step pictures to make this eggless no bake mango biscuit pudding in Kottayam when my SIL made it. The final pictures in the post are from when I made it last week back home in Singapore though so as you can guess, I have made this mango dessert a few times already. This is also the reason why the final pictures look a bit different. Since we were making dessert for over 15 people in Kottayam, SIL and I cheated and added a can of mixed fruits to the top of the pudding. It looked and tasted delicious so definitely something you can try too, especially if mangoes are too precious to be used in a dessert or they are not in season. I also added 2-3 tbsp of ricotta cheese to mine which is the lumpy cheese you see on the top of my dessert. That may not be seen in the step by step pictures so do bear with me.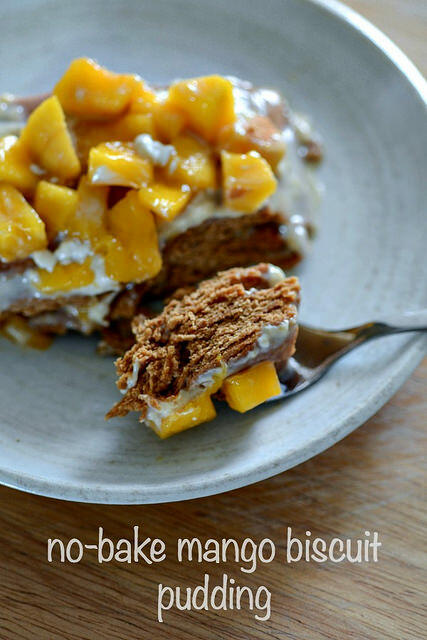 A few things to note when preparing this eggless no bake mango biscuit pudding:
As the name suggests, use graham crackers for best results. You can use Marie biscuits or digestive cookies as a substitute, I haven't tried this and can't attest to the taste though
Use very recipe mangoes for this dessert. Chop them up fine
You can use some canned pineapples, cherries, or mixed fruits as well
This is a layered dessert so you can adjust how thick you want the biscuits to be vs fruits and cream
Since the cream mixture has condensed milk in it, it's very easy to adjust sweetness to your preference. Generally, I use 1:3 ratio of condensed milk:cream especially if the mangoes are sweet and canned fruits are used (they tend to be quite sweet too).
Refrigerate for at least 4 hours. Anything less than that and your crackers won't have enough time to turn soft. You should be able to slice into it like a cake or pudding
This no-bake pudding recipe is extremely versatile, as you will see. Use as a guideline and adjust to taste
I like to have a thicker biscuit layer so I add two layers of biscuits in the bottom layers
If you try this recipe, please leave me a comment on my the Edible Garden Facebook page with a picture
Eggless no bake mango biscuit pudding
EGGLESS NO-BAKE MANGO BISCUIT PUDDING Preparation time: 10 minutes Chilling time: 4 hours Serves 4-6 Recipe source: my SIL
Ingredients
200 gram pack of graham crackers
150 ml of cream (I used Nestle cream)
200 grams of condensed milk (half a tin, approx)
3 cups of finely chopped, ripe mangoes
3 tbsp of ricotta cheese (optional)
200 grams of canned mixed fruits (optional)
Instructions
In a bowl, mix the cream and condensed milk together. Taste this mixture to make sure you are happy with the level of sweetness
In a wide rectangular container (either glass or plastic), start layering the biscuits without overlapping.
Evenly pour about ⅓ of the cream + condensed milk mixture over this biscuit layer
Now add an even layer of chopped mango pieces over the cream and biscuit layers.
On top of this, add another layer of biscuits
Pour another ⅓ of the cream mixture
Add more mangoes on top
Repeat this once more with biscuits, then cream mixture, then fruits, ending with 1-2 tbsp of cream mixture to drizzle on top of the fruits
For the top layer, you can use mixed fruits or if you prefer to just use mangoes, then you can do that too. My SIL even added some crushed Orios on the pudding for some added texture
Step by step instructions to make eggless no bake mango biscuit pudding:
Mix the cream and condensed milk in a bowl. If using ricotta cheese, add at this time. It stays in small clumps and adds a nice bite to the pudding. Adding ricotta is entirely optional, I did it only because I had a small amount left from making another dessert.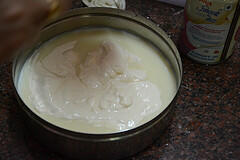 In a rectangular container, start layering the biscuits in a single (or double, if you'd like) layer.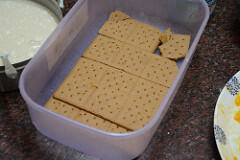 Add 1/3 of the cream mixture over the biscuit layer evenly.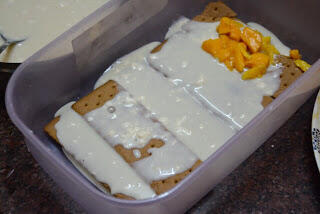 Top off with about 1 cup of chopped mangoes.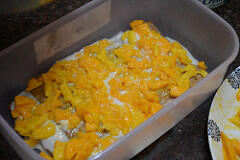 Now gently place the next layer of biscuits over the mango layer.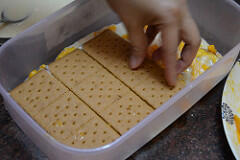 Repeat the layer of cream mixture over this and then mangoes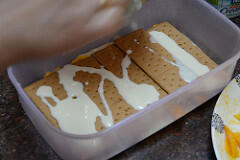 Repeat the above once more with biscuits + cream mixture + and then add the remaining mangoes or fruits mixture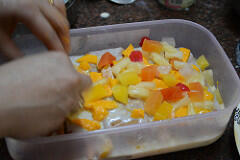 Finish with 2-3 tbsp of the cream mixture and some crushed Oreos if you prefer.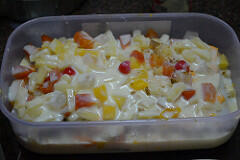 Close the container and refrigerate the mango biscuit pudding for 4 hours. Slice gently with a sharp knife and serve immediately. You can even keep some more of the cream mixture separately in the refrigerator and pour on top just before serving your mango biscuit pudding.
For eggless no bake mango biscuit pudding recipe in Hindi, Tamil, Marathi, Urdu, etc, please use the Google translate button in the sidebar.