Whole wheat chocolate chip cookies recipe: learn how to make chocolate chip cookies with whole wheat flour and jaggery or atta and gur a healthier alternative to regular chocolate chip cookies.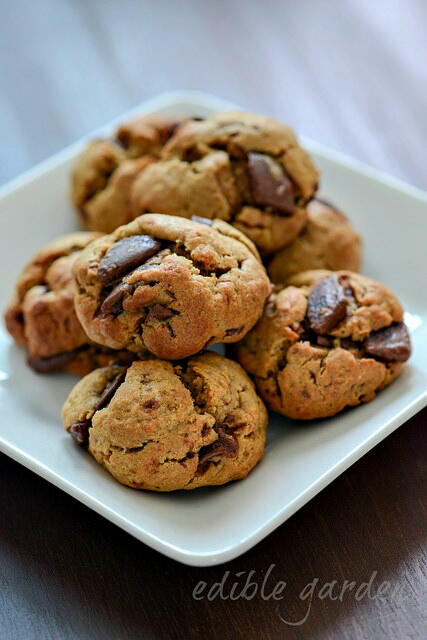 I prefer my cookies soft and fudgy, almost like brownies but still holding their cookie-shapes. This chocolate chip cookie recipe is not quite that but it's definitely a super quick way to get a tray full of warm cookies in a jiffy. Ever since I made brownies with atta, I have been sold on the earthy nutty flavour atta brings to baked goods. So more than the health factor, I love the taste and texture when adding atta to cookies and cakes.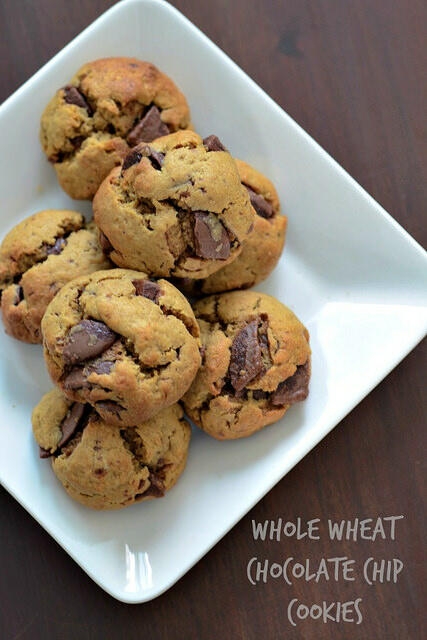 Jaggery (unrefined palm sugar) is very commonly used in traditional Indian desserts and sweets and even to add a bit of sweetness to savoury dishes like sambar and dal. It's considered healthier than bleached white sugar but more than that, jaggery adds a depth of flavour that regular sugar can't replicate and in baked goods, a bit of earthiness and nuttiness that I loved in the atta brownies recipe I baked up a few months ago.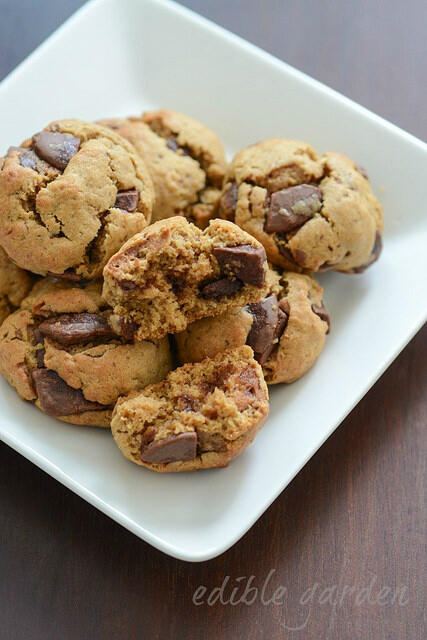 These cookies are rustic, soft, and make for a great snack. I had a little bit of cookie dough leftover with no space on the baking sheet so I placed it in a greased ramekin and microwaved it for 45 seconds to see how it would turn out. The cookie made in microwave had crisp edges and a soft middle which we gladly munched on while waiting for the baked batch of cookies to get done. Recipe adapted from here.
I love baking cookies at home and don't do enough of it but here are some of my favourites:
1 minute microwave cookie recipe
Torcetti cookies
Eggless chocolate chunk cookies
Spiral cookies
Eggless almond cardamom cookies
Print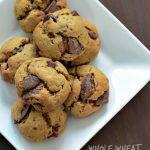 Whole Wheat Chocolate Chip Cookies
Author:

Prep Time:

10

Cook Time:

8

Total Time:

18 minutes

Yield:

1

0

1

x
---
Description
Whole wheat chocolate chip cookies are earthy and delicious, a great alternative to making cookies with regular flour and kid/toddler friendly too!
---
3/4 cup

of whole wheat flour (atta)

1/3 tsp

of baking powder
A pinch of baking soda

1/4 tsp

of salt

1/3 cup

of melted butter (see notes)

1/4 cup

of grated or powdered jaggery

1

egg

1/2 cup

of chocolate chips

2 tsp

of white sugar (optional)

2

drops of vanilla extract
---
Instructions
Preheat oven to 350F / 180C
Melt butter lightly in the microwave or warm bowl over the stove top. Measure out 1/3 cup after melting
Add jaggery and white sugar (if using) to the melted butter and give it a good mix
Now add the egg and vanilla and mix again. No need for any whisking or electric beaters, just mix with a spatula until well incorporated
In a separate bowl, mix together the flour, baking powder, soda, and salt until everything is well combined. I just used a spoon for this
Now add the dry ingredients to the wet ingredients and gently combine until no streaks of flour are visible
Next, add the chocolate chips (I used chopped chocolate chunks) and fold them in
You will get a fairly thick cookie dough. Shape them into smooth lemon-sized balls and place on a lined baking tray
Place in pre-heated oven and bring the temperature down to 320F / 160C. Bake for 8 minutes until the cookie spreads slightly and the edges are a golden brown. If you feel they are not done, bake another 2 minutes but 10 minutes should be enough
The centres may be a bit soft but the cookies will harden further on cooling so take them out even if you feel they are completely done at 10 minutes max
Cool on the baking tray for 10 minutes and then transfer to a wire rack to cool completely
Store in air tight containers for up to 3 days
---
Step by step pictures for making whole wheat chocolate chip cookies:
Place butter in a large microwaveable bowl.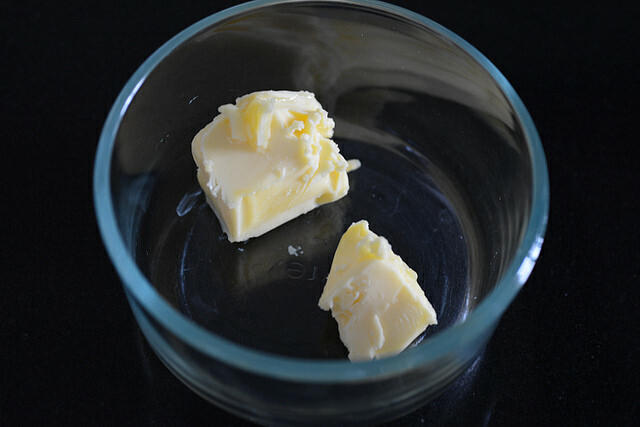 Microwave on high heat for 15 seconds or until the butter has most melted but is not bubbling hot. It's ok to have some pieces left like in the picture below.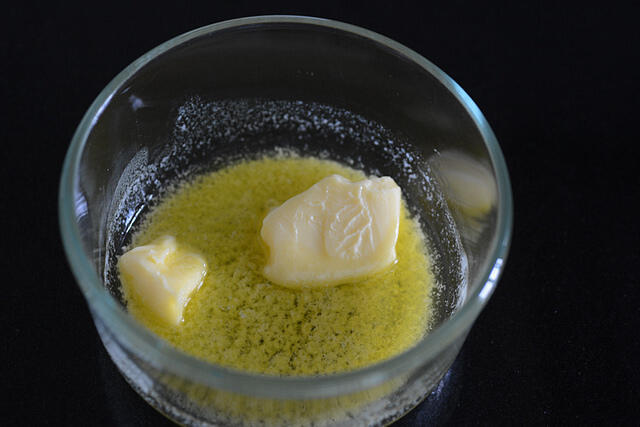 I had to transfer the butter to a large bowl since I didn't use a large enough one to start with but just use a large bowl for the butter so you can continue in the same bowl.
Add jaggery and sugar (if using) to the butter. White sugar helps cookies spread when baking which jaggery doesn't do which is why I added some. Even then my cookies were quite chubby (which I like!). If you don't want to use any white sugar, that's fine too. Just press down the cookie balls gently before baking so they take a flatter shape.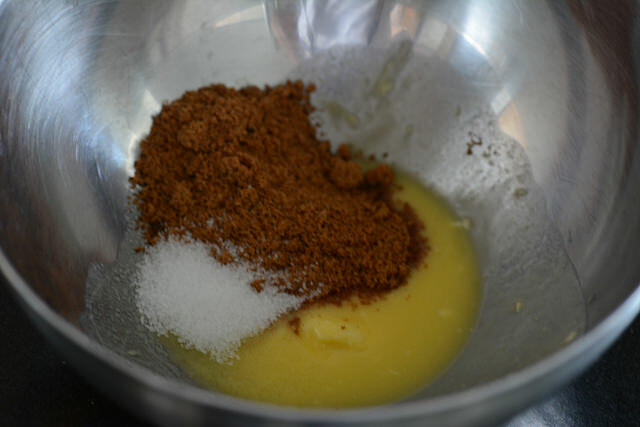 Mix the sugars with the butter well and then add the egg and vanilla. Mix again with a spatula until well incorporated.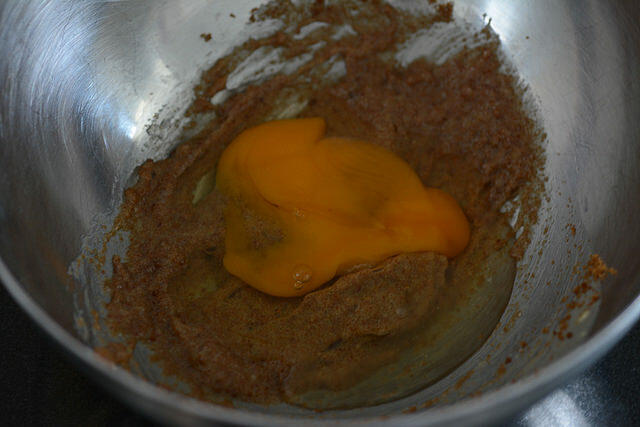 In a separate bowl, add the flour, salt, baking powder, and soda.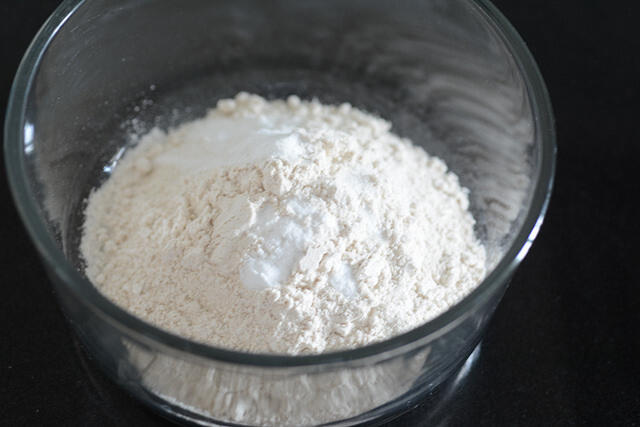 Mix thoroughly with a spoon or fork until you are sure everything is well combined.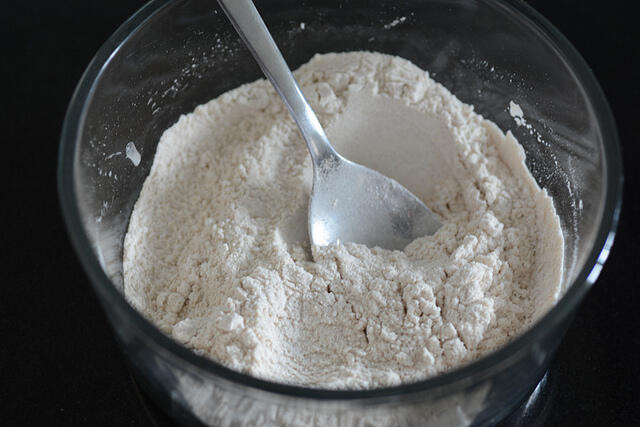 Now add this dry mixture to the wet mixture.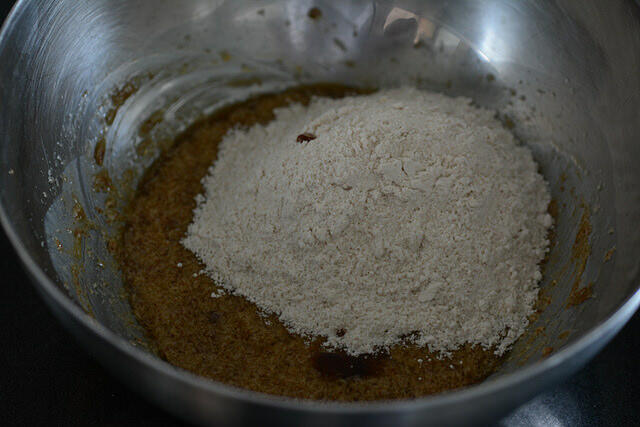 Gently fold using a wooden spoon or spatula until you don't see traces of flour anywhere on the dough (please ignore the traces on my spoon itself)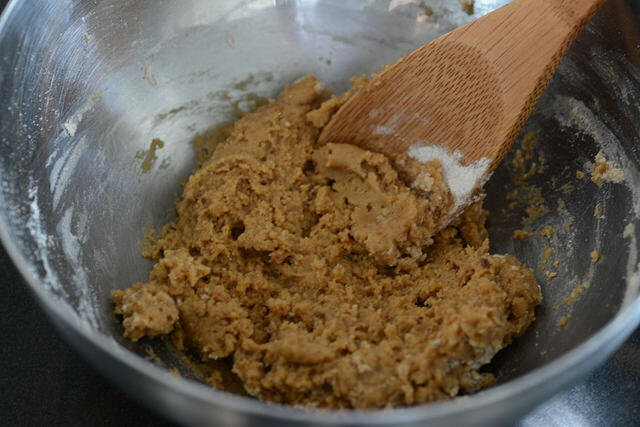 I chopped up some chocolate chunks for these cookies since I was out of chocolate chips. Really doesn't matter as long as you figure out a way to get some chocolate into these cookies.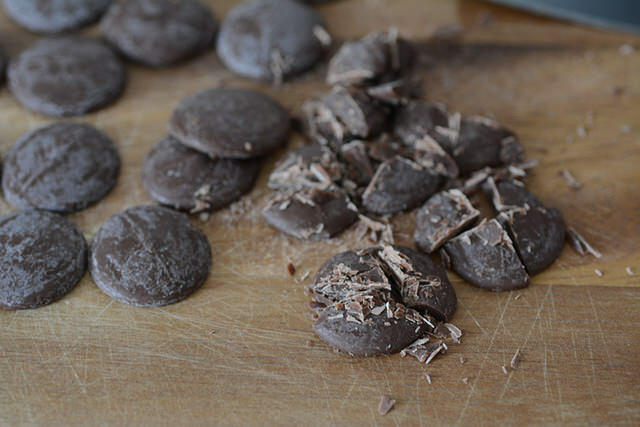 Add this to the cookie dough and gently fold in.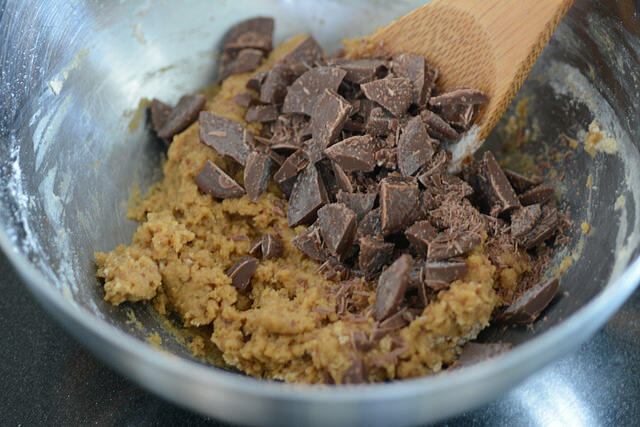 The dough is ready. It will be fairly thick.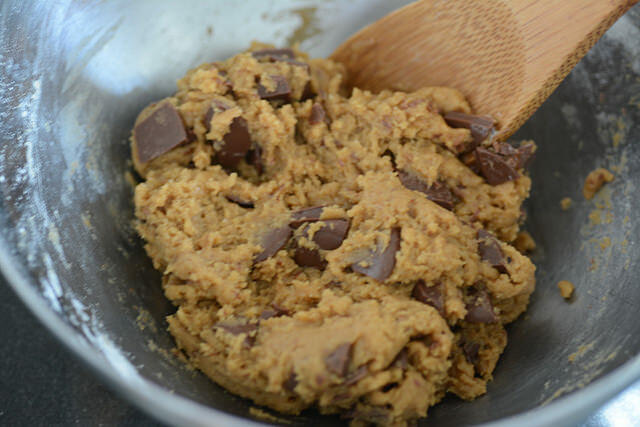 Line a baking tray with butter paper or baking paper. Make lemon-sized balls of the dough and place about 3″ apart on the tray.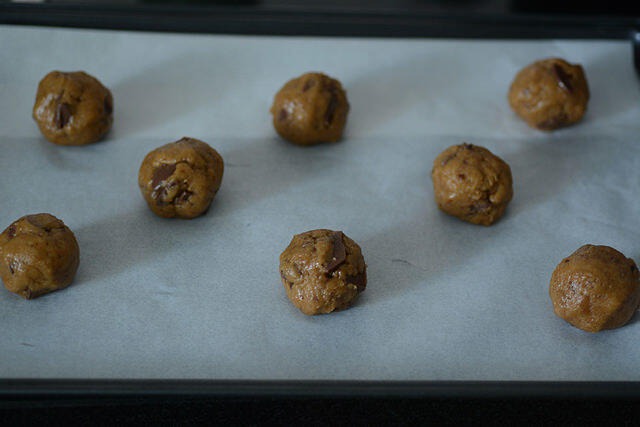 Place in the pre-heated oven (350F/180C) and bring down temperature to 320F/160C. I only needed about 8 minutes to get them a light golden brown. The centres are better left a bit soft since they continue to bake out of the oven too.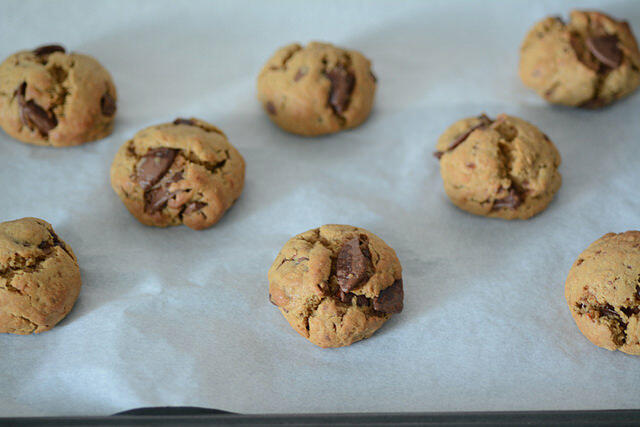 To bake whole wheat chocolate chip cookies in the microwave:
If you just want to bake a single-serve cookie, then check out my microwave chocolate chip cookie recipe below. This dough also works if you bake in the microwave though.
I greased a ramekin with some butter and pressed the dough lightly into it.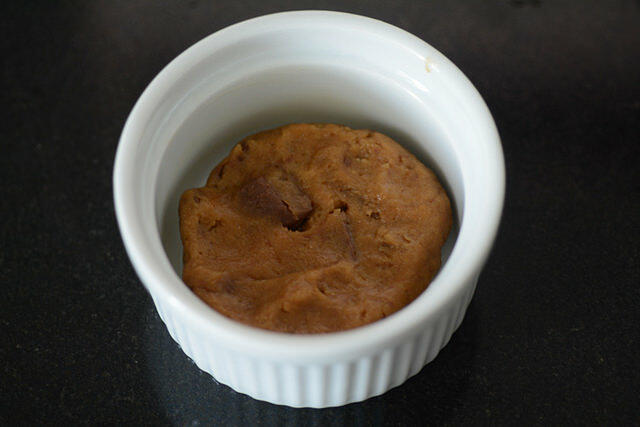 Bake for 45 seconds in high heat and check to see if it's done. Since each microwave is different, you have to do some trial and error here.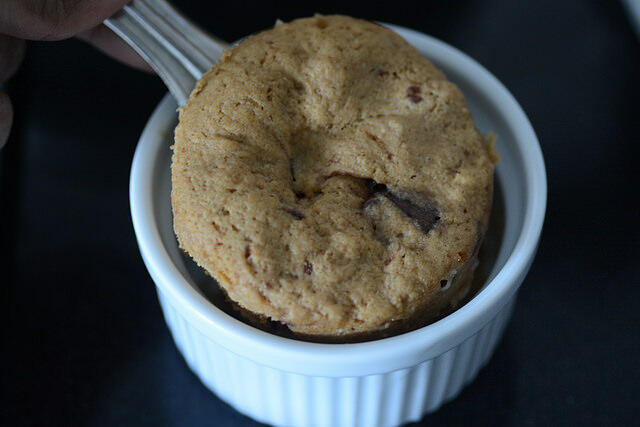 At the end of 45 seconds, mine was perfect. Transfer to a plate to cool and dig in! Some vanilla ice cream on top of this would be perfect too.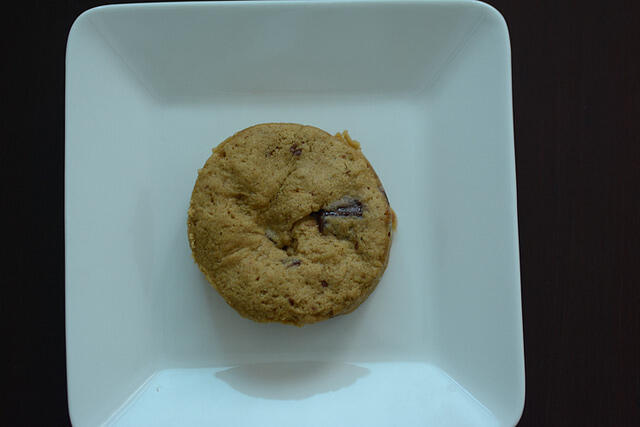 Note:
You can substitute regular white flour for the whole wheat flour and use brown sugar instead of jaggery.
Please share a comment below if you end up trying these wholewheat chocolate chip cookies. If you share a picture of your creation on my Facebook Page, I'd love to feature it there too.
For whole wheat chocolate chip cookies recipe in Hindi, Tamil, Malayalam, Urdu, Kannada, etc please use the Google translate button in the sidebar.