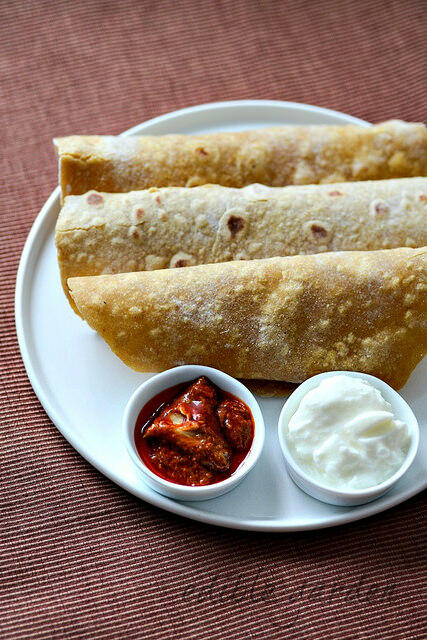 Dal ki roti is roti or chapati made by adding cooked dal or lentils to the atta (wheat flour) while kneading. My mom often experiments with various ingredients while kneading chapati dough including boiled and mashed potatoes, butter, ghee and pureed spinach, even cooked rice. However, this interesting idea was shared by a good friend recently. She has two kids and says it's tough to get them to eat dal as such so she just makes roti dough with cooked dal and other vegetables like spinach and tomato so that they don't realise they are eating all of these healthy things. Mothers and their creativity! Thank you Sri for this idea 🙂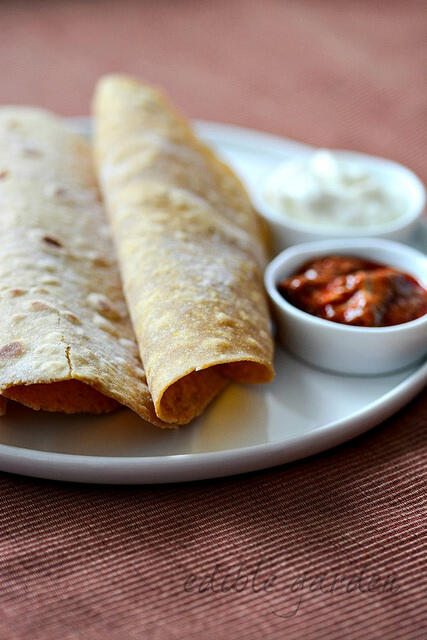 Back to our recipe in hand, dal ki roti. This chapati recipe is customisable in dozens of different ways. The basic method is to cook toor dal or moong dal into a mush with turmeric and use that to moisten and knead roti dough. Beyond this, you can use your imagination. Here are a few suggestions:
– add spinach, tomatoes, peas, carrots, or any vegetable that can cook to a smooth mush. This is important for smooth rolling of the roti
– add spices like jeera, chilli, etc
– add fresh or dry herbs like kasuri methi, coriander, pudina, methi, etc
So many options!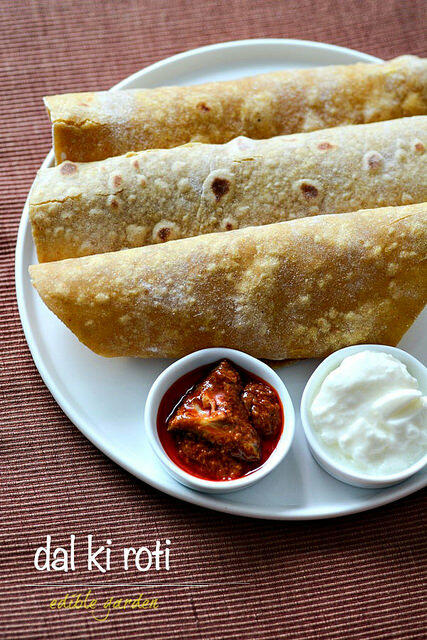 For more paratha, roti, and flatbread recipes, check out:
Gobi paratha
Paneer paratha
Methi thepla
Methi paratha
Maida poori
Corn poori
Poori bhaji
DAL KI ROTI RECIPE
Preparation time: 30 minutes
Cooking time: 15 minutes
Makes 7 rotis
INGREDIENTS:
1.5 cups of atta (whole wheat flour)
3 cups of cooked and mashed toor dal (see notes)
1/4 tsp of turmeric powder
1/2 tsp of cumin powder
1/2 tsp of chilli powder
2 tsp of ghee or oil or butter
INSTRUCTIONS:

To make the dough:
First, pressure cook the toor dal turmeric powder until mushy and soft. I added 3 cups water to about 1 cup dal. Let this cool down.
Meanwhile, measure out the atta and add the cumin powder, chilli powder, and salt to taste. Mix well to combine the dry ingredients.
Add the cooked dal to this and start kneading into a soft dough that's not sticky. You can add more water if needed but this depends on how much water you added when cooking the dal so take care and add dal mixture little at time.
When the dough comes together, add the ghee and knead again to get a smooth, elastic dough. I don't kill myself kneading roti dough, around 5-6 mins of kneading should be enough.
Set the dough aside for 30 mins or so before making the rotis. You can also refrigerate this up to 3 days (I have kept it even longer but try this at your own risk).
To make the rotis:
Heat an iron tawa or non stick pan
Make large lemon-sized balls with the dough and flatten between your palms.
Dust generously with atta and roll into an even thin circle. You can actually adjust the thickness to your preference, I keep it fairly thin.
Dust off the excess flour and place on the heated tawa.
Let one side cook before flipping over. You can add more oil or ghee if needed. If you plan to pack the rotis or keep for a while before eating, then I recommend adding a few drops of oil when cooking to maintain softness.
When both sides are cooked to a golden brown with dark brown specks, you are done.
Stack dal rotis on a plate and serve hot with pickles and curd
Step by step pictures to make dal ki roti:
Cook 1 cup toor dal with about 3 cups water and 1/2 tsp turmeric powder in a pressure cooker. The dal should be fairly thick as you see below. If it's more watery, that's still ok, you just won't have a lot of dal in your rotis. I had to add some water when kneading the dough since my dal was quite thick.
Set aside the cooked dal to cool or at least become warm enough to handle easily.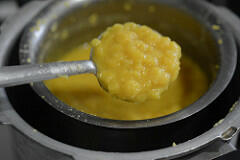 In a wide bowl, take your 1.5 cups atta + 1/2 cumin powder + 1/2 tsp chilli powder and salt to taste. Mix well to combine the ingredients.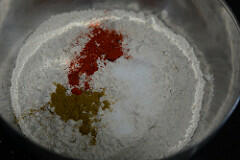 Now add the cooked dal and some water if needed. Knead into a soft, pliable dough.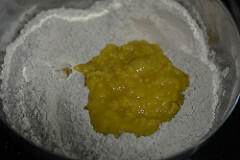 When the dough starts to come together, add the 2 tsp of ghee and knead again to bring it together. Make sure the dough is not sticky to touch. When you mix fat to the atta while kneading, that results in very soft rotis since it breaks the gluten in the flour down easier. So adding some fat to flour when kneading or cooking is recommended, rather than making dry chapatis.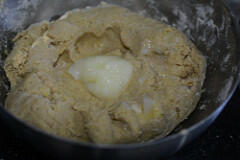 Cover and set aside for 30 minutes or refrigerate the dough for up to 3 days.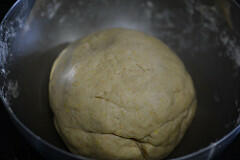 When you are ready to start making the rotis, heat an iron or non stick tawa or pan.
Pinch out a large lemon-sized ball of dough and form a smooth ball between your palms. Flatten slightly and dust generously with more atta.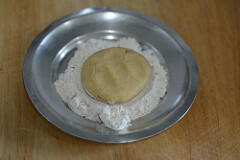 Roll out into a thin (per your preference), uniform circle.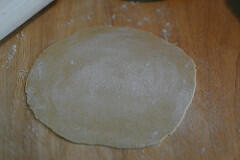 Place on your heated pan and cook on medium-low flame until small puffs of air pockets appear on the surface of the roti. Add a few drops of oil or ghee to this if you desire.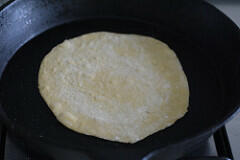 Flip over with a spatula and cook the other side until brown spots appear on the surface. The rotis won't puff up too much but will be very soft nevertheless.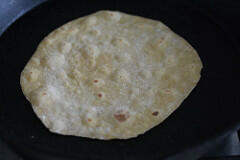 Repeat the process until all the dough is used up. Serve dal ki roti hot with curd and pickles or any side dish of choice.
Notes:
– I have mentioned this a few times but you will have to use some judgement for quantity of dal and water needed to knead the dough
– Customise the dal mixture to your preference. Add vegetables, herbs, etc to your liking. Just make sure to cook everything very soft and mash it up before kneading so that the rotis turn out smooth
– You can store this dough in the refrigerator. I kept mine for up to one week but this really depends on a lot of factors so don't keep it more than 3 days if you are worried about the dough spoiling
– You can skip the ghee while kneading the dough and just brush more when cooking. I prefer to add oil or ghee to the dough and skip it while cooking unless I am packing rotis for our lunch
If you try this recipe, do let me know and share a picture on my Facebook page.
For dal ki roti recipe in Hindi, Marathi, Tamil, Telugu, Urdu, etc, please use the Google translate button in the sidebar.