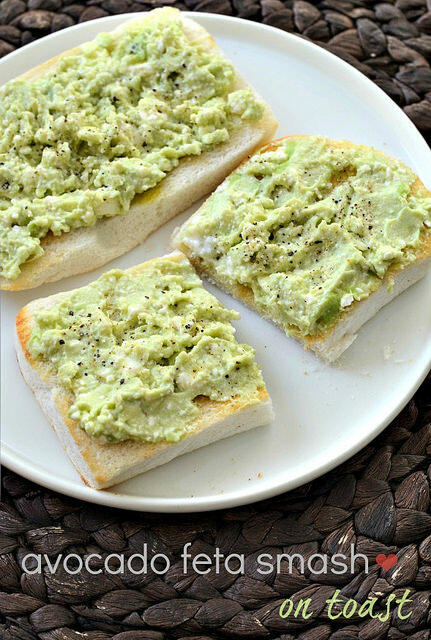 Avocado and feta mashed together with a little lime juice, pepper and salt. It really doesn't get simpler than this but this sandwich, which can either be served open-faced or otherwise, is a very popular brunch item in Australia. Although very good quality feta cheese was available in Sydney and avocados were fabulous when in season, I never made avocado feta smash for our weekend toast in my entire year in Australia.
I love cooking with avocado, especially after the doctor recommended a moderate portion of it in both TH's and my diet to bring up the levels of good cholesterol. We both love guacamole but I have found other ways to add avocados in our diet, including:
avocado mango milkshake
grilled guacamole cheese sandwiches
avocado egg salad sandwiches
avocado milkshake
and these delicious eggless chocolate cupcakes using avocado
Avocados have more potassium than bananas and are very high in good fats and fibre, both of which are helpful for balancing your diet. Now, the marketer in me knows that a lot of this info has been forced on us to increase the sales and export of avocados but I liken this to how the coconut oil made a comeback in recent times and now there are so many recipes incorporating them, whereas generations of Malayalis (among others in South East Asia) always knew this and reaped the benefits. So yes, I am a fan of avocados and love its buttery texture and versatility.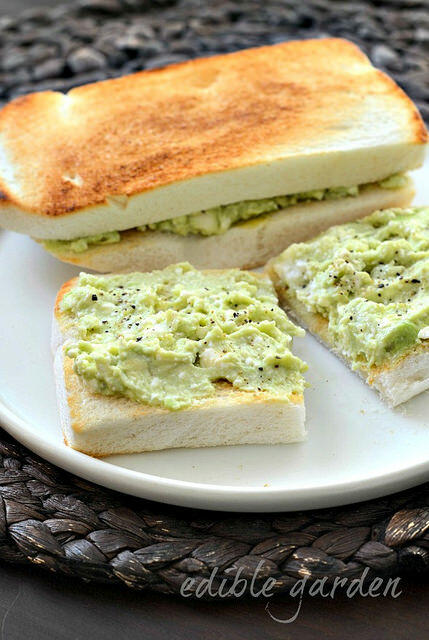 After the move back to Singapore, I went in search of good avocado during one of my more nostalgic moments (in case you live in Singapore, the hard kind you see in Fairprice supermarket is a no-go for this recipe, or any avocado recipe for that matter). When picking avocados for a dish, make sure it gives in to gentle pressure and is a darker brown/black colour. Also, when picking out feta cheese to make this sandwich, make sure it's unflavoured. Fresh Greek feta works well or the one from Lemnos brand will do in a pinch too. Both lime or lemon juice work well but I personally prefer using lime juice.
AVOCADO FETA SMASH ON TOAST
Preparation time: 5 minutes
Cooking time: 8 minutes
Serves 2
INGREDIENTS:
1 ripe avocado
1/2 cup of feta cheese
1-2 tsp of lime or lemon juice
1/2 tsp of freshly cracked black pepper
1 tbsp of butter (optional), for the toast
INSTRUCTIONS:
Place the feta cheese in a bowl and crumble it until fine, with a fork or your fingers.
Cut open the avocado and scoop out the flesh. Add it to the feta cheese.
Add in the lime juice. I love the sourness of lime and always add more than required so use your judgement here.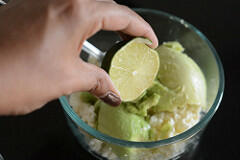 Using a fork, smash the ingredients together thoroughly until well blended. The feta cheese tends to be quite salty so I didn't add any more but do a taste test and see if you'd like to add some salt to this. If not, set aside and prepare the toast.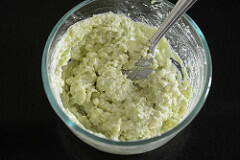 Heat an iron or non-stick pan and thrown in some butter. This is optional, I didn't use any butter but it definitely tastes better if you do use some.
A few words on the bread I used. In Singapore, there are local coffee shops or Kopitiams that serve tea/coffee, soft boiled eggs, and toast with kaya butter. The bread they use for this toast is what I have used there. They are crustless, longer than normal, and incredibly soft. On toasting, they turn very crisp and really delicious.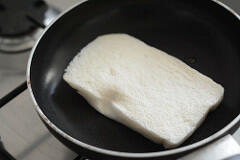 If you don't have access to this, you can use any bread you have handy. Rye bread is said to taste great with avocado feta piled on as well.
Ok so toast the bread golden brown and then add as much topping as you'd like. Sprinkle black pepper on top, to taste.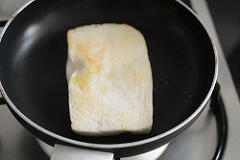 You can serve these sandwiches open-faced or place another toasted slice of bread on top and go for it. A great brunch or breakfast item if you are looking to start your day on the right note.
If you try this avocado feta smash recipe, do share a picture with me on my Facebook page. I'd love to feature it. Thanks!