Sesame or til ladoos
are probably one of the easiest sweets you can make for Diwali or any festival. Traditionally, sesame ladoos are made with just two ingredients – sesame seeds and jaggery. However, in this
sesame coconut ladoo recipe
, I have added some desiccated coconut to make things a bit more interesting and also cooked the jaggery a bit to make the ladoos taste more candy-like. These ladoos are still very easy to make and take less than 30 minutes from start to finish. So here's wishing you a very sweet Diwali 2014 in advance with my list of
12 Diwali Sweet Recipes under 20 Minutes
.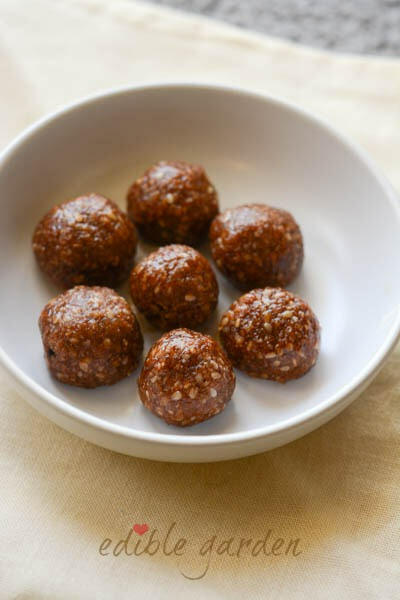 During the last few days in Sydney, I made a lot of odd things. Like many batches of almond cake and small sweets and modaks. I snacked on the mostly since I had a break between jobs but I also gifted a lot and realised how much I like cooking or baking for others. These ladoos were made one evening when I was bored out of my mind. I didn't look up any recipe, rather just threw some things into a pan and cooked it down. In retrospect, cooking the jaggery to the right consistency make have yielded nicer ladoos but these were really very good too and probably easier than waiting for the jaggery to reach a "hard ball" consistency, etc.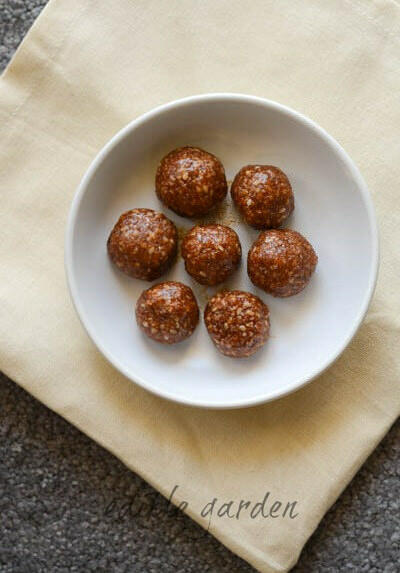 Diwali is probably my favourite time of the year, especially being a food blogger. I hear from many of you on recipes you've tried and it's extra special when you share festival menu pictures with sweets and snacks.
Making sweets for Diwali doesn't need to be an arduous task. Here are some quick and easy sweets for you to get started – 15 min coconut ladoo recipe, 15 min date and nut ladoos, 15 min apple kheer recipe, 10 min microwave palkova recipe, and my favourite badusha recipe if you have some more time in hand.
COCONUT SESAME LADOO RECIPE
Preparation time: 5 minutes
Cooking time: 15 minutes
Makes 10 ladoos
INGREDIENTS:
1 cup of sesame seeds (white and black would work)
3/4 cup of grated or powdered unsalted jaggery (palm sugar)
1/4 cup of desiccated coconut
1 tsp of ghee or butter
INSTRUCTIONS:
Coarsely grind the sesame seeds
Add the jaggery, coconut, and sesame seeds to a non stick pan and cook on low flame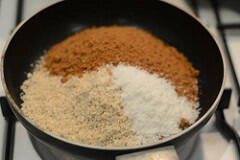 Add 1/2 tsp ghee mix well to cook on low heat.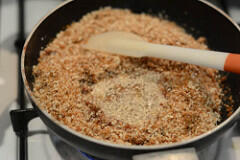 You'll find that the jaggery melts and becomes sticky, making it harder to stir but don't stop. Keep stirring gently on low heat.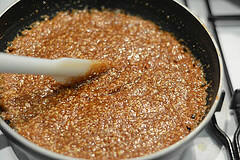 In about 12-15 mins you'll end up with a thicker mass that leaves the sides of the pan. Keep going until it gets fairly thick and nearly impossible to stir further.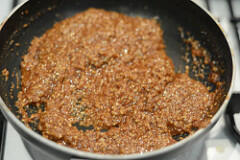 Remove from heat and let it cool down enough for you to handle comfortably. Grease palms in some ghee or butter and roll into small ladoos.
These ladoos stay at room temperature for 2 days or refrigerated for up to 4 days. Some softening of the jaggery is normal since we didn't cook it to the right consistency, etc. Doesn't affect the taste of the coconut sesame ladoos at all.
Enjoy, and wishing you lots of delicious sweet-making time this Diwali.