Learn how to make vegetarian mushroom pulao at home using fresh mushrooms, some basic spices from your pantry, and cooked (or even leftover) rice.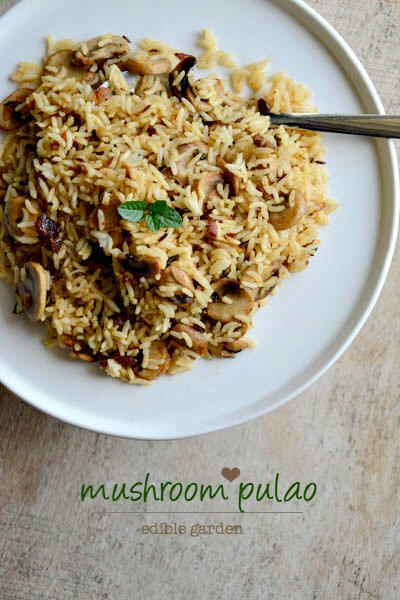 Pulao is a no-brainer for lunch boxes and entertaining. I mean, let's be honest here. It's not very often that you have dishes that look well-rounded, colourful (mostly), and like you put in way more effort than you actually did but a well-made pulao is definitely one of them. While I like to play it safe and add a simple vegetable pulao to my menu when I have guests, it's fun to play around and make something different once in a while which is how this mushroom pulao happened. Always check with your guests if they like mushroom though, I know many people who don't really like the texture of mushrooms.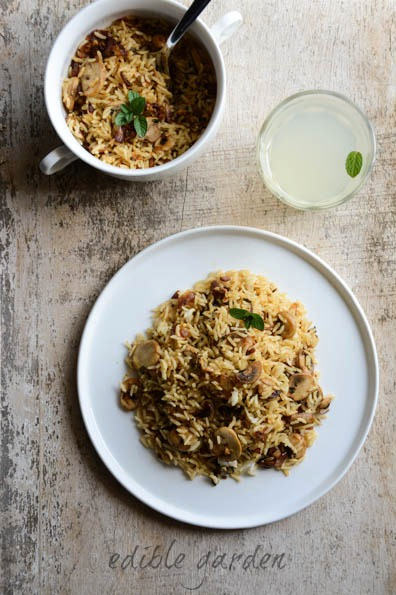 In the Nags-TH household, we love mushrooms. Mushroom tikka, mushroom biryani, mushroom fried rice, just bring it on is what we say! I often tell TH that he loves all meaty ingredients – like soya chunks – but mushrooms are probably his favourite mainly because they absorb flavours well and add a lot of bite to anything they are made with. In Sydney, we were lucky enough to get very fresh Swiss brown and button mushrooms that barely even had any mud on them. They were also always packed into brown bags and never plastic since plastic sweats and that makes the mushrooms go brown if you plan to store them in the refrigerator for a day or two. There you go, free tip to go with the pulao 😉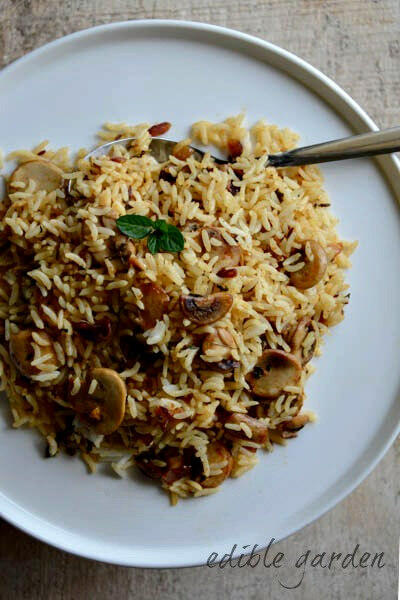 In all of the dishes that I truly experiment with, pulao recipes really top the list. I have made them many different ways, with different types of spices and ingredients. One complaint I get often from TH is that while he loves a simple pulao even more than a biryani, he hates biting into whole spices. So this time, I compromised and ground the spices into a powder before adding them. I think whole spices are the real deal and really make a pulao special but hey, sometimes you need to please the people you are serving the food to and so I caved this time. I also made this in less than 20 minutes with some leftover rice I had so if that's the route you take, you are looking at a really quick and easy dinner idea for a weeknight. Mushrooms pack enough nutrients to make this an almost balanced meal but make a simple kachumber salad or a cucumber raita.
Here are some more pulao recipes I've shared in the past:
pressure cooker vegetable pulao
methi pulao
paneer tomato pulao
spinach pulao
green chana pulao
EASY MUSHROOM PULAO RECIPE
Preparation time: 5 minutes
Cooking time: 15 minutes
Serves 2
INGREDIENTS:
2 cups of cooked rice
1 cup of mushrooms (any kind you prefer), sliced
1/2 cup of finely chopped onions
1 tsp of ginger garlic paste
1/2 tsp of red chilli powder (adjust to taste)
1 tsp of kasuri methi (dried fenugreek leaves – optional)
1 tsp of freshly squeezed lime juice
2 tsp of powdered whole spices – cardamom, cinnamon, cloves
2 tbsp of ghee, butter, or oil
1 tsp of cumin seeds
INSTRUCTIONS:
Heat the oil (butter or ghee) in a pan and add the cumin seeds. When they sizzle and turn a light brown, add the chopped onions and fry until golden brown. Add the ginger garlic paste at this stage.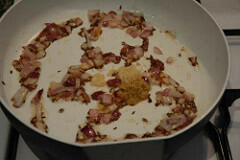 Saute for another minute or so and add the sliced mushrooms. Saute another two minutes on medium-high heat and add the chilli powder and kasuri methi (if using). Mix together well.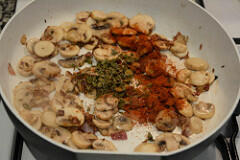 Immediately add the powdered whole spices and mix again, lowering heat to medium-low. Fry for 30 seconds. Add salt to taste.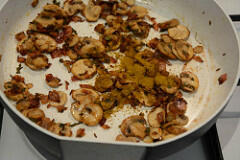 Add cooked rice and the lime juice. Mix thoroughly to combine and add more salt and lime juice if needed to balance the flavours.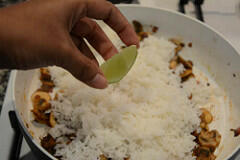 Done! That was easy, right? Let the pulao sit for a bit so the flavours have time to become friends.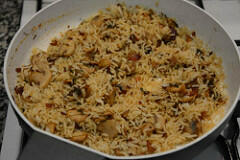 Serve mushroom pulao warm with some raita or any vegetable curry of choice. Some papad wouldn't be a bad idea either.
Notes:
Mushrooms turn brown rapidly on contact with water so a better way to clean them would be to use a clean toothbrush and gently brush the dirt and grime away. Finally use a kitchen towel to wipe all over. This process takes more time but when cooking just for TH and I, I find take the time to do this pays out
You can add green chillies instead of chilli powder, and garnish with freshly chopped coriander leaves instead of using the kasuri methi
Add sliced garlic and omit the ginger for a different, milder flavour
Throw in some frozen vegetables to make this a one-pot, wholesome pulao
Add some paneer to make a paneer mushroom pulao – yum!
It's important to cook the mushrooms on high heat and stirring constantly since otherwise they'll let water out and that'll dilute the taste a bit
I'll stop talking now. Go make some healthy mushroom pulao now and enjoy!