Learn how to make
vegetarian Pad Thai
– the vegetarian version of popular Pad Thai rice noodles from Thailand. Pad Thai is a great example of the balance of textures and flavours in a single dish, something Thai cuisine handles so well. While I make vegetable noodles quite often for a quick dinner, this is a Thai noodles recipe and so requires a bit more preparation and planning for me. Once you buy the basic ingredients like soya sauce, it should get a lot easier to make some impromptu though.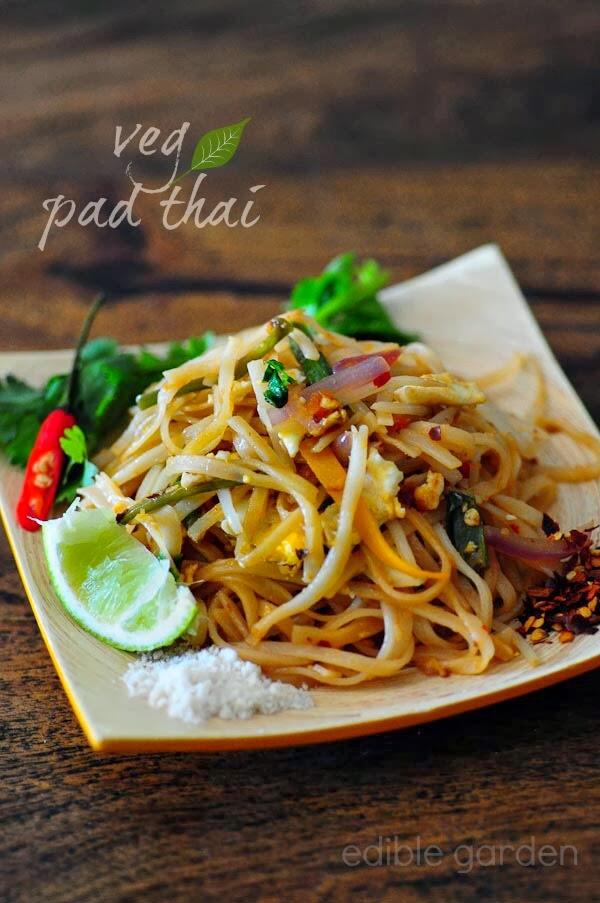 I have said this many times but it's worth repeating – TH and I love Thai food and in the years we spent in Singapore and now in Sydney, we often crave a good Thai meal and seek out restaurants that serve vegetarian Thai dishes. In our quest to find a repeat-worthy pad thai and drool-worthy green curry, many restaurants have come and gone through our list of to-eat places. In spite of my love for Thai food, I have not ventured much into cooking my own except for the vegetarian tom kha soup I made ages ago and more recently, vegetarian green curry paste and Thai green curry recipe with vegetables.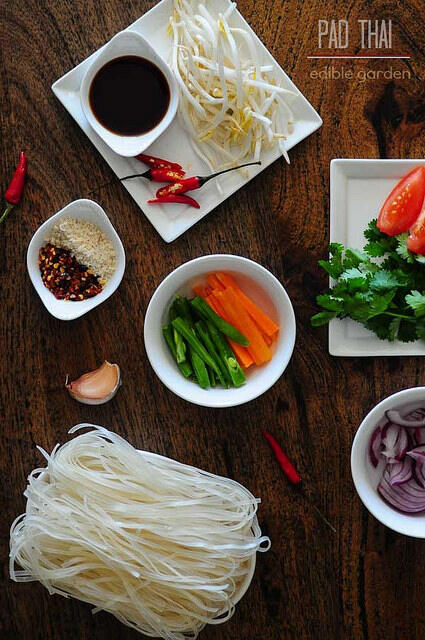 I can't think of why it took me so long to plunge into the world of Thai cooking. The ingredients were most readily available in Singapore (except Thai basil which for some reason always remained elusive) and there's a great Thai grocery store I frequent in Sydney too. So it's not the ingredients, I just felt I didn't know where to start. So to solve this, I attended this lovely vegetarian Thai cooking class in Bangkok – at May Kaidee's. Sala from Veggie Belly had taken their classes in Chiang Mai and I looked them up when I was in Bangkok. A morning well spent. The class was intimate with just 3 of us, very hands-on, and taught more things than they promised. We came back stuffed, happy, and all set to make our own tom yum paste and green curry paste from scratch.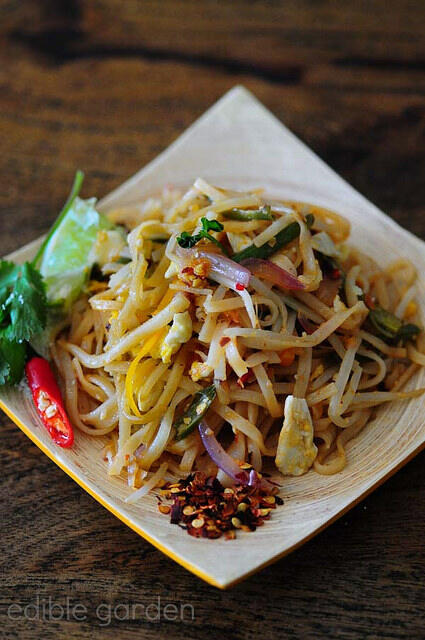 This pad thai recipe is adapted from what we learnt in class. I had to make do with the Thai soya sauces available in Sydney so the brands and type are a bit different. I felt like everything we made in class was absolutely delicious and this pad thai (this is my third attempt at making it near-perfect) was pretty close to the real deal.
An important note – if you want to make great Thai food at home, it's important you buy the right ingredients. Soya sauce is a key piece of this so I'd advice you use a Thai brand. The healthy boy brand is popular and heavily exported so hopefully you can find it where you live. Here's a picture of what I bought.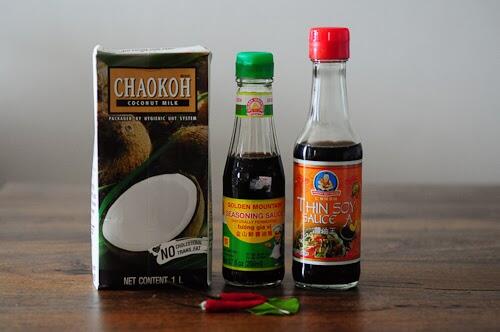 VEGETARIAN PAD THAI RECIPE
Preparation time: 20 minutes
Cooking time: 20 minutes
Serves 2-4
INGREDIENTS:
200 gm packet of flat rice noodles
1 tbsp of peanut oil
1 cup mix of carrot, beans, red onions, julienned
1 small tomato, cubed
1 tsp of minced garlic
1 egg (optional)
1.5 tbsp of Thai soya sauce (dark or light)
A fistful of bean sprouts
1 tbsp of crushed roasted peanuts
1 tsp of red chilli flakes
2 tbsp of chopped spring onions (or coriander leaves)
Juice of 1/2 a lime
1/2 tsp of sugar
INSTRUCTIONS:
1. First important step is to prep and keep all your ingredients ready. Then it's just a matter of adding everything in one by one.
2. Prepare the noodles per packet instructions. Mine were instant noodles so I had to immerse the noodles in boiling water for 3 mins and transfer to a colander to drain the remaining water.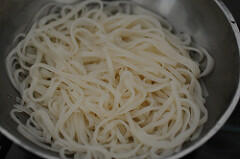 3. Heat oil in a wok and add the garlic, onions, carrot, beans, and tomatoes.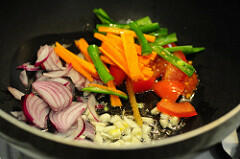 Saute on high heat until the vegetables are beginning to turn soft. Lower heat.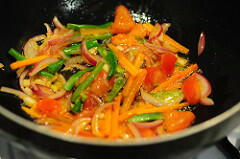 4. Push the vegetables to the side of the wok and break the egg in, if using. Let it cook for a bit and then lightly scramble it without making the pieces too tiny.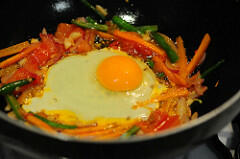 5. Add the cooked noodles and mix well to incorporate.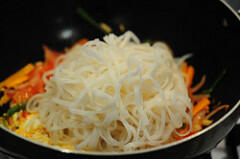 6. Increase heat to high and add the soya sauce and sugar.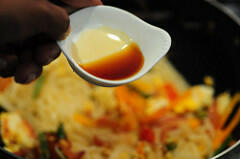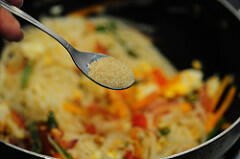 Saute to combine well. Then throw in the spring onions (coriander leaves), bean sprouts, peanut powder, and chilli flakes.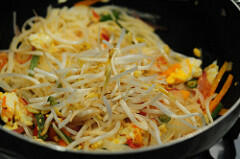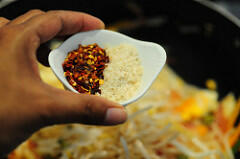 Mix again until the noodles and the vegetables look combined and cooked through. Turn off the flame and squeeze the lime juice. Add more coriander leaves for garnish and mix again.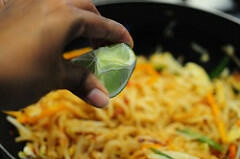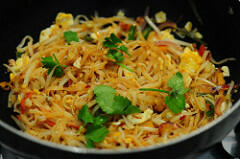 All done! Serve pad thai noodles hot for best flavour. You can serve some more peanut powder and chilli flakes with lime wedges so that people can adjust the flavour to their liking.
Notes:
– the salt in the soya sauce is generally enough for the noodles but you can test and add more if needed
– you can also add cubed fried tofu, baby corn, bell pepper, etc for added crunch and flavour