Brownies
come in many forms – fudgy, gooey, chewy, dense, cake-y, and so on. Most basic brownie recipes use the same ingredients which are eggs, flour, chocolate, butter, and sugar but varying the proportion of these ingredients yields
brownies
with different textures and feel. I am not partial when it comes to brownies, I like them all (except with walnuts, I don't like walnuts much I guess).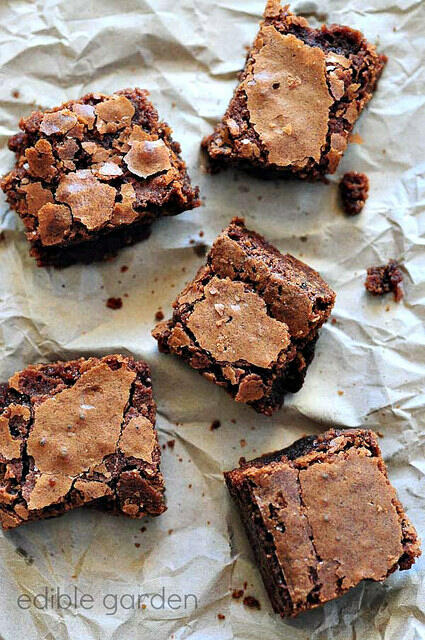 A couple of weekends ago I had guests over and I wanted to indulge their two daughters with something they'd love. Brownies are usually the perfect dessert in such situations and paired with some homemade chocolate ice cream, it's a great way to end a good homemade meal. I wanted to try a different brownie recipe and opted to experiment with a chewy and slightly dense brownie. While I would tweak this a bit more to make it perfect, it's the best chewy brownie recipe I have ever tried and really lives up to its name. It's also the only brownie I've baked that comes very close to the texture of boxed brownies without any of the nasties like preservatives and excess salt. Total win!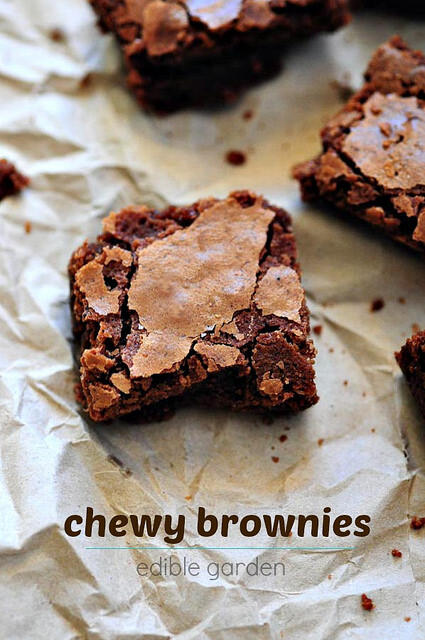 The best part about these is that they formed a beautiful almost crackly crust that formed a lovely pattern on cutting. However the brownies were impossible to cut into new squares and I believe it's because I cut them when still warm. I will try this recipe again with some variations and update it here if I end up making them better but for now, these are nearly the best chewy brownie you'll try for a recipe that's this easy and fuss-free. Go ahead and make them this Valentines Day for your loved one(s).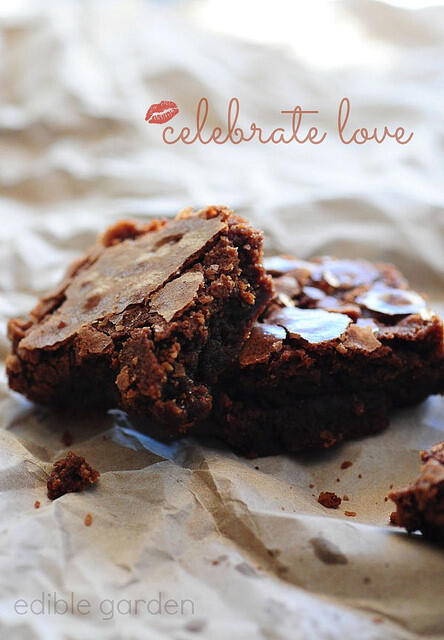 More Valentines Day Recipe Ideas
Eggless Strawberry Mousse
Molten Chocolate Lava Cakes
Eggless No-Bake Mango Cheesecake
Rich Chocolate Fudge Cake
Browse all dessert recipes to get more inspiration for your Valentines Day menu.
CHEWY CHOCOLATE BROWNIES RECIPE
Preparation time: 20 minutes
Cooking time: 40 minutes
Makes 10-12 4″ squares
Recipe Source: Fine Cooking
INGREDIENTS:
8 tbsp of unsalted butter, at room temperature
4 oz of unsweetened chocolate
1.5 cups of sugar (see notes)
A pinch of salt
2 tsp of vanilla extract
2 eggs
1 cup of flour
2 tbsp of cocoa powder
INSTRUCTIONS:
1. Place the unsweetened chocolate and butter in a bowl.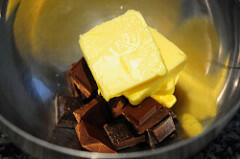 2. Using a double boiler, melt the chocolate and butter. To do this, place the bowl containing them over another pan with boiling water without the bottom of the bowl touching the water.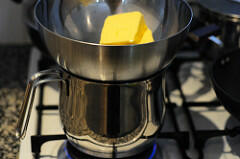 When the chocolate is melted and glossy, remove from double boiler set up and set aside to cool.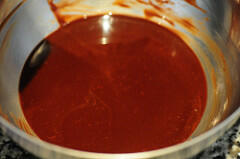 3. Meanwhile, prep the baking pan. An 8×8 square pan works best – grease the base and sides with butter (or use baking spray) and place a piece of parchment or greasing paper at the bottom. Grease again with butter or spray over the paper. Set aside. Pre-heat oven to 350F/180C.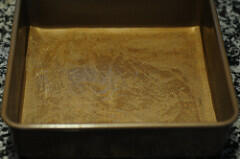 4. In a bowl, whisk together the flour, cocoa powder, and salt. Set aside.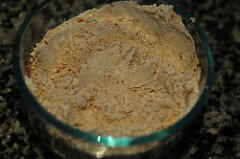 5. When the chocolate has cooled, add sugar and vanilla. Gently combine until the sugar has almost melted in.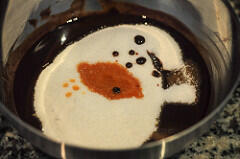 6. Add the eggs and mix again until combined.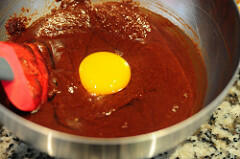 7. Tip in the flour mixture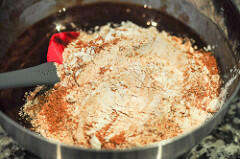 and gently fold until no streaks of flour remain. Do not overwork the batter, otherwise your brownies will be tough.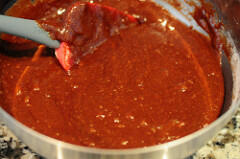 8. Pour batter into prepared pan. Tap firmly on the counter top to dispel any air bubbles. If you still see some on the surface, gently pop with the tines of a fork.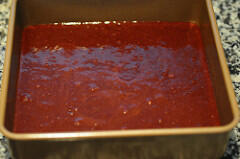 9. Bake in the pre-heated oven for about 35-40 mins. Check at 35 mins if it's done. If the base is too gooey your skewer will come back with a sticky tip so bake a bit longer if that's the case. If you over bake though, the brownies will turn very dry.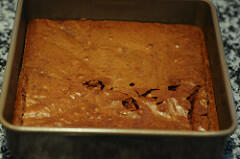 Let the brownies cool in the pan for 10 mins and then transfer to a wire rack to cool completely. Cut with sharp knife when completely cooled and store remaining ones in an air tight container outside for up to a day or refrigerated for up to 3 days.
NOTES:
– if using bittersweet or semi-sweet chocolate instead of unsweetened as in the recipe, reduce the sugar amount by about 2 tbsp to 1/4 cup depending on your preferred sweetness level
– the chocolate flavour in this is quite intense but if you want to be really evil, sprinkle some chocolate tops on top before baking. You can also add nuts or dry fruits, etc to customize the brownie flavour and make it your own
– you can easily halve this recipe, just use a smaller baking pan and bake for a shorter period of time
For brownie recipe in Tamil, Telugu, Kannada, Hindi, Marathi, Urdu, etc, please use the Google Translate button in the sidebar