Challas
or
Sarlas
is a very Kerala thing and I wouldn't be surprised if many people outside have never heard of it. Challas is basically thinly sliced red onion that's soaked in vinegar, salted, spiced, and served commonly with Kerala biryani, cutlets, parotta, fried rice, etc. It has a wonderful tangy-sweet flavour from the vinegar and onions and I am sure is a Keralised version of some anglican dish introduced by foreign visitors many years ago.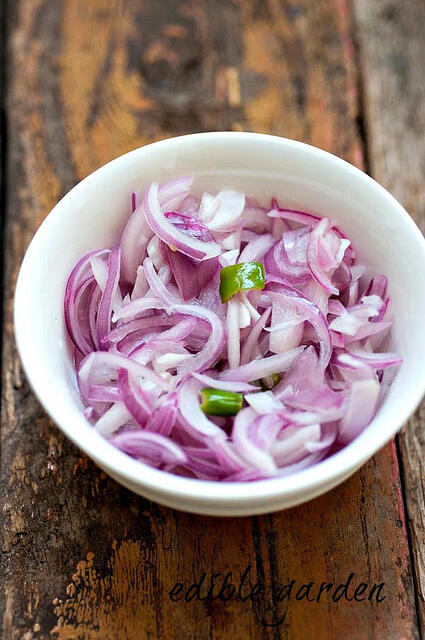 I have made challas a few times but never thought of sharing the recipe, mainly because it's so ridiculously simple. So this is not much a recipe-sharing exercise but more of me introducing something possibly new to you all 🙂 There are a few different variations to Challas across Kerala but this is how we Kottayam folks make it. It's a variation of raita in a way, but curd is not added to this onion salad.
Try some challas the next time you make biryani and you'll fid how addictive it really is. The onions turn very soft and the pink-purple gets distributed through the salad making it look really pretty. The challas in my pictures above hasn't soaked for too long so it still holds its colours well but in time, it gets softer and pinker overall. A cucumber tomato raita is another excellent accompaniment to Biryani.
CHALLAS OR SARLAS RECIPE


A Kerala-style onion salad popularly served with biryani and cutlets.
Prep Time: 15 minutes
Yield: 1 cup
Ingredients:
– 1 cup red or purple onions, sliced thin
– 1 green chili, chopped
– 2 tsp vinegar
– 1/3 tsp salt (adjust to taste)
Instructions:
Mix all ingredients together and set aside for 30 mins. The onions will let out water during this time. Squeeze out the water and place in another bowl. Add more salt if required.
Serve challas with biryani or cutlet for optimum taste! Be sure to hand out some mint afterwards, because true to their nature, the onions will cause some bad breath 😉
Variations: Add 2 tbsp of grated carrot and/or 1/4 tsp of grated ginger to the challas for a different flavour.