I tasted
Kanchipuram idli
once about 6 or 7 years ago and didn't like it. It was harder than regular idli, for one, and the flavour of the spices, especially the cumin, was overpowering the delicate idli flavour that should have shone through. So yeah,
Kanchipuram idli
and I had a pretty rough start and I soon forgot about this popular idli variety. The striking thing that stayed with me, however, is that the Kanchipuram idli is not made in traditional, round, idli moulds but rather in a pan or plate, to be cut later into squares or wedges before serving.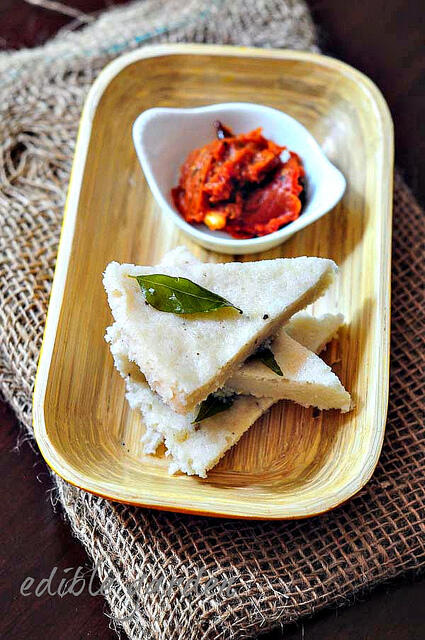 When you blog about food, you realise that you go to great lengths to cook as many unique and varied dishes as possible, mostly because that's your thing, you are the food blogger, and partly because you want new content for the blog. I am always looking for new things to cook, especially when I have people over. This Kanchipuram idli seemed like the perfect starter for a brunch I hosted a couple months before leaving Singapore.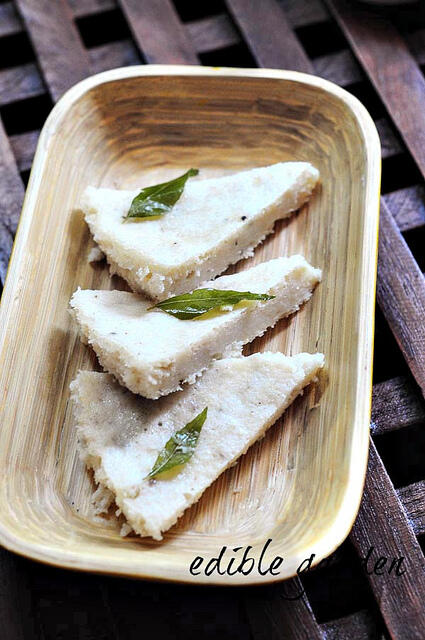 So what did I do differently in my version of Kanchipuram idli versus the one I tried all those years ago? I spiced my idli batter before fermenting, and I toned down the amount of pepper and cumin, making sure the idli batter flavour can shine through easily. I also had to come to terms with the fact that Kanchipuram idli is a bit on the denser side than a regular idli, that's all. Paired with an easy tomato thokku, it really set a good tone for the rest of the meal I'd prepared.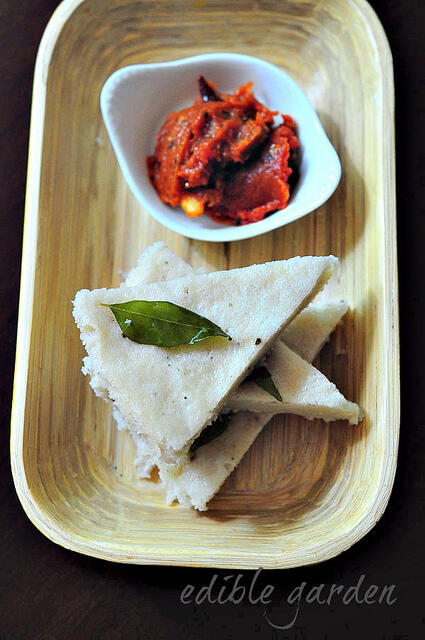 I used homemade idli batter for these idlis but they can definitely be adapted for use with readymade batter too. I have added some tips at the end of this post if that's the way you want to take it. Remember to adjust all spices and extras to your personal taste and preference.
Also check – idli batter recipe, rava idli, and idli with idli rava.
KANCHIPURAM IDLI RECIPE
Preparation time: 8 hours
Cooking time: 15 minutes
Serves 4-6 as a starter
INGREDIENTS:
1 cup of whole urad dal (ulutham paruppu)
3 cups of idli rice
1/2 tsp of coarse black pepper powder
1/2 tsp of crushed cumin seeds
1 tsp of grated ginger
1/4 tsp of hing (asafoetida)
1 tbsp of gingelly oil or ghee or a mix of both
A few curry leaves
INSTRUCTIONS:
1. Grind the idli batter first. You can follow instructions in this post on how to make idli batter. Soak the rice for about 4 hours and the urad dal for 1 hour. Grind them both separately (urad dal first) into smooth batters with sufficient water and mix together.
2. To this, add the pepper powder, cumin, ginger, hing, and some salt.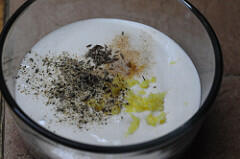 3. Mix thoroughly. Remove spoon, close the bowl lightly with and let it ferment in a warm spot for about 8 hours.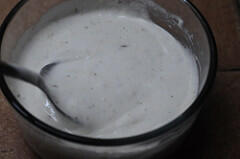 4. Here's how the batter looks after fermentation.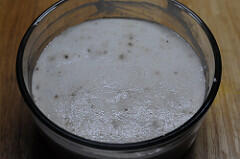 Give it a gentle stir with a spoon so as not to break into the air too much.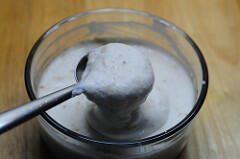 5. Heat the oil (or ghee or a mix) and add the curry leaves.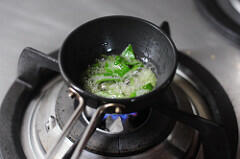 As the sizzle comes to an end, add to the batter and mix well.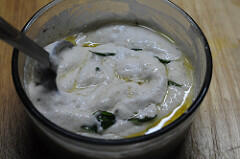 6. Grease whatever mould you are using (even a plate with sides will do) lightly and pour the batter in. Make sure the idli is about 1″ to 1.5″ tall. Lower into a steamer or pressure cooker with water in it.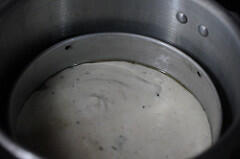 7. Steam for about 10 mins or until the sides start to leave the pan.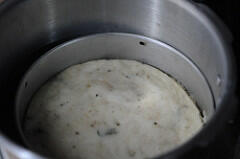 Cool, cut, and serve with a spicy thokku or South Indian coconut chutney. It's delicious as a snack, breakfast, or a starter for a South Indian brunch.
Note: If you are using store-bought idli batter, just add the spices and the tempering of curry leaves before making the idli, mix well, and proceed to cook. You can save a lot of time in preparing Kanchipuram idlis by skipping the fermentation step.
For Kanchipuram Idli recipe in Tamil, please use the Google translate drop down on the right hand sidebar.