I like
peanut chutney
as a change in my normal chutney routine, so adding some mint to it and kicking it up a notch seemed like a no-brainer. Although in Andhra I have seen peanut chutney being served with tiffin like idli and dosa, I love it with rice, especially since it's a no-coconut chutney recipe. I have a version of
peanut chutney recipe
here already but this is more minty and watery, perfect with rice,
rasam
, and a
poriyal
. I also love how the mint in the chutney makes it more flavourful and pretty to look at.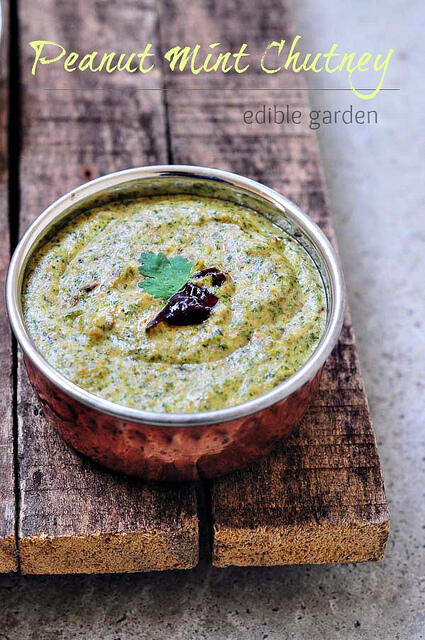 I feel like chutneys are so easy to prepare for lunch and you feel like there are lots of side dishes by adding a simple chutney to your lunch menu. It seems a bit like cheating but if the chutney is delicious and goes fabulous with rice, why not?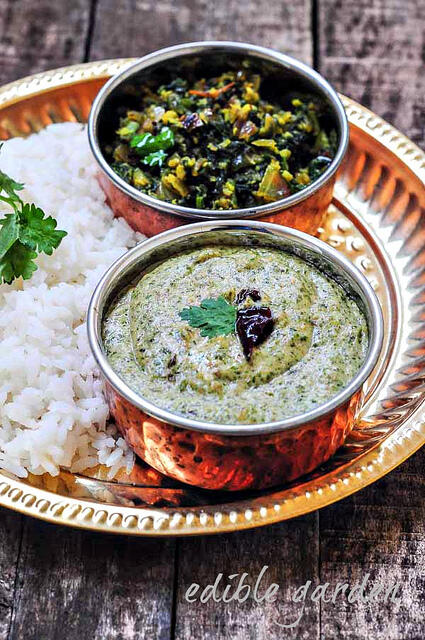 As I was cleaning out the fridge to prepare for our relocation, a whole bag of peanuts jumped out at me and I started adding them to everything in excess – like puliyogare, lemon rice, even simple vegetable rice.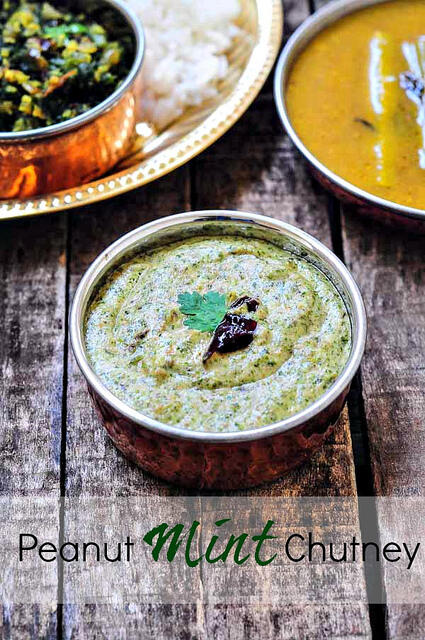 Pair it with a tangy rasam like the drumstick rasam, and a mild vegetable curry like keerai poriyal and you have yourself a wonderful South Indian lunch menu to enjoy with little effort. Check out this list of Chutney Recipes to browse through some of my favourites. For rice, I really love paruppu thogayal and chow chow chutney.
PEANUT MINT CHUTNEY RECIPE (NO COCONUT)
Preparation time: 10 minutes
Cooking time: 5 minutes
Serves 2
Adpated from: Siri
INGREDIENTS:
1 cup of raw, unsalted peanuts with skins
2 tbsp of white sesame seeds
1/2 cup of mint leaves, packed
2 green chillies
A small piece of tamarind
2 tsp of oil
1/2 tsp of black mustard seeds
1 red chilli, halved
1/2 tsp of split urad dal
A pinch of hing or asafoetida
INSTRUCTIONS:
1. Dry roast the peanuts and sesame seeds in a pan until charred or browned. You can add the sesame seeds a bit later since peanuts take longer to roast. Set aside to cool.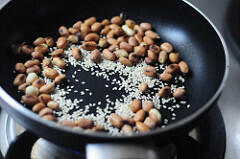 2. Heat 1 tsp oil in the same pan and add the green chillies, mint leaves, and some salt. Saute until the leaves wilt and turn soft. Set side to cool.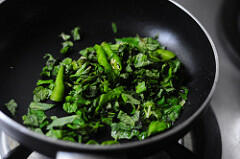 3. Once cool. transfer the peanut mixture and mint leaves to a grinder and add a small piece of tamarind or 1/2 tsp tamarind pulp (to your taste).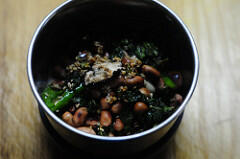 4. Grind this to a smooth paste using water.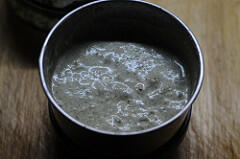 5. Heat the remaining 1 tsp oil and add the mustard seeds. When they pop, add the red chilli, urad dal, and hing.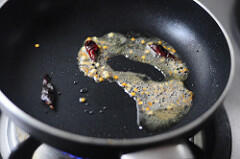 6. When the dal turns a golden brown, add the ground chutney and mix well. Adjust salt as required.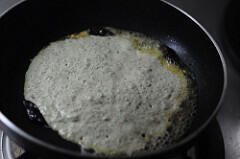 Serve Peanut Mint Chutney with rice and curry. Yum!
For Peanut Chutney recipe in Telugu, Tamil, Hindi, Marathi, Urdu, please use the Google Translate bar in the top right sidebar of this site.