KRISHNA JAYANTHI RECIPES – 2013
Sri Krishna Jayanthi
(also called
Gokulashtami
,
Janmashtami
, 2013 falls on August 28th in 2013, and I am sure many are preparing to cook up a good array of neivedyam to mark Lord Krishna's birthday. I don't limit any snacks to a festival or special occasions so many sweets and savouries made for Krishna Jayanthi are a regular at home. Most of the snacks can be made in advance, maybe a day or two before, and the sweets can be made on the day to enjoy fresh. Don't forget the tiny feet drawn to mark the entry of Baby Krishna into our homes to enjoy our offerings. Ah, what lovely memories I have around Sri Krishna Jayanthi. Amma would use her the side of her fist to make the foot and then use her thumb to create the chubby toes. The house we used to live in until I was 10 had a sloping entrance from the gate and she would start from there, painstakingly creating these tiny feet at a distance apt to recreate the footsteps of a toddler. There would also be fresh, homemade butter in the house for neivedyam. A part of me misses these celebrations terribly.
Anyway, enough reminiscing from me. I am sure many of you are celebrating Janmashtami this year with family and loved ones. Food is an integral part of any celebration and I have a humble list of easy recipes for Janmashtami. Click on the links below to get to the recipes.
Krishna Jayanthi Snacks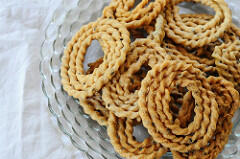 Thattai
Murukku
Aval Vadai
Masala Vada
Kai Murukku
Paruppu Vadai
Medhu Vadai
Krishna Jayanthi Sweets


Vella Seedai
Maladu
Besan Ladoo
Sweet Aval
Rava Ladoo
Sugiyan
Unniyappam
Paal Payasam
Paruppu Payasam
You can check out even more Indian festival recipes and payasam recipes on Edible Garden. Have a wonderful time cooking and celebrating Janmashtami. Wishing all readers of Edible Garden a wonderful Sri Krishna Jayanthi 2013.