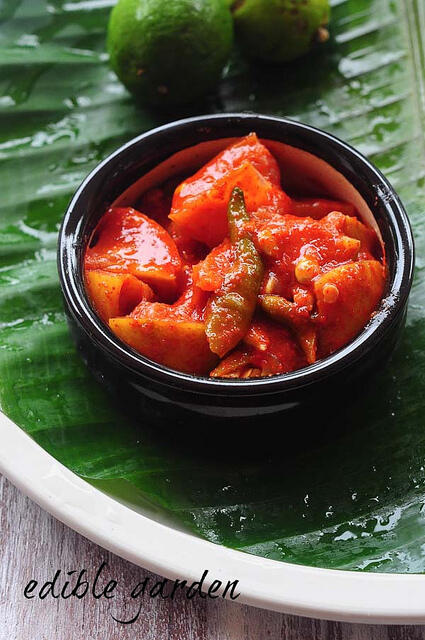 Lime pickle is one of those things I choose as an afterthought, although amma makes this lovely no-oil no-cook lime pickle with green chillies for flavour, often with homegrown limes from generous friends and family. Mango pickle or mango ginger is my first choice and while I don't like the ever-popular kannimaanga or mavudu pickle, a good lime pickle I am game for almost always. In fact, no other pickle complements vegetable biryani like a lime pickle can. My aunt used to make a lovely green chilli lime pickle that was pale yellow in colour and absolutely delicious. I used to eat that with everything as a child and demand my mom to make the same. She rarely listened though, always defaulting to the gorgeous red counterpart of my favourite lime pickle.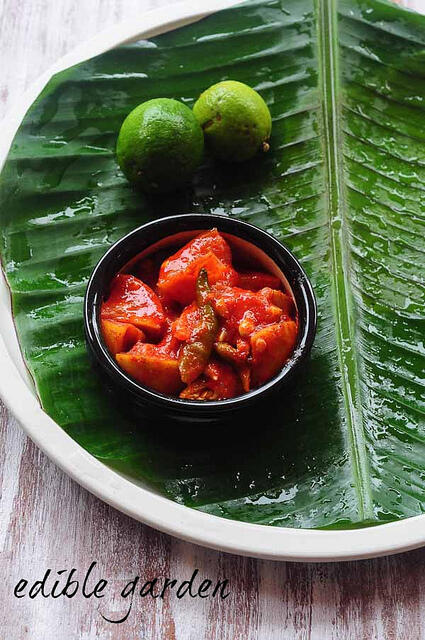 Indian Pickles are easy to make if you know the right proportions of all your ingredients and use abundant patience and care. I don't possess much patience so I just bring back bottles of homemade pickle from anyone who'd care to share a bottle from their share. In fact, the only pickle I buy is the Priya mango ginger pickle, which you must try if you haven't already.
Lime Pickles are a standard addition to Onam Sadya and since we have Onam fast approaching, it's time to make a batch of lime pickle and let it soften in the pickling juices, right in time for Onam. If you are making Indian pickles for the first time. this lime pickle using no oil and requiring no cooking is a great one to start with.
Amma usually uses 25 limes which she says yields one Horlicks bottle full of pickle. I have to tried to quantity this more accurately but please note that it depends on the size of your limes and the pickling jar you use. If you are looking for more pickle recipes, check this water apple pickle, and sweet mango pickle.
OIL-FREE NO-COOK INDIAN LIME PICKLE RECIPE
Preparation time: 30 minutes
Pickling time: up to 1 month
Makes ~ 800 gm of pickle
Recipe source: My Mom
INGREDIENTS:
25 limes
250 gm of rock salt (see notes)
1/2 tsp of hing, perungaayam, kaayam
4 tbsp of Kashmiri red chilli powder
15 Indian green chillies (add more or less depending on the heat of the chillies you are using)
INSTRUCTIONS:
1. Take out a glass or plastic jar that can hold about 1 kilo of pickle. Make sure it's clean and completely dry.
2. Wash and pat dry the limes. Quarter them (or cut each into 6 wedges if you prefer smaller pieces), seeds and all.
3. Transfer lime pieces into the jar along with the salt, chilli powder, and hing. Mix well.
4. You need to keep this mixture covered for 4 days on your kitchen coutertop, mixing it thoroughly once every day with a clean, dry spoon. The lime will give out a lot of water during this time and settle in the bottle quite a bit.
5. On the fourth day, slit the green chillies and add to the lime pickle. Make sure the chillies are washed and dried before you do this.
6. Keep this mixture for another 4 days on your kitchen countertop, mixing once a day as before.
The lime pickle is ready for use after 8 days but if you want the skin of the lime to be soft, then it will take about a month. The lime pickle rarely lasts that long in our house though.
Notes:
Always use dry everything – jar, spoons, lime. chillies
You need to use rock salt or sea salt that doesn't have iodine in it. Amma is not sure why but iodized salt doesn't work well for this pickle
I recommend a glass jar for the pickle, or an old-fashioned bharani if you have one lying around
You can add whole garlic pieces along with the chillies and omit the red chilli powder to make a "white lemon pickle" which I personally love