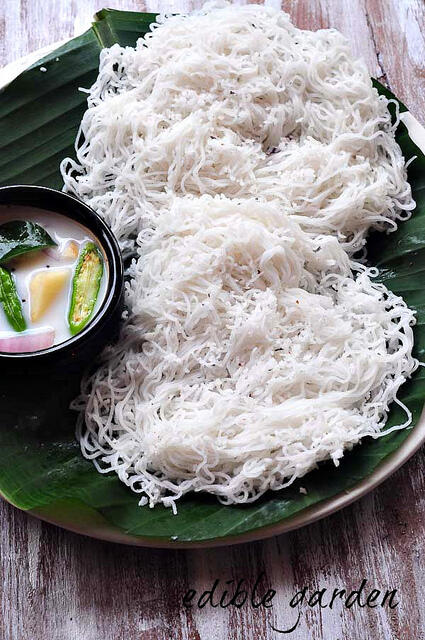 Idiyappam or sevai is a regular breakfast in our home in Kerala. In fact, steamed rice-based dishes are the most common and until I moved out and started cooking on my own, I never realised what a luxury it was to eat the hot, healthy, and delicious breakfasts that seemed to waltz effortlessly out of my mom's kitchen. The most common breakfast items at home are idli, dosa, idiyappam, puttu, appam, adai, kozhukkattai, chapati, and on rare occasions, toast with homemade butter. See what I mean? Among many other things in life, I believe that a hearty and healthy breakfast is a dying thing. It's definitely mourned in the home that I've set up now which sees idli or dosa on the best days for breakfast, but rarely anything more elaborate. I try to compensate with a hearty brunch or lunch but it's just not the same thing.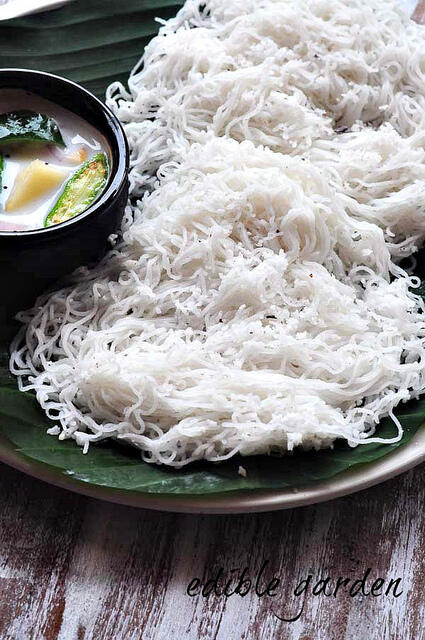 Amma has had help in the kitchen almost always and so the task of making idiyappam is delegated while she makes the comparatively complicated vegetable or potato stew to go with the idiyappam. Food is always paired in my house and combinations are well thought out, often set in stone never to be messed or mangled with. Idiyappam is never made without a stew and the stew always uses homemade coconut milk. There will be homemade ghee and sugar for those who feel so inclined but stew is the standard accompaniment to idiyappam. No compromises.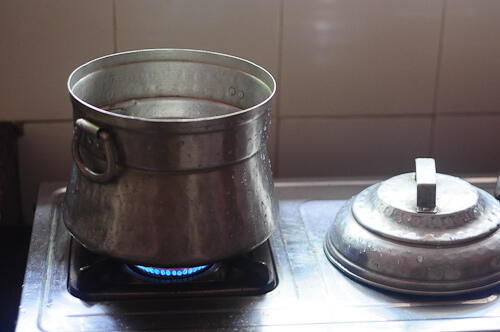 We've had this aluminium streamer ever since I can remember and it has seen so many wonderful dishes pass by over the years starting from the humble kozhukkattai, to idiyappam, to the much-loved modak to even idlis coming back for a second round of steaming.
But today is about idiyappam and how to make some so let's get to it, shall we?
HOW TO MAKE IDIYAPPAM
Preparation time: 10 minutes
Cooking time: 10 minutes
Serves 4
Recipe source: Suma, Amma's helper
INGREDIENTS:
2 cups of rice flour
2 to 2.5 cups of water (more or less)
To taste: salt
3-4 tbsp of grated coconut
INSTRUCTIONS:
1. Mix the rice flour and salt together. Heat the water until bubbles start appearing at the bottom of the pan. When the water is just about boiling, add to the rice flour a cup at a time.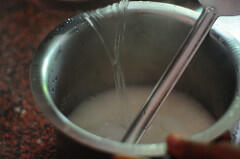 2. Start mixing vigorously with the back of a spatula until the rice flour is coming together to form a moist dough. Add more rice flour if your dough is too watery and sticky and add more water if it's too dry.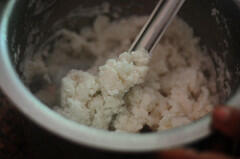 The dough should be just moist and you should be able to form a small ball easily without it sticking to your fingers.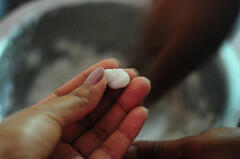 3. Working quickly while the dough is still warm, Take a fistful of it and form into a log.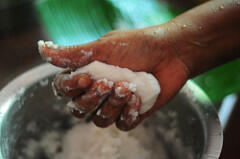 4. Place firmly into your idiyappam press or mould.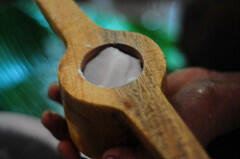 5. Sprinkle some coconut over the tray or plate you are going to use to steam the idiyappam. Suma uses a banana leaf which she places on the steamer plate and it lends a wonderful flavour to the idiyappam.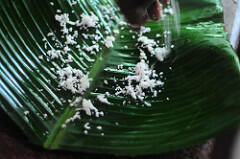 6. Start pressing the idiyappam onto the tray or banana leaf in a concentric circle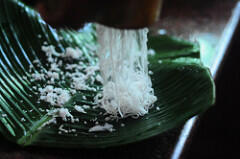 … until you have a not-too-thick mound of idiyappam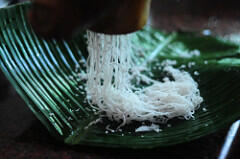 Make sure it's not too thick otherwise it won't steam properly. PS: you can totally use your idli mould for this. The idiyappam pieces will just be much smaller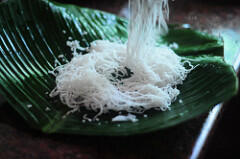 7. Place on streamer.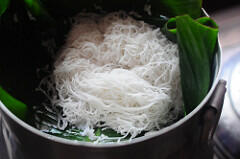 8. Steam for about 10 mins.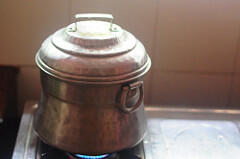 9. Open, unmould, and enjoy hot with some Kerala potato stew.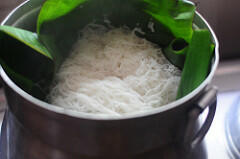 Notes:
All measurements for this recipe are approximate since Suma just dumped the flour and water together before I could measure it exactly. Please take care while mixing the dough, that's the trickiest part and takes a little bit of practice
Don't use boiling water since that will cook the rice flour and make it hard to press. The water just needs to be very hot
If the idiyappam dough is too dry, it won't be easy to press
Use regular rice flour or those marked as idiyappam flour. If the rice flour is too glutinous, the idiyappam won't taste good
Sprinkle more coconut on top before serving if that makes you happy