Poori
was always a treat during my childhood days. While amma has no issues with deep frying, we ended up making breakfast dishes like dosa, idli, idiyappam, puttu, or even appam on most days over poori. The rarity of its occurrence made it very special on days we did have
Poori Masala
. I love amma's
potato masala for poori
and while it's a simple recipe, the combination is unbelievably good in its simplicity.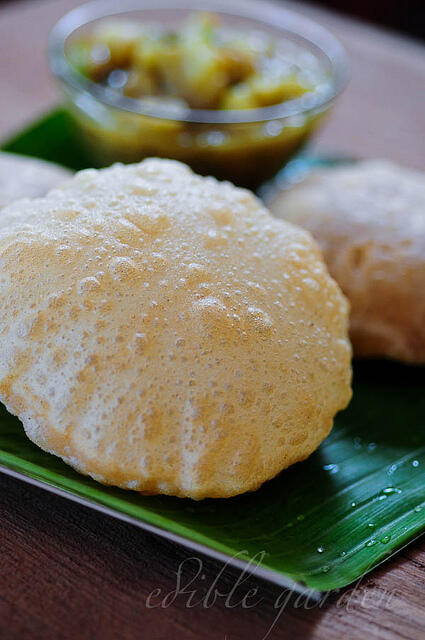 You need to keep a few things in mind while making Poori at home. The dough uses the same ingredients as chapati dough but needs to be thicker and less moist. Too much moisture in the dough will absorb too much oil while frying the Poori.
Another thing is the temperature of the oil. The oil needs to be smoking hot while you start making the poori. As you add more and more and keep frying, the temperature of the oil will keep getting lower so adjust accordingly. A perfectly made Poori will be light golden brown with darker brown specks on it and fully puffed up. You poke the puffy Pooris to let the steam out and then eat it piping hot with potato masala. And that's how it's done!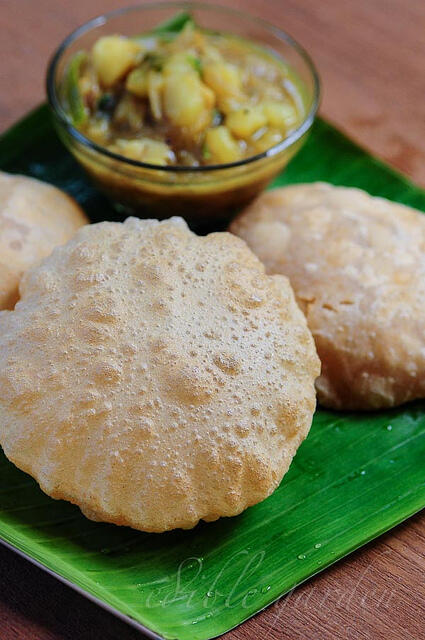 SOUTH INDIAN POORI RECIPE
Preparation time:
15 minutes
Cooking time:
20 minutes
Makes ~15 pooris
Ingredients:
2 cups of
whole wheat flour (atta or chapati flour)

1/2 to 3/4 cup of
warm water (adjust as you go)

1 tsp of
salt

3-4 cups of
oil, for deep frying
How to Make Poori:
1. Mix the flour and salt until well combined. Add warm water a little at a time and knead until a soft, non-sticky dough is formed. If you are used to making chapatis, remember poori dough needs to be a bit firmer and less moist than that. If you're making poori for the first time, well, just rely on your gut feeling and see how it goes 🙂
2. Once the dough is ready, leave it in a bowl and set aside covered for about 10-30 mins. Meanwhile, you can go about making the potato masala for poori.
3. Once enough time has passed, knead it again and roll it into a long-ish log. Pinch off small lime-sized balls and roll into smooth balls.
4. Dust generously with flour and roll into circles of about 1/8″ thickness. Working quickly, roll out all the pooris and lay them without overlapping much on a plate or parchment paper. (I don't use newspaper for this because the moisture in the poori will absorb the ink from the paper and, well, that's just yuck).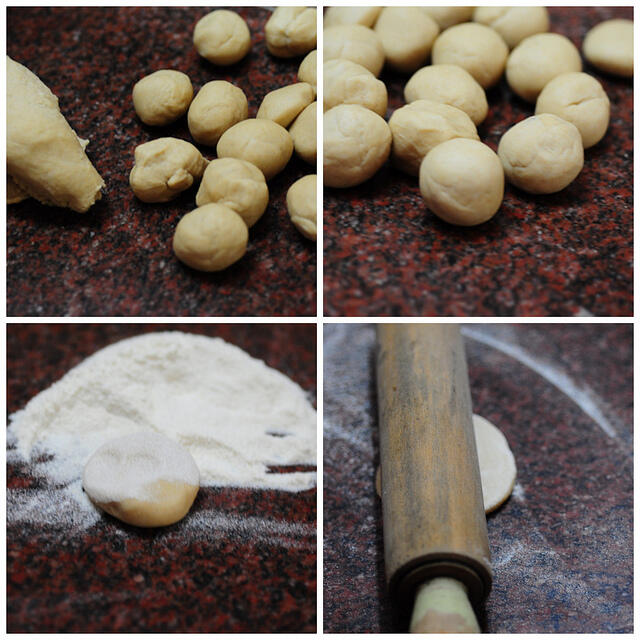 5. When you have just 3-4 more pooris to roll, heat oil and bring it to smoking point. Like a typical Indian cook, I don't own a cooking thermometre and don't check the temperature of my oil so, again, go with your gut feeling. The oil should be nice and hot and almost smoke. Drop in a small piece of dough and check if it quickly sizzles and rises to the surface. That's your cue to get started on frying the pooris.
6. Very gently pick the rolled poori, starting with the one you rolled first, and drop into the hot oil. Work with one poori at a time. Once you have dropped a poori into the oil, use a slotted spoon and move the oil around so it coats the frying poori. This will make it puff up nicely (refer the top right picture below)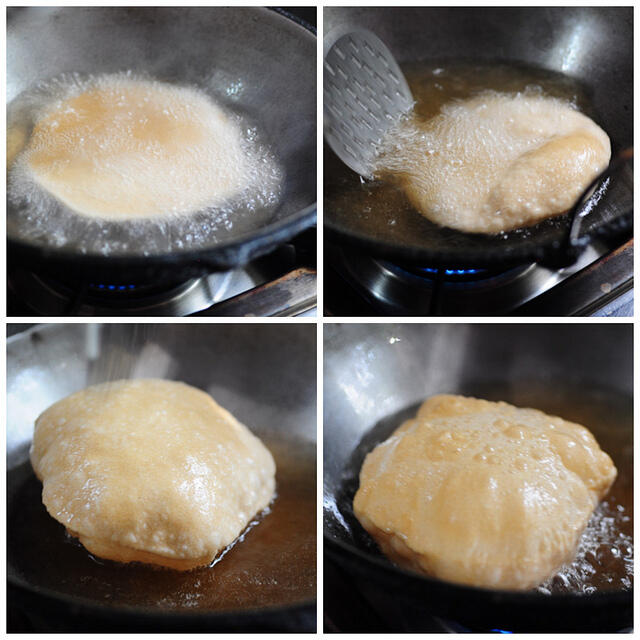 7. Once it's nicely puffed on one side, flip over so both sides are cooked and have brown spots. Transfer to a plate and continue with the remaining rolled pooris.
Serve homemade pooris hot with potato masala.