Tomato Thokku
is one of those condiments I make often and store in the refrigerator to serve with dosa, idli, chapati, rice, pretty much anything, on a busy weekday. A good
tomato thokku
is probably the easiest thing to make since most of the cooking time is passive and you can go about your other work while the thokku gets cooked on the stove. While not as quick to prepare as the
tomato onion chutney
, this tomato thokku has a
longer shelf life
and so I make it in larger batches.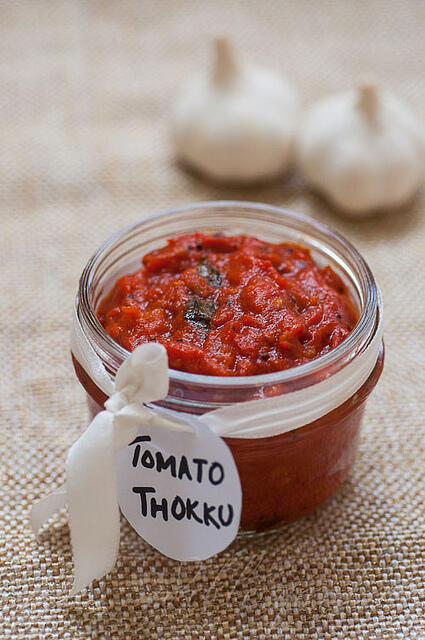 Tomato thokku is probably the most flexible thing you'll make. You can add and subtract ingredients as you please and it lends itself really well to all variations. I add garlic sometimes, blend the tomatoes or add them chopped, throw in some minced bell pepper, the choices are endless. The version of thakkali thokku I am sharing today is the simplest and uses no onion or garlic.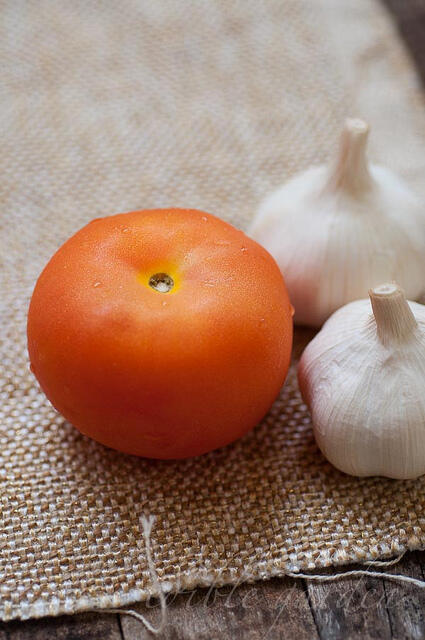 I also find that adding a pinch of jaggery to tomato thokku really enhances the flavour. A pinch of sugar would work great too. Also, while adding whole pieces of tomatoes to the thokku gives it a nice bite, some may prefer a smooth tomato thokku to a chunky one. Now, a word about how I get the deep red colour in most of my dishes (in the recent past anyway).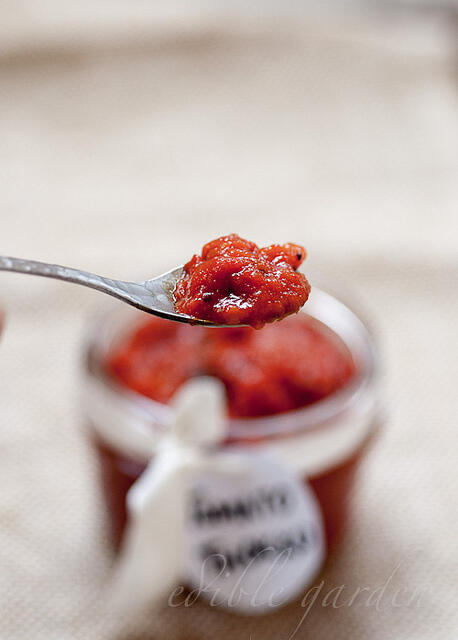 During my last trip to Bombay, I brought back a packet of fiery red Resham Patti chilli powder from Food Spot (if you live in or visit Bombay, I highly recommend that store, it's a treasure trove full deliciousness, and no, they are not paying me to say this). Although the bright red resham patti chilli powder is meant mainly for pickles, I have been using it in pretty much everything and enjoying the lovely deep dark red colour it gives to dishes naturally. This chilli powder is stronger than the regular kind so a little goes a long way. If you are unable to find resham patti chillies, substitute Kashmiri chilli powder but remember that it's much milder and you'll have to adjust quantities accordingly.
Check out a list of chutney recipes here. The chutneys I keep making regularly are the Onion Tomato Chutney, Coconut Coriander Chutney, and Basic South Indian Coconut Chutney. They go great with breakfast dishes like dosa, idli, etc.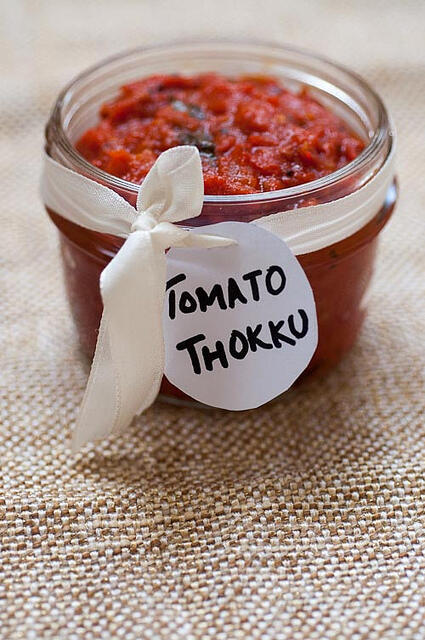 TOMATO THOKKU RECIPE
Preparation time: 5 minutes
Cooking time: 30 minutes
Makes ~ 2 cups
Ingredients:
1 kilo of ripe tomatoes (about 8-10 orange-sized ones)
1 tsp of red chilli powder
1 small piece of jaggery (or 3/4 tsp sugar)
1 strand of curry leaves
2 tbsp of oil
1/2 tsp of mustard seeds
1/2 tsp of fenugreek seeds / methi / uluva
How to Make Tomato Thokku:
1. Cube or puree the tomatoes and set aside. In a large, heavy-bottomed pan, heat the oil and add the mustard seeds. When they pop, add the fenugreek seeds and within 5 seconds (otherwise they'll burn), add the tomatoes.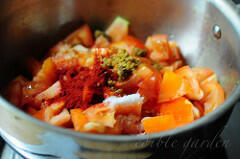 2. Mix well and add the chilli powder, jaggery/sugar and some salt. Wash and throw in the curry leaves too.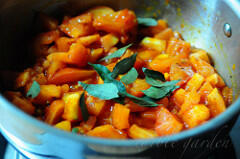 3. Keeping the heat on medium, stir well and let the tomatoes let out water. Soon the mixture will become very watery. At this point, lower the heat to a simmer.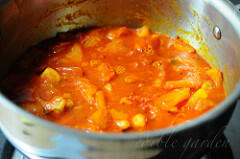 4. Continue to cook and stir occasionally until the tomato thokku cooks and becomes thicker.
5. After about 30 mins, it will be quite thick and most of the water would have left the thokku. Check for salt and spice level at this time and add more of either if required.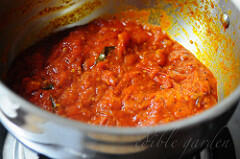 6. Cool completely and store in the refrigerator. Use as required always using a dry spoon. This thokku, if properly handled, will stay fresh for up to a week.
Serve Tomato Thokku with dosa, idli, uthappam, paniyaram, vada, upma, chapati, roti, rice, curd rice, parathas, nan, pretty much anything you want!