When I shared the
beetroot carrot stir fry recipe
a couple days back, I mentioned how I love this combination of carrots and beetroots. In case you guys didn't believe me then, I have this
beetroot carrot thoran
to prove it!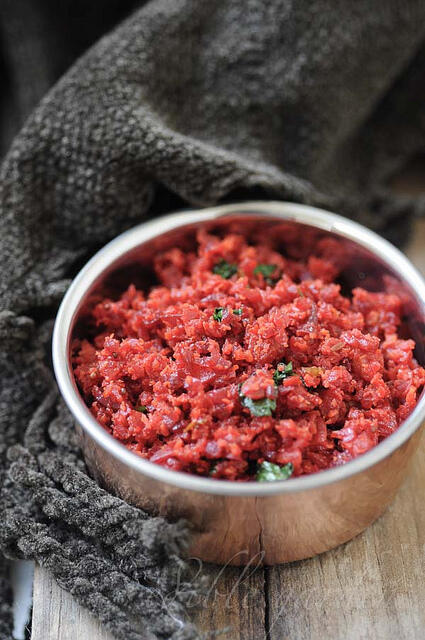 Since I was dealing with a large batch of carrots and beetroots that day, I made both the stir fry and the thoran on the same day. Although there was a bit of chopping and grating involved, no complaints from me!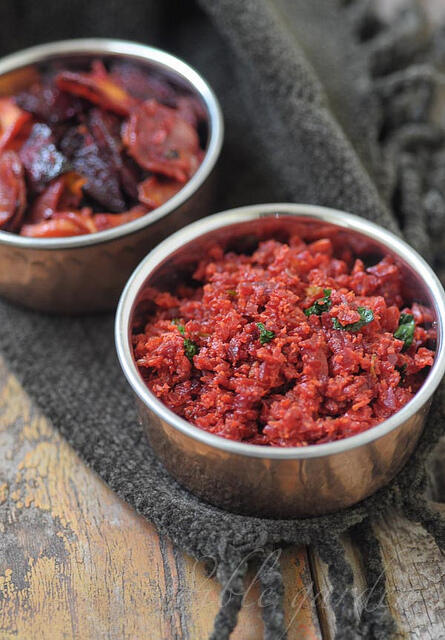 Any kind of thoran is an essential ingredient in an Onam Sadya and usually people go with a cabbage thoran. Beetroot is more commonly added to a pachadi in the form of beetroot pachadi but if it were up to me and I was the one making all those long list of dishes for Onam, I'd go with an okra pachadi and carrot beetroot thoran!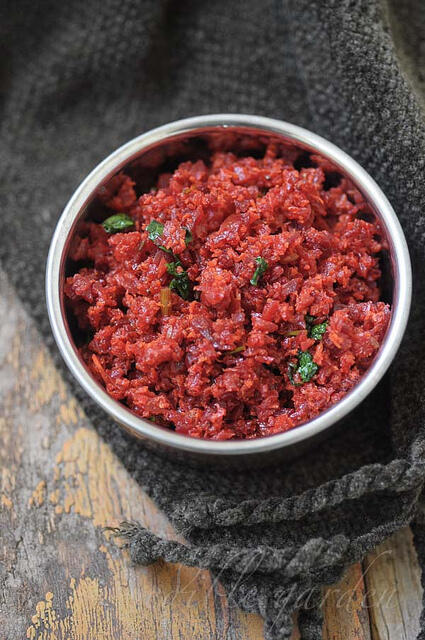 Kerala Beetroot Carrot Thoran Recipe
Preparation time: 5 minutes
Cooking time: 20 minutes
Serves 4
Ingredients:
1 cupof grated beetroots
1 cupof grated carrots
1/2 cup of grated coconut
1 tsp of cumin seeds, jeerakam
2-3 shallots, ulli
1 tsp of red chilli powder (or 2 green chilllies)
1/4 tsp of turmeric powder
1 tbsp of coconut oil
1/2 tsp of black mustard seeds
1/2 tsp of split urad, uzhunnu parippu
1 strand of curry leaves
1 tsp of salt (adjust to taste)
1 clove of garlic
How to Make Beetroot Carrot Thoran:
1. Heat oil and add the mustard seeds and urad dal.When the mustards pop, add the grated beetroot, carrots, and some salt. Mix well to coat the beets with the oil and cook on low flame, stirring occasionally.
3. Meanwhile, grate the coconut, shallots, chilli powder, turmeric, garlic, and cumin into a course mixture without adding any water.
4. When the beets are almost soft, add the ground coconut mixture to it along with the curry leaves. Mix well and continue to cook on low flame, stirring occasionally, until the vegetables are completely cooked and soft.
Kerala-Style Beetroot Carrot Thoran is now ready. This is a great recipe to make in larger quantities since grating the vegetables is much easier than chopping a bunch of vegetables. Carrot Beetroot Thoran is also a great addition to an Onam Sadya Menu!
Notes:
– Sprinkle some water if you feel the vegetables are starting to burn as you cook it. Do not add more water than is absolutely required
– You may need more red chilli powder or chillies than you think because both carrots and beetroots are sweet