TH
loves
noodles and I am always met with "
let's make vegetable noodles
" when I say I am too tired to cook. Instant noodles is his first preference – he's magically attracted to unhealthy stuff as a rule – and I usually spruce up instant noodles by adding some vegetables to it like this
instant noodles with vegetables recipe
.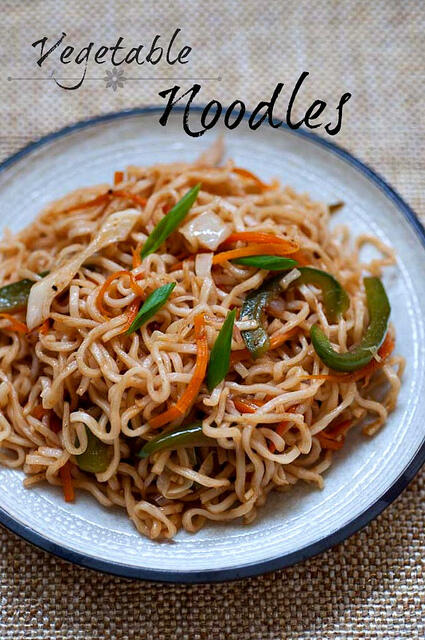 One weekend recently, I made this gorgeous sesame tofu and decided to make some vegetable noodles to go with it. Not the instant version but the popular Indian Chinese vegetable noodles that Indians love!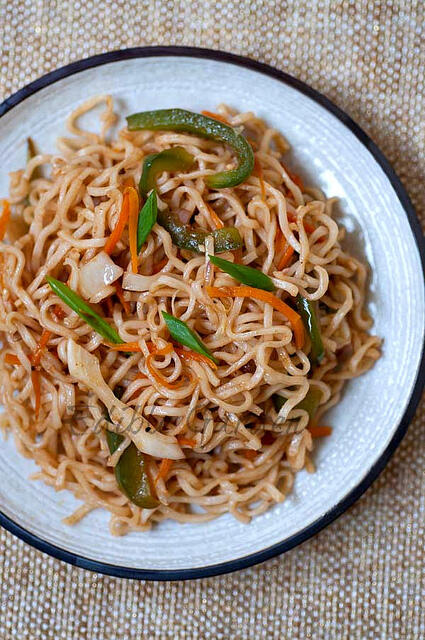 The only time-consuming part of this recipe is julienning the vegetables. I have a handy slicer that does the job beautifully, especially on vegetables like carrots and potatoes so I used it to get the thin long strips (picture below). You can very well use a sharp knife and get the job done easily too.
You may also like this curry flavoured noodles recipe.
INDO CHINESE VEGETABLE NOODLES RECIPE
Preparation time: 15 minutes
Cooking time: 20 minutes
Serves 2
Ingredients:
1 packet of dry noodles (2 packs if you decide to use Maggi)
3 cups of mixed vegetables, julienned (use carrots, capsicum or bell pepper, beans, cabbage, and onion)
1 tsp of minced ginger
1 tsp of minced garlic
1 tsp of green chilli sauce
1/2 tsp of soya sauce
2 tsp of tomato ketchup
1 tbsp of sesame oil (I use Indian sesame oil and it works well)
2 tbsp of chopped spring onions, for garnish
1 tsp of freshly cracked black pepper
How to Make Indo Chinese Veg Noodles:
1. Cut the vegetables and keep ready.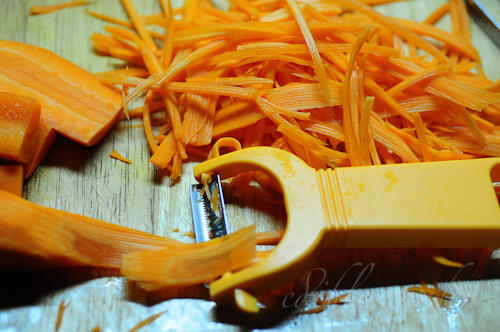 2. Cook the noodles as per packet instructions. Usually, I add it to enough boiling water to cover it, with a pinch of salt and a few drops of oil. Drain the noodles and keep ready.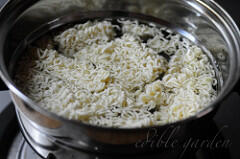 3. Heat oil and add the ginger and garlic. Saute until they turn fragrant and light brown in colour.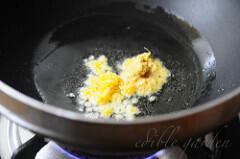 4. Add the vegetables and turn up the heat. Stir-fry continuously until they start to soften. Reduce heat and cook further until the vegetables are softer, still remain crunchy and retain their colour.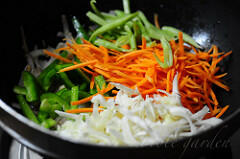 5. Add the chilli sauce, ketchup, and soya sauce. Saute for a few mins until the vegetables are cooked a bit further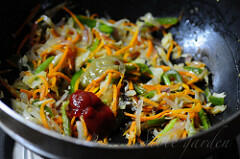 6. Add the noodles and toss well to coat completely. Top off with pepper powder and some salt if required.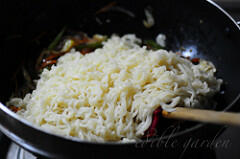 7. Garnish with the spring onions.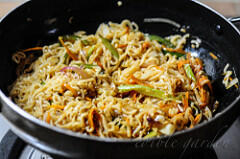 Notes:
Always serve noodles hot and immediately after making. Any Indo-Chinese side dish will work well with noodles. Here's a list of recipes you can use as side dish for vegetable noodles.
You can add a pinch of sugar along with the vegetables while cooking them. I didn't since ketchup tends to be sweet already
You can add other ingredients like bean sprouts and tofu / chicken / prawns in the noodles to give it a different twist