TH and I both like
tofu
so I really have no excuses for not cooking with it more often. For the longest time, I wasn't able to recognize extra firm tofu in the Singapore supermarkets but finally figured out that it's labeled
Tau Kwa
. Tofu is super absorbent and takes in flavours beautifully no matter what you cook with it or cook it in. When we go out, especially for a non-Indian meal, we find ourselves with some side dish with tofu in it, especially in a Thai meal.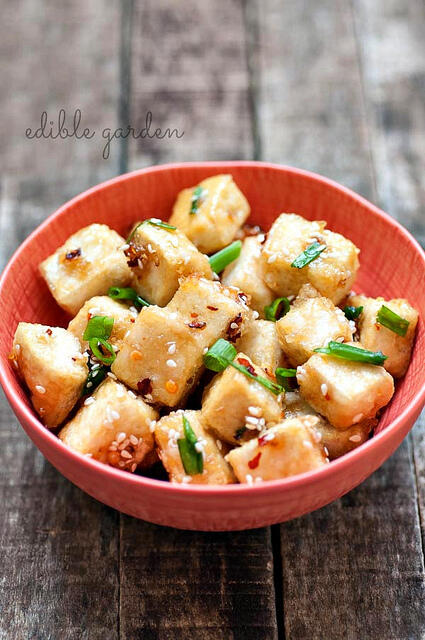 The moment I saw this gorgeous sesame tofu recipe, I wanted to try it. Some of the original ingredients are not always what I have in hand or use much so I substituted with my own variations and it still tasted great. Generally, I am not a fan of mixing sweet in a savoury dish but honey-based sauces are always an exception.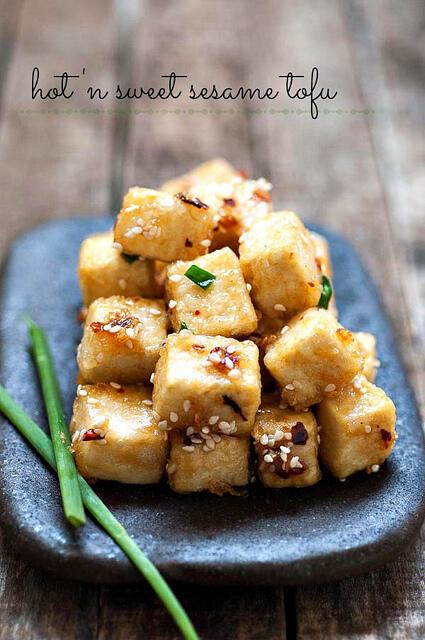 I am positive this would taste just as fabulous with paneer substituted for tofu and and as a side dish for vegetable fried rice or egg fried rice. Yum!
HOT & SWEET SESAME TOFU RECIPE
Preparation time: 5 minutes
Cooking time: 15 minutes
Serves 2
Recipe and photo adapted from: Use Real Butter
Ingredients:
1 block of firm tofu
1/4 cup of cornflour / corn starch
A pinch of salt
2 tbsp of white sesame seeds
A small bunch of spring onions/green onions
For the sauce:
3 tbsp of honey
1 tsp of soya sauce
1 tsp of vinegar
2 tsp of red chilli flakes
1 tsp of freshly grated ginger
1 tsp of freshly grated garlic
2 tsp of sesame oil
1/2 cup of oil, more or less, for shallow frying
How to Make Sesame Tofu:
1. Mix all the ingredients for the sauce in a pan.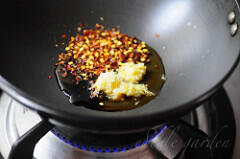 Simmer on low heat until it starts to bubble up a bit. Continue to simmer for 2-3 mins and then turn off flame.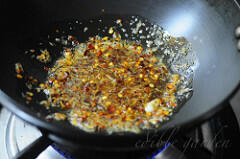 3. Now we need to fry up the tofu. If your tofu came packed in water, drain completely and press between kitchen towels to extract extra moisture. Cut into bite-sized cubes and dredge in the corn flour until fully coated.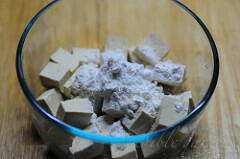 4. Heat oil for shallow frying in a pan and add the tofu pieces in small batches making sure they don't overlap at all. Fry until light golden brown, drain and continue until you are done with the entire lot. Drain on kitchen towels to absorb the extra oil.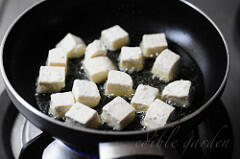 5. Add the fried tofu to a wide bowl and pour the sauce on top.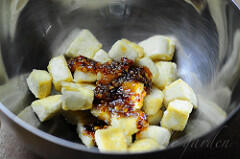 6. Top off with the sesame seeds and chopped spring onions.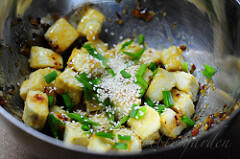 Toss well to coat.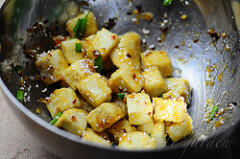 Sesame tofu is best served hot and immediately. If you expect it to be a while until you can serve it, keep the fried tofu and sauce separately, warm the sauce, and then do the mixing and tossing. The tofu pieces will remain crisp and the sauce gives a lovely sweet, hot, tangy, crunch to the entire dish.
Note:
The original recipe called for tamari instead of soya sauce I used, rice wine vinegar instead of the regular white vinegar I used, and Chinese sesame oil whereas I used gingelly oil or Indian sesame oil. As mentioned, I still loved the end product although my sauce was thicker since I added lesser honey.
Featured Props:
Brown flat plate and dark peach bowl both from Kappabashi Street, Tokyo.