Tomato Rasam
or
thakkali rasam
usually tops the list when people think of rasam so I was quite surprised when a friend wrote to me last week asking for a simple tomato rasam recipe and I realised I haven't shared it in the blog yet! Let me assure you that it's just an oversight and not because it's not part of my lunch menu regularly. I do prefer the no-tamarind
tomato juice rasam
to a regular tomato rasam but still end up making it 3-4 times a month. The only thing I'd insist on for making tomato rasam is that you have ripe tomatoes in hand. The rest is all easy and straightforward. Oh, and also, this is one of those rasam recipes that uses no readymade rasam powder. All you need are some basic spices which are sure to be in your pantry already.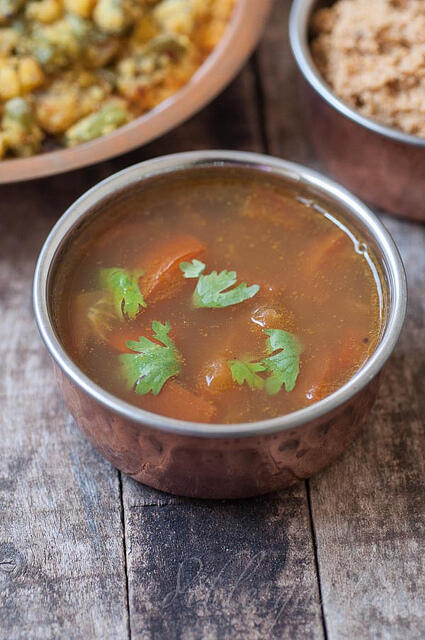 As I have mentioned many times already, my favourite combinations with rasam is paruppu usili and I make large portions of it because TH and I can never get enough of it. This was a terrific lunch combination – plain rice, tomato rasam, paruppu usili, and roasted coriander chutney with some vadaam on the side!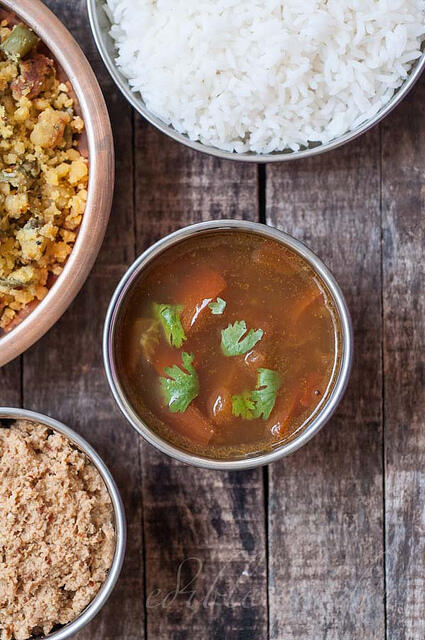 Other South Indian Rasam Recipes we love:
Pepper Rasam
Tomato Juice Rasam
Lemon Rasam
Coconut Milk Rasam
Paruppu Rasam
Garlic Rasam
INSTANT TOMATO RASAM RECIPE
Preparation time: 5 minutes
Cooking time: 30 minutes
Serves 4
Ingredients:
2 ripe tomatoes
1 lime-sized ball of tamarind
2 cloves of garlic
1 tsp of roasted cumin (jeera), powdered or crushed
1 tsp of black pepper, crushed
1 tsp of red chilli powder
3 tbsp of cooked and mashed toor dal (optional)
1 tsp of ghee
1/4 tsp of black mustard seeds
A pinch of turmeric powder
A pinch of salt
1/4 tsp of hing / asafoetida powder
A pinch of sugar
2 tbsp of chopped coriander leaves, for garnish

How to Make Tomato Rasam:
Soak the tamarind in one cup warm water for 15 mins. Extract juice and discard seeds and pulp, if any.
Place this in a pan and add chopped tomatoes and crushed garlic to it
Add 2 more cups of water and bring to boil. Then lower flame to simmer
Add the crushed cumin and pepper along with the chilli powder, turmeric and some salt
Continue to simmer until the tomatoes are completely cooked and the tamarind has lots its raw smell (about 12-15 mins)
Add the dal, if using, and the coriander leaves along with the sugar. Mix well and remove from fire
Heat the ghee in a smaller pan and add the mustard seeds. When they pop, add the hing and switch off flame. Dunk this mixture into the rasam and stir well
Serve hot with rice or drink it up like a soup.
Notes:
You can add more pepper powder towards the end if you prefer
You can add 2 tsp rasam powder instead of pepper, cumin, and chilli powder
You can crush the garlic and add it to the oil while tempering to give the thakkali rasam a roasted garlic flavour
Add curry leaves if you prefer. I like the combination of coriander leaves and tomatoes so I prefer to avoid curry leaves. There are better uses for it anyway!