This my easy, go-to chana pulao recipe when I need a quick pulav to make a one-peat meal on weeknights. I got some green chana from Delhi the last time I went and it had been lying in the pantry for a few months. One day I decided to make a pulao with the green chana and left it to soak before heading to work in the morning. That's probably the only catch with Channa Pulao recipe. You need to remember to soak the chana. If that didn't happen and you want a quick rice recipe, try this
Coriander Rice
instead!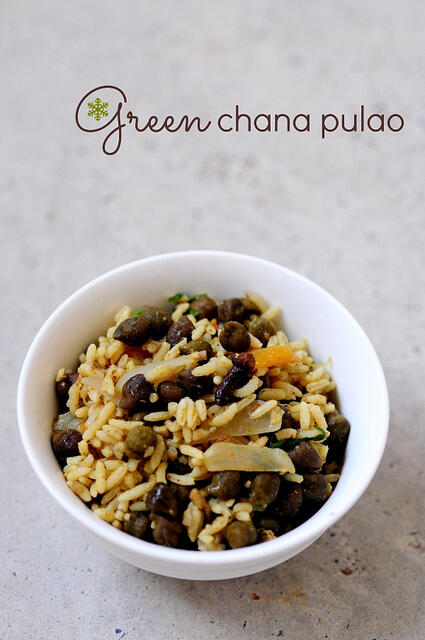 Now, pulao recipes are all over the Internet and you probably have your own version of pulao that you make on a busy day. This Chana Pulao I am going to share today is going to really appeal to some of you who are looking for a super quick, nutritious, one-pot rice dish.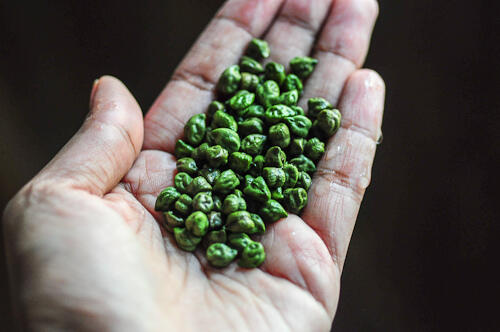 While I have used soaked and pressure-cooked green chana for this Chana Pulao, you can use the regular kala chana (black chana) or the white chickpeas or Kabuli chana. Also, I swear by Badshah Kitchen King Masala to pep up a North Indian dish and this pulao uses it too. You can substitute with your own favourite garam masala powder.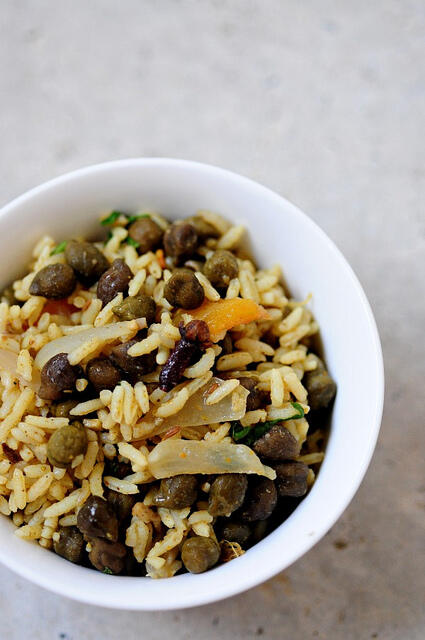 Sidenote: One of these days, I will figure out the ingredients in Kitchen King Masala and make it at home. I love that spice mix, so wait up for some homemade Kitchen King Masala soon!
Green Channa Pulao Recipe
Preparation time: 1 hour (includes soaking time)
Cooking time: 15 minutes
Serves 2
Ingredients:
2 cups of cooked rice
1/2 cup of chana, soaked and pressure cooked
1 large onion, sliced
1 tomato, cubed
1 piece of cinnamon
3-4 cloves
1 bay leaf, torn
2-3 dry red chillies, halved
1 tbsp of ghee or oil
2 tsp of salt
1 small bunch of fresh coriander (cilantro) leaves
1 tsp of Kitchen King Masala (or any garam masala)
How to Make Chana Pulao:
Heat the ghee or oil in a pan and add the sliced onion.
When it turns a golden brown, add the cloves, cinnamon stick, chillies, and bay leaf
Fry for another 2 mins and add the tomato, chana along with the water it cooked in, and masala. Stir and cook for another 3-4 mins until the tomatoes begin to turn mushy and the water has reduced almost entirely
Add the cooked rice and salt. Mix well to combine.
Turn off flame, garish with chopped coriander, and serve hot with papad and raita.
Step by Step Pictures for Making Channa Pulao:
1. Heat ghee, add onions and fry until golden. Add the spices – cinnamon, cloves, bay leaf, chillies – and mix well. Then add the chana along with water it cooked in and tomato. Mix well.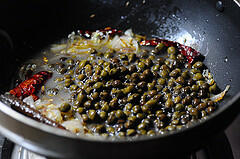 2. When the water has cooked down add the masala. Mix well.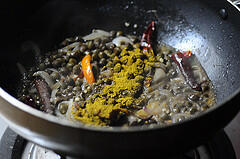 3. Add the rice and salt. Mix to combine.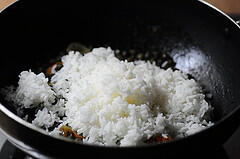 4. Garnish with chopped coriander leaves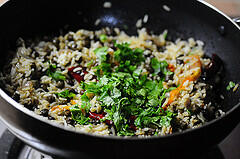 5. Serve hot with papad and a cooling cucumber raita.