Learn how to make Okra or Vendakka Stew using this simple and easy recipe from my mom's kitchen through step by step pictures
As I have proclaimed loud and clear many times before, I am not a fan of vendakka or okra and pretty much any recipe with it doesn't push me to the other side. Amma, however, cooks a lot of vendakka recipes and this Vendakka Stew is a particular favourite of hers because it gets done so easy and quick with a minimum of ingredients. Like mom, like daughter, eh? 😉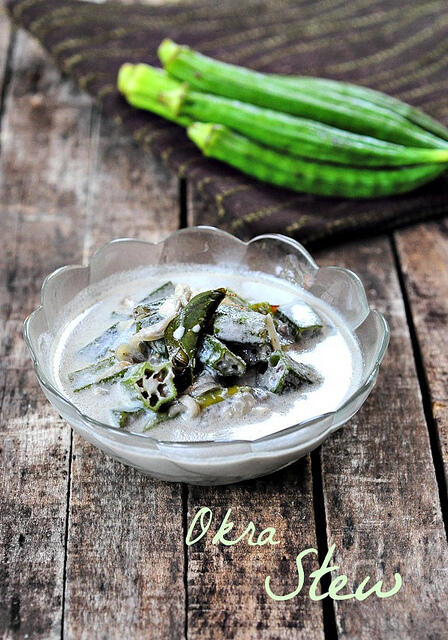 The beauty of this vendakka stew, or pretty much any Kerala-style stew recipe is that is the list of ingredients are very small and the dish is almost exclusively with coconut milk and the main vegetable – in this case, Okra. So let's check out how to make this easy Okra or Vendakka stew.
Also check out:
Fish moilee (Kerala fish stew)
Bhindi masala
Okra avial
Okra Stew Recipe-How to Make Vendakka Stew Recipe
Preparation time: 10 minutes
Cooking time: 20 minutes
Serves 4
Recipe source: Amma
Ingredients:
2 cups of okra (vendakka) cut into 1″ pieces
1 cup of thin coconut milk (check notes)
1 cup of thick coconut milk
2-3 green chillies, slit lengthwise (adjust to taste)
1 large onion, sliced
1/2 tsp of minced ginger
1 strand of curry leaves
3/4 tsp of salt (adjust to taste)
1 tbsp of oil (preferably coconut oil)
1/4 tsp of black mustard seeds
How to Make Okra Stew:
1. Heat the oil in a pan and add the mustard seeds. When they pop, add the onions and ginger. Saute until the onions turn pink and transparent. Don't let them brown.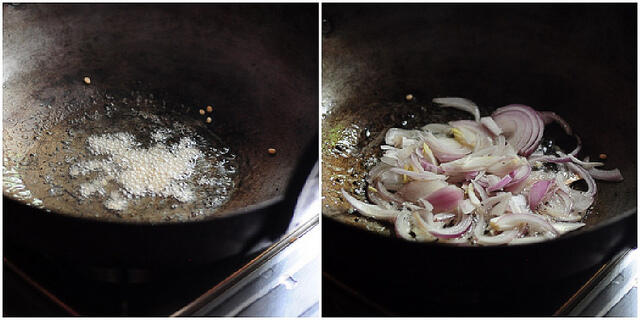 2. Next, add the chopped okra and green chillies along with some salt. Mix well and add the thin coconut milk to this. Mix again and cook covered for around 15 mins until the okra turns soft. Keep the fire on low and check a few times in between to make sure there's enough liquid to cook the okra (there should be, for the measurements I have given).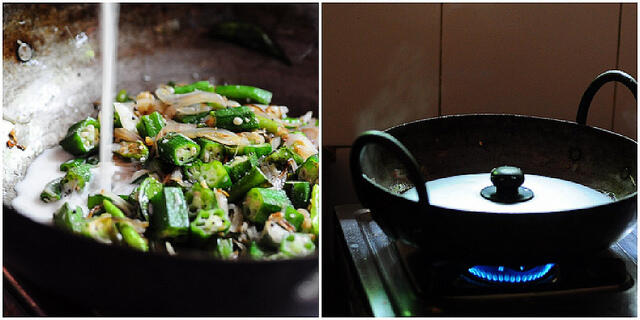 3. Once the okra is cooked, add the thick coconut milk and mix well. Heat through (do NOT bring to boil) and remove from fire. Adjust salt at this stage if required and add the curry leaves.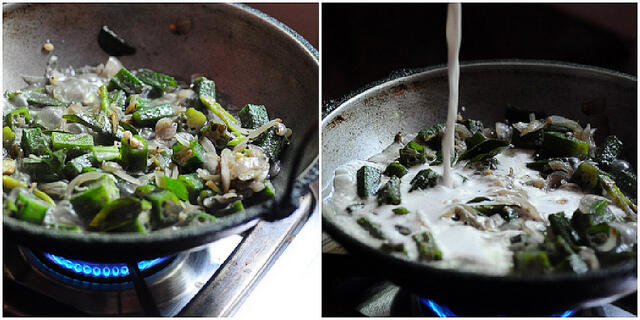 That's it! Okra stew is now ready.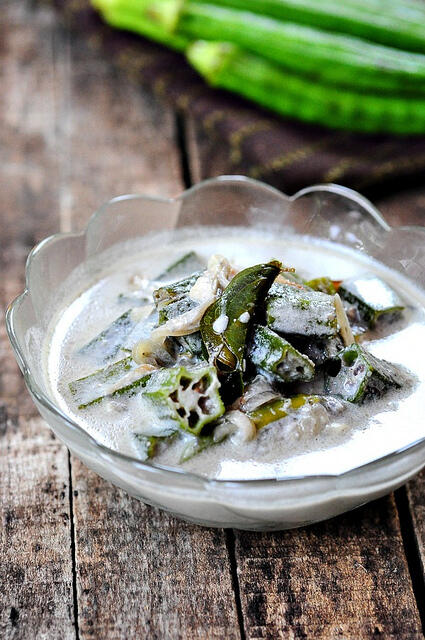 Notes:
– To make coconut milk: take 1 cup grated coconut and add 1 cup warm water to it. Grind well together and squeeze out the milk, pressing the grated coconut against a sieve. This is your thick coconut milk or onnaam paal. Repeat with more water and this time you will get thinner coconut milk or rendaam paal. Remember that coconut milk should never be boiled or it will curdle.
– If you have good attention to detail, you will notice that we changed the pan used for cooking in step 3. This is because the usual iron kadai that amma uses was changing the colour of the coconut milk to a shade of grey. So our Okra Stew is not the perfect ivory white colour that it should be – bear with us.
– You can serve this Okra Stew with rice and vatha kuzhambu. Another good combination is Okra Stew with Appam.