Learn how to make mushroom korma, an easy and simple mushroom side dish for appam, dosa, rotis.
My niece was visiting Kottayam with me last week for Christmas holidays and while browsing through Vanitha (a Malayalam magazine), we saw a great-looking recipe for Kadai Mushroom. I promised her I'll make try a mushroom recipe before I leave and even bought and kept some fresh button mushrooms in the fridge.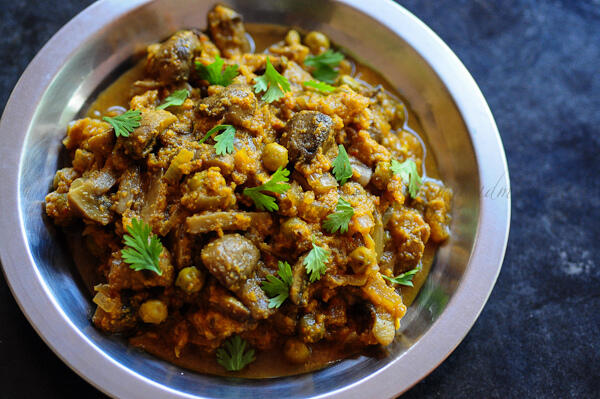 The Kadai Mushroom didn't happen finally but instead, I made this easy and delicious Mushroom Korma instead. Amma wanted me to make a mushroom recipe that would go with rice and preferably with coconut in it and this Mushroom Korma was the perfect answer.
For mushroom recipes, check out mushroom paneer masala, mushroom peas curry, mushroom quiche (a very easy and tasty baked recipe) and one of my favourites, fried rice with mushroom.
Mushroom Korma Recipe
Preparation time: 10 minutes
Cooking time: 25 minutes
Serves 6
Recipe adapted from: Bawarchi
Ingredients:
5 cups of quartered button mushrooms
1/2 cup of green peas, cooked until soft in some boiling water
1 large onion, chopped fine
4 cloves
1 small piece of cinammon
3 cardamom pods, crushed
1 tbsp of oil
1/2 tsp of turmeric powder
Grind Together:
1 large onion, cut into chunks
1 tomato, sliced
1″ piece of ginger
2 cloves of garlic
1/2 cup of grated coconut
1.5 tsp of coriander powder
5 dry red chillies
How to Make Mushroom Korma:
1. Heat oil in a pan and add the cloves, cinnamon, and cardamom. Fry for 10-15 seconds until they turn fragrant and add the minced onion.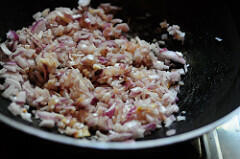 2. When the onions turn golden brown – about 4 mins later, add the chopped mushroom and turmeric powder. MIx well and cook for 2-3 mins until the mushrooms start to release water.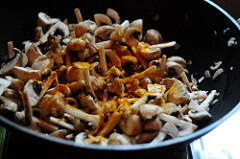 3. Add the boiled peas and some salt.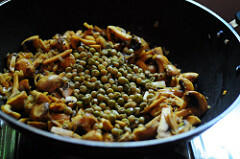 4. Top off with the ground mushroom masala paste along with about 3/4 cup water (I add it to the mixie jar, twirl it well to clean up the masala, and then add that water in).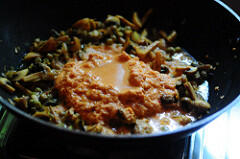 5. Mix well to combine,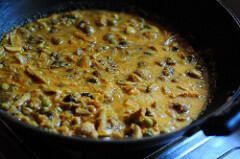 and cook closed for about 10 mins until the mushrooms are soft and the gravy has reached the right consistency. If it's too watery, cook in an open pan until the gravy thickens.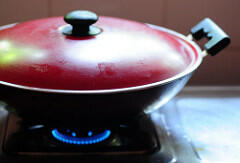 6. Once done, adjust salt and add chopped coriander leaves for garnish.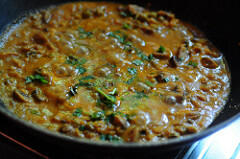 This mushroom korma works great as a side dish for rice or chapati / roti. We had it with rice in the afternoon and then with dosa for dinner.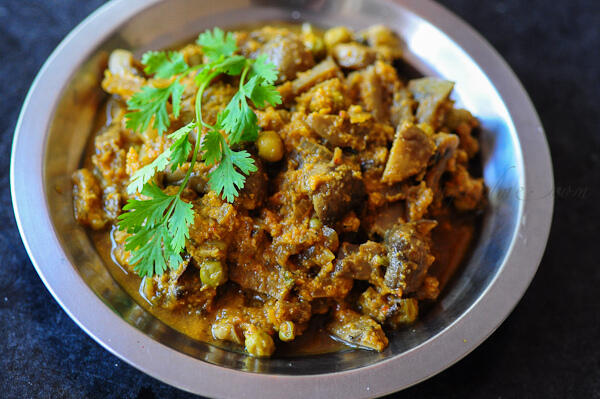 Note: You can omit the green peas in this mushroom korma recipe but I would recommend adding it for the extra texture and colour. We used dried peas which is why there is pre-cooking required. If using fresh green peas, add directly to the gravy along with the mushrooms before you cook it covered.