Poricha Kuzhambu
is a phrase that entered my vocabulary post-marriage (just like
Paruppu Usili
, actually). It's this wonderful mash-up of a vegetable, cooked toor dal, roasted spices, and fresh coconut. Everything in that list is perfect, so the final dish can be nothing but, right?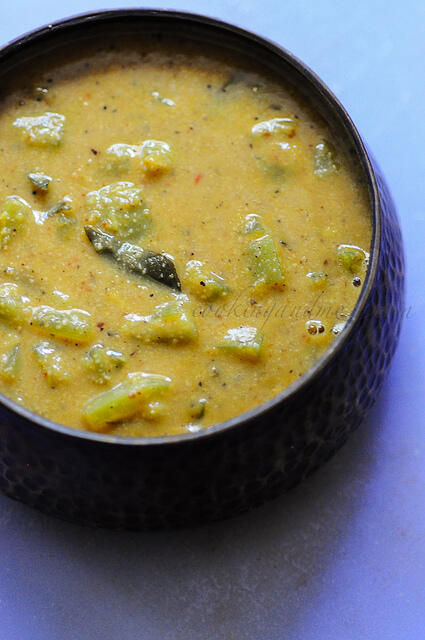 Right! My MIL made Poricha Kuzhambu with peas the last time she was here and I loved it. She mentioned then that the most popular vegetable that goes into poricha kuzhambu is podalanga / snake gourd so I tried it with that and loved it! Since I like my kuzhambu a bit on the spicier side, I added a tad more of pepper and red chillies but you can adjust it to your liking.

Poricha Kuzhambu-Poricha Kuzhambu Recipe
Preparation time: 10 minutes
Cooking time: 20 minutes
Serves 2-4
Recipe source: Mom-in-law
Ingredients for Poricha Kuzhambu:
1 small podalangai (snake gourd, padavalanga)
1/3 cup of toor dal (tuvar dal, pigeon peas)
1/2 cup of grated coconut
3 tsp of urad dal
1 tsp of whole black peppercorns
1/2 tsp of jeera (cumin) seeds
2 dried red chillies
1/4 tsp of turmeric powder
1 generous pinch of hing (asafoetida, perungaayam)
1 tbsp + 1 tsp of oil
1 strand of curry leaves
1/4 tsp of black mustard seeds
Salt to taste
How to Make Pudalangai Poricha Kuzhambu:
1. Grate the peel off the snake gourd, halve it, deseed it, and cut into small cubes.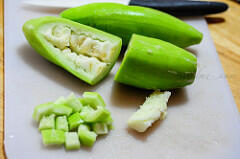 2. Pressure cook the toor dal with enough water until soft. Mash well and set aside.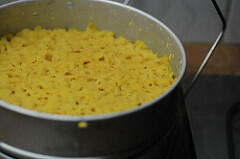 3. Heat the 1 tsp oil and add the red chillies, jeera, pepper, urad dal, and hing until the urad dal turns golden brown and the red chillies glisten. Set aside to cool.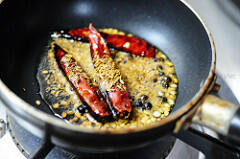 4. Meanwhile, add the podalangai pieces to a pan along with curry leaves and turmeric powder, and add enough water to just cover it. Bring to boil and cook until the podalangai is soft (about 5-6 mins).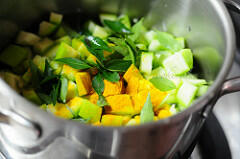 5. Grind the roasted spices along with the coconut to a smooth paste, adding enough water.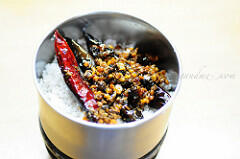 Add this to the cooked podalangai mixture and stir well. Add the mashed toor dal and salt and mix again. If the kuzhambu is too thick, add some more water and bring to boil. If too watery, increase heat and cook until the right consistency is reached. Turn off the flame.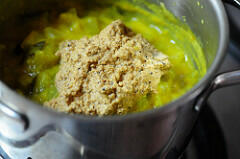 6. Heat the 1 tbsp oil and add the mustard seeds. When they begin to pop, dunk the entire thing into the kuzhambu. Still well.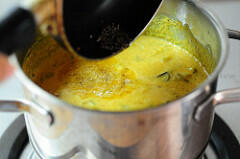 Serve hot with white rice and any dry side dish of your choice. Since this is a coconut-based kuzhambu, a mezhukkupuratti or stir-fry will go well with it.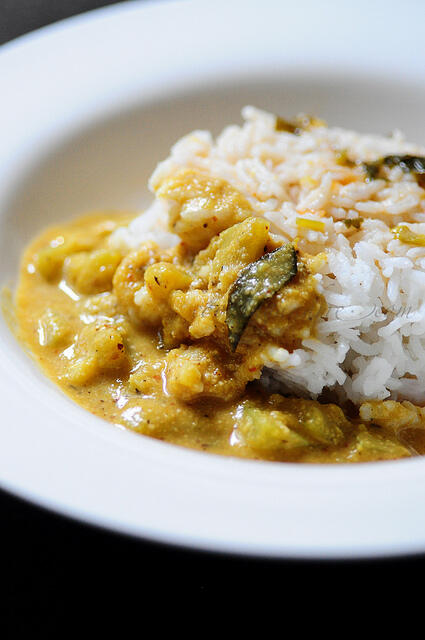 What's your favourite South Indian Kuzhambu Recipe?