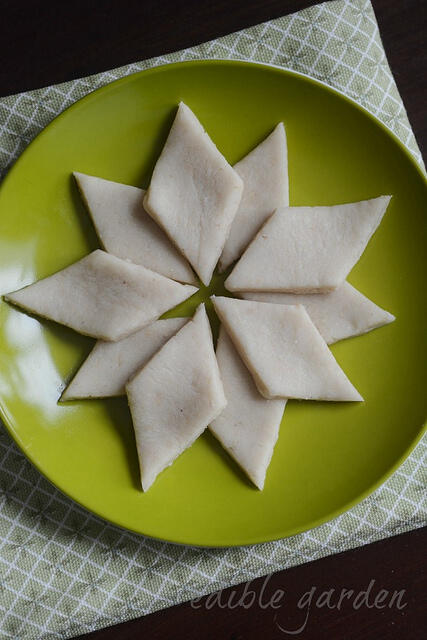 Kaju Katli (kaju burfi, cashew barfi) is the only South Indian sweet that TH would eat and so I try to make it during Diwali time. I have made kaju katli twice before this. The first time I made it, I got a perfect batch which I shared with friends but I couldn't document the process to share the recipe and method here so I let it be.
The second time I made it, my kaju katli was a disaster. It turned out like crispy cashew candy which, admittedly, we ate up anyway but I was quite disappointed that my first successful attempt at making kaju katli couldn't be replicated. That really didn't make any sense although beginner's luck is a thing, we all know that.
More Diwali sweet recipes and ideas:
Microwave palkova recipe
Sandesh recipe
Chocolate kalakand
Easy rava ladoo
Maa ladoo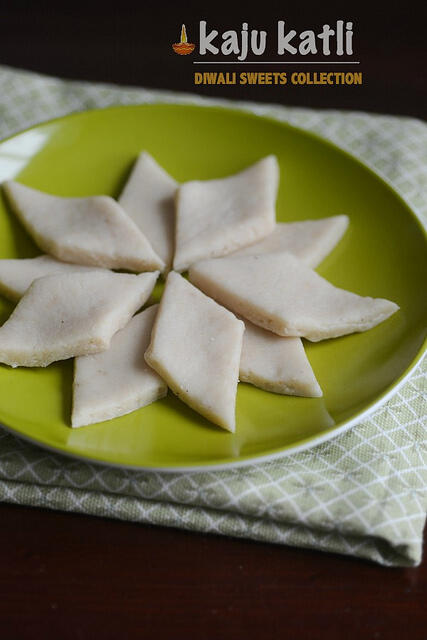 Then I got down to figuring out what went wrong and what I could do differently. There are many great blog posts out there detailing the steps to make kaju katli. Mine will tell you what to do (of course) and also what not to do, because I have been in both those situations. As I always say, learn from my mistakes.
Tips for making the perfect kaju katli:
The most important step is not the sugar syrup consistency but the right consistency of your powdered cashew nuts
Make sure your cashew nuts are good quality and completely dry before you powder them. If refrigerated, keep outside for minimum of 4 hours before proceeding.
The cashew nuts should be powdered in a totally dry spice grinder or mixer. I sun dried mine just to be double sure.
The second most important step is the kneading of your almond mixture after cooking. I followed recipes in the past that didn't require any kneading which gave me crisp candy-like textures due to overcooking the sugar syrup
What *not* to do when making kaju katli:
Do not be in a hurry
Do not worry about one string consistency of your sugar syrup – great news right?
Do not panic if your mixture doesn't look right in the beginning. Follow the entire process and trust the recipe, it should turn out just fine
Do not over-pulse the cashew nuts, it will turn it pasty. More tips on that below.
Alright, with that, let's get started on making homemade kaju katli. Very few sweets I have made for Diwali have been as rewarding as getting these perfect slices of kaju katli.
KAJU KATLI RECIPE
Preparation time: 10 minutes
Cooking time: 15 minutes
Makes 15 pieces (approximately)
INGREDIENTS:
1 cup of raw cashew nuts
1/2 cup of sugar
1-2 tbsp of milk
1-2 tsp of ghee
4 tbsp of water
INSTRUCTIONS:
Ensure the cashew nuts are completely dry before proceeding
Place in a spice grinder and pulse at 3 second intervals 2-3 times
You should get uniformly powdered cashew nuts that are slightly moist (due to the natural oils in the nuts) and slightly coarse and crumbly
Do not over pulse or grind the cashew nuts, they will turn mushy and into cashew butter
If there are any large pieces in the powder, remove them before proceeding
Do this in smaller batches if needed, do not over crowd the grinder
Once all the cashew nuts are powdered proceed with making the sugar syrup
Place the sugar and water in a non-stick pan on medium flame
Let the mixture boil and then keep stirring until the sugar has completely dissolved and you get a slightly thicker consistency of syrup that coats the back of your spatula (took me around 2-3 mins, not too long)
Add the powdered cashew nuts and lower flame
Now it's time for some constant stirring. Keep stirring continuously for about 8-10 minutes or until the mixture bubbles up and turns into a thick mass that rolls around the spatula as you stir
The mixture may look a bit coarse due to the powdered cashew nuts, do not worry about that
Do not scrape the sides of the pan too much once the mixture starts to thicken, the sugar will crystallise and form hard crusts along the edge of the pan and we don't want this to be in the kaju katli
Transfer the hot mixture immediately to a plate and add 1 tablespoon milk + 1 teaspoon ghee to this
Let it warm down to a point where you can handle the mixture with your fingertips
Knead gently, adding more milk and ghee if you need, mixing in all the crusty and dry parts for about 2 minutes
Do not exert too much pressure when kneading, katlis don't need the same powerful kneading like chapatis do
You should soon have a very smooth dough that's still warm
Place between two sheets of greasing paper and roll into a circle or square that's about 1/4″ thick
When still warm, scour with a sharp knife into diamond-shapes
When completely cool, separate the pieces and store in an airtight container in the refrigerator
Keeps well for up to four days, in my experience
Step by Step Pictures to Make Kaju Katli
In a clean, dry spice grinder, add the cashew nuts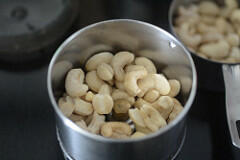 Pulse in 3-4 second intervals until you get moist, cashew nut powder. Do not over grind, it will turn into butter. This is the most important step in making kaju katli. The mixture will be crumbly to touch and that's perfect.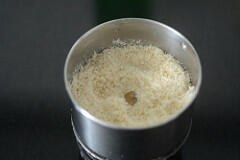 I did it in two batches since my spice grinder is quite small. Transfer to a bowl and set aside.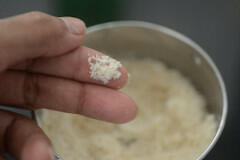 Add the water and sugar to a non-stick pan and keep on medium flame.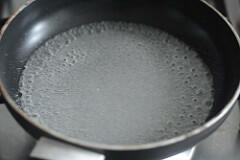 Bring to boil, then lower flame and keep stirring until the mixture thickens and coats the spatula. You don't need to be scientific about this. Once the sugar has dissolved fully and you have cooked the syrup for about 2-3 minutes, proceed to the next step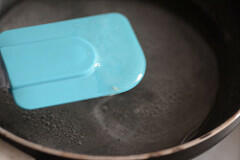 Add the cashew powder to the sugar syrup.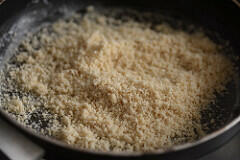 Ensuring that the flame is low, mix well until combined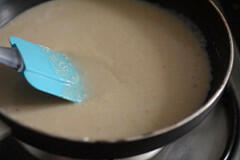 Keep stirring, do not move away from the stove now. Stir continuously.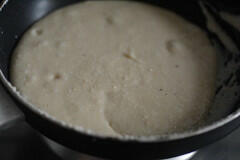 The mixture will bubble up and the cashew nut powder will start cooking in the sugar syrup as it reduces to coat the powder. Fun!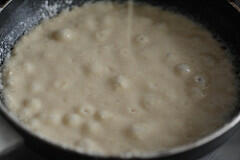 Keep going until you see a thick mass forming and it will become quite difficult to stir the mixture anymore. The almond mixture will start rolling around your spatula and leave the sides of the pan entirely. It took me about 8-10 minutes to get to this stage.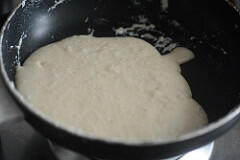 Transfer the mixture to a plate greased with ghee. Add more ghee and milk to this and let it cool just enough for you to handle it without burning your fingers.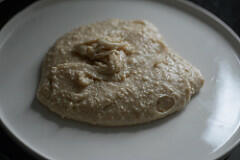 Once you can handle the mixture safely, knead gently until all the coarse cashew nuts combine and you get a smooth dough. Do not wait too long or cool it too much, we still need the katli mixture to be warm when we roll it out in the next step.
The mixture may be a bit dry around the edges or seem crumbly which is why we are adding the milk. Add milk a little at a time, only use what you need. Rub more ghee on your fingertips to make the kneading easier.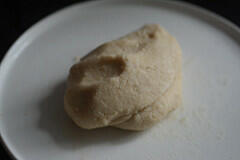 Once you get a smooth dough like above, make a ball, flatten slightly, and transfer to a sheet of butter paper. The dough should still be warm at this stage. If you feel it's cooling down, act quickly.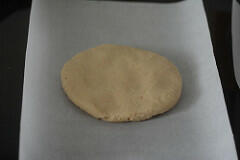 Place another sheet over it and using a rolling pin to roll the katli mixture to about 1/4″ thickness. You can keep it thicker if you'd like.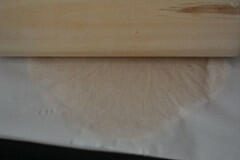 Remove the butter paper on top.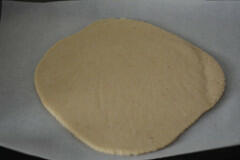 Using a sharp knife, cut out the desired shape. You can do squares, rectangles, diamond shapes (which is probably the most popular), or even use a cookie cutter to cut out your desired shapes.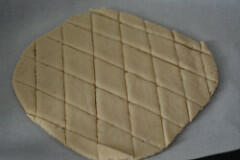 I went with the conventional diamond shapes. Let the katli mixture cool completely before you break out the pieces. That will ensure the shape holds when you transfer to a storage container.
Warm kaju katli really tastes amazing but you can store these in the refrigerator in an airtight container for up to 4 days. If you don't add milk, the shelf life will be longer.
Notes:
– Add milk only if needed. If the mixture is moist and you are able to knead it easily, avoid the milk
– I found this amount of sugar to be quite high, the kaju barfis were quite sheet. Next time, I'd experiment with a lesser amount but I am not sure how that would affect the overall texture. Will update here when I have tried it
– Please leave a comment if you try to make kaju katli at home following my recipe, would love to know your experience and thought about it
For Kaju Katli – Kaju Barfi – recipe in Tamil, Telugu, Hindi, Urdu, Marathi, Kannada, etc, please use the Google translate button in the sidebar.