Learn how to make your instant noodles more filling, fancy, and healthy with a few additions, and voila, you have a quick noodle snack with added goodness.
In the interest of complete disclosure, let me tell you that this is Maggi noodles with extra stuff added. During my childhood, Amma would make Maggi noodles once in a while but always stressed on the fact that it's.not.healthy. Especially the tastemaker masala that came with it which has MSG and for Indians, MSG is equivalent to cyanide in small doses. Who wants to feed that to their kids, right?
There are opposing views and different schools of thought on MSG (also knows as Aji No Moto after the brand that made it popular) but that's for another day. Let that not come in the way of us and this hot steaming plate of maggi noodles with vegetables.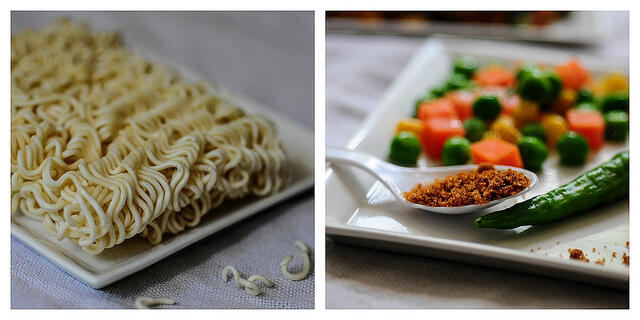 I use frozen vegetables most of the time because this is a quick-fix snack or dinner for us but obviously, fresh vegetables are better if you have some handy.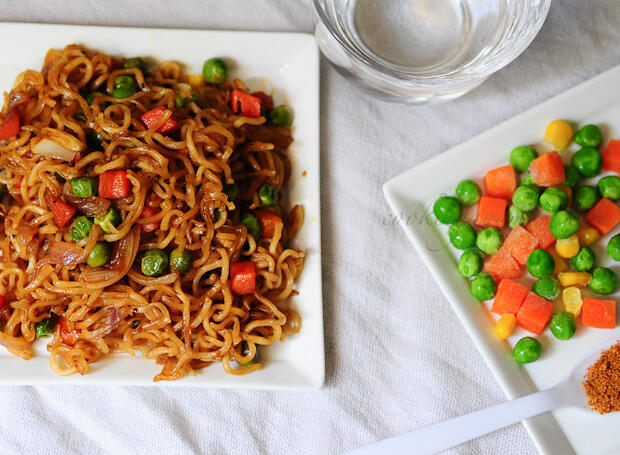 I also have noodles recipes in the site that's not made from Instant noodles, in case you were wondering. Here you go:
Pad Thai noodles
Curry noodles
Chilli noodles
Instant Vegetable Noodles Recipe | Quick Snacks
Preparation time: 5 minutes
Cooking time: 15 minutes
Serves 2
Ingredients:
3 packets of maggi (or any instant) noodles
1 sachet of spice packet that comes with the instant noodles
1 cup of mixed vegetables of choice (carrots, beans, corn, peas, etc)
1 of onion, chopped
1 tsp of soya sauce (I used dark soya sauce which explains the colour of my noodles)
1 tsp of green chilli sauce (or replace with 2 crushed green chillies)
1 tbsp of tomato sauce or ketchup
1 tsp of minced garlic (about 3-4 cloves)
Salt of only if needed
Coriander leaves of for garnish (optional)
1 tbsp of oil
How I Made It:
1. Bring a pot of about 4-5 cups of water to boil. Add the noodles and a few drops of oil to this. Cook until the noodles are softened yet firm. Take care not to overcook it otherwise the noodles will get totally messed up. If you insist on making a mistake, undercook the noodles please.
2. Heat the oil in a pan and add the garlic. Stirring briskly taking care not to burn it, add the chopped onion. Cook until the pieces turn soft and begin to brown.
3. Turn the heat up and add the soya sauce, ketchup or tomato sauce and green chilli sauce. Mix well for a minute and then add the mixed vegetables. Stir well to combine, add the spice mix, lower flame and cook until the vegetables are soft. Don't add water at any point.
4. Once the vegetables are soft, add the cooked noodles and mix well. Check for salt and add only if needed. The spice mix and the soya sauce are salty so I generally don't add any more. Garnish with chopped coriander leaves and serve hot with more ketchup.
You can also add 1-2 scrambled eggs to the noodles to make it Instant egg noodles. Delicious!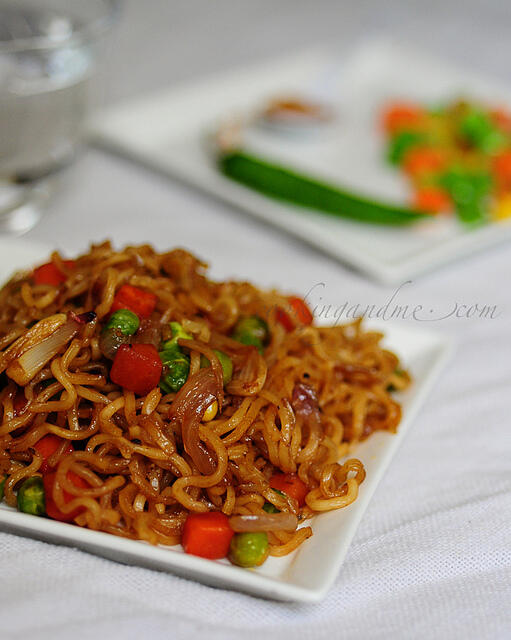 How do you like your Instant noodles? Share in the comments below.