Divya, my friend of the
Corn Malai Subzi
fame also happens to be good with traditional sweets. She came home for dinner one night with dessert in hand – paal poori to be exact. I had never heard of it before and I was not happy about that.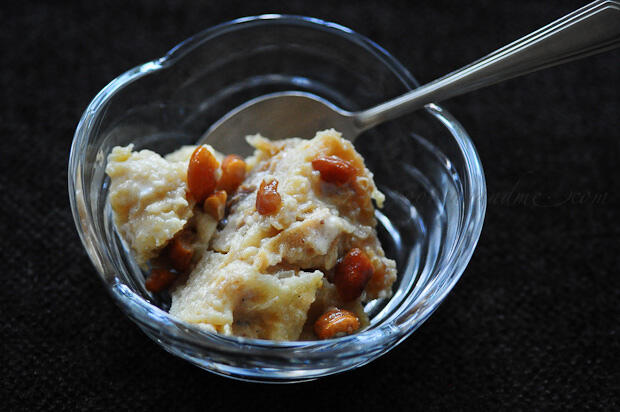 Here's why: Paal Poori is a delicious dessert which, true to its name, is pooris soaked in sweetened, thickened milk and then garnished with roasted cashew nuts and almonds. Yum much?
Paal Poli Recipe
Preparation time: 15 minutes
Cooking time: 45 minutes
Serves 6-8
Recipe source: Divya
Ingredients:
1.5 litres of milk
1 can (400gm) of evaporated milk
1 can (400gm) of condensed milk
Powder together:
2-3 tbsp of sugar (adjust to your preference)
6-8 pods of green cardamom
For the Pooris:
1.5 cups of all-purpose flour
1 tsp of oil
Salt to taste
Oil of for deep frying
To Garnish:
10-12 of cashew nuts, slivered
A few of almonds, slivered (optional)
How It's Made:
1. Mix the flour, salt, and oil with enough water to make a stiff dough. Let it stand for about 15 minutes.
2. Roll out palm-sized pooris from the dough, and deep fry in the oil.
3. Drain the pooris and lay out on a flat dish lined with kitchen napkins.
4. Boil together the milk, condensed milk, evaporated milk along with the sugar-cardamom powder mixture on medium heat for about 15 – 20 minutes to a thick-ish pouring consistency (neither too runny nor too thick).
5. Pour the milk mixture over the pooris and let it stand for a couple of hours, until the pooris soak about half of the milk mixture.
6. Garnish with roasted unsalted almonds and cashew nuts.
Paal Poori can be served warm or chilled in the refrigerator.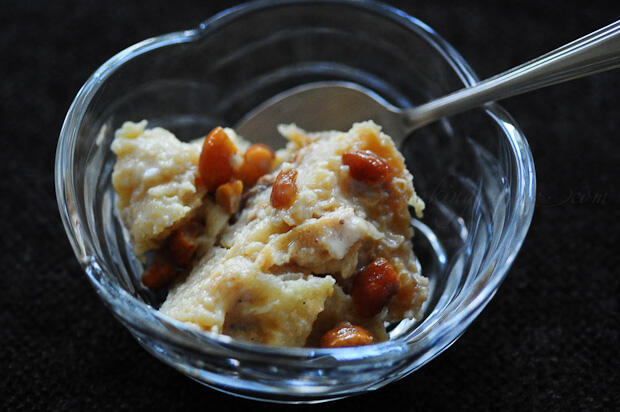 Note: If you are unable to source evaporated milk, just measure out one can of milk instead and add to the mixture instead of evaporated milk.
Update: Since many of you wrote to me saying this is in fact called Paal Poli and not Paal Poori, I have edited the title to reflect that 🙂