When Siri reached out to tell me about her fund drive for the destitute girls in
Vaidehi Ashram
, it brought back memories of the weekends I used to spend in a facility in Hyderabad that took care of orphaned kids with AIDS. I would go there every Saturday for a few months, hold the kids, play with them, paint, teach, and all the rest of the stuff that you would normally do when you volunteer at a place like this.
Then I would come home and mope around the house all weekend, not interested in going out, not willing to talk to happy people and generally being a pain to be around. That's the main reason I stopped going there. In a way, I guess that's selfish, but the more time I spent with those kids, the more depressed I became until one day I realised I am of no use to them or to me if I continued this way.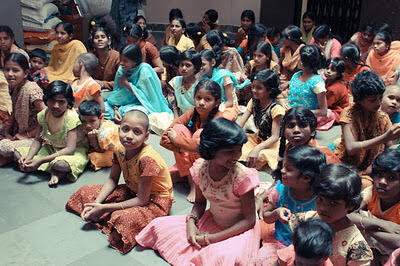 Photo by Siri
I then switched to to sending them a sum of money every month for their washing detergent (which was one of the most expensive things on their shopping list because they used about 6 washing machines every day, donated by a kind soul). Then I got married, relocated, and that was the end of that.
Shame on me.
I should thank Siri for this opportunity though. I am helping her raise money by contributing to the list of raffle prizes. Mine is probably the most cryptic item in the list mainly because I am not sure exactly what will go into this "Oriental Gift Basket" I am offering, but I am happy to work with you on this if you bid for my item. We could throw in some nice spices, herbal teas, pretty coasters, food photo props, cushion covers, feng shui items, and I will most definitely send you a small poster with your name in Chinese characters. That's a promise. Interested?
Here's how to take part in this raffle:
Step 1. Buy Raffle Tickets
Each raffle ticket is worth $10 (or Rs.500). You can increase your chances of winning the giveaway by buying more than 1 raffle ticket.
For Example, a donation of $20 will fetch you 2 raffle tickets which can be used to choose on any of the raffle prizes. You can use all your raffle tickets on one prize (in turn increasing the chances in the lucky draw) or on different prizes. To see the entire list of available items, check Siri's post. The items also make great gifts so keep an eye on the shipping countries and make a call.
2. How to Buy the Raffle Tickets
Click on the "Chip In" button below and you will be able to pay through PayPal or your credit card.
Once the donation process is completed, please forward your payment confirmation message to info(dot)siri(at)gmail.com and clearly mention the raffle item you would like to opt for. Eg: to choose the item I am contributing, include this info in your email "RU10 – Oriental Gift Hamper."
Within 24 hours, your name and contributed amount will be added to the 'Fund Drive Supporters List' at the very end of this post. If you want to stay anonymous, please let Siri know in advance. You can also email her with any questions or confusions in the donation process.
The fund drive ends on Feb 25th, 2012.
I know we keep hearing that our time is more valuable to people rather than money or things, but the way I look at it, when getting even the basics in life is a struggle, any kindness you show them is appreciated. I am sure the time I spent with those kids back in Hyderabad was in no way more valuable than the money I donated later. They accepted both with equal gratitude.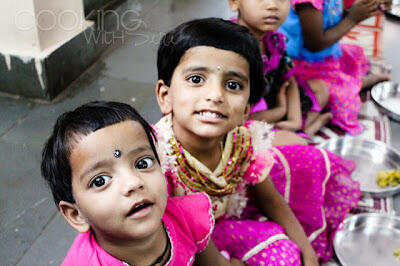 Photo by Siri
Act as if what you do makes a difference. It does. ~William James
Reader Interactions