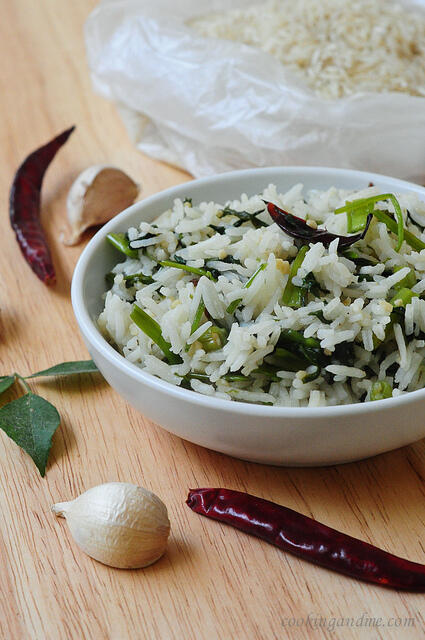 I made this a couple of months back to serve with the Banarasi Dum Aloo. When I posted a teaser of these dishes on my Facebook Page, a lot folks wanted to know what kang kong is. Its not easily available outside of Asia as far as I know but there's this dish called Sambal Kang Kong that I fell in love with during my first few Singaporean Malay meals in Singapore. Sambal is not vegetarian since it contains anchovies (although vegetarian versions do exist, it's not the real thing) and I haven't seen kang kong being used in any way but steamed or stir fried and served with spicy sambal.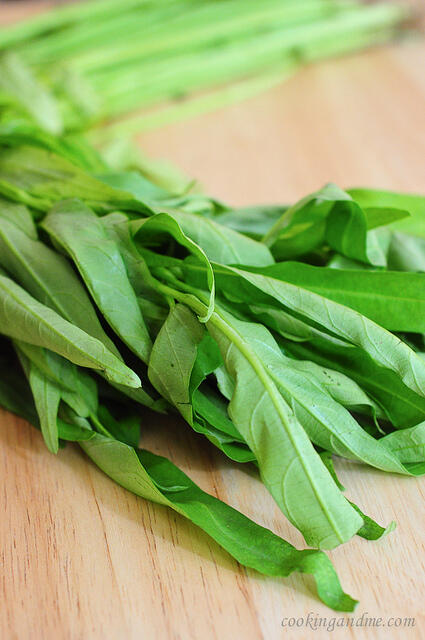 This could be because kang kong lacks any strong flavour of its own. Anyway, I was determined to try and vegetarian recipes with kang kong and knew it had to be paired with something that was spicy and had a strong flavour. Garlic seemed like a good choice in the flavour department.
Garlic Flavoured Kang Kong Rice Recipe
Ingredients:
1 small bunch of
kang kong, washed and roughly chopped

1 cup of
cooked Basmati rice

3 flakes of
garlic, minced

3-4 of
dry red chillies, torn into halves

1 tbsp of
oil

Salt to taste
How I Made It:
1. Heat a pan on low heat and add oil. When it warms up, add the minced garlic and fry for a minute. When the garlic turns fragrant, add the red chillies and fry again until they start to glisten and turn shiny.
2. Add the chopped kang kong with some salt and cook on medium flame until it gives it some water, and cooks in it. The leaves will begin to wilt and shrink – about 5-7 mins.
3. Add the cooked rice, mix well, heat through, and remove from fire.
Serves 2 : About 2-3 cups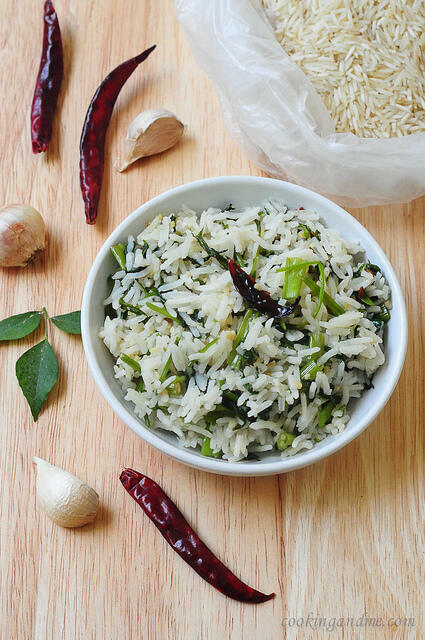 In hindsight, adding some spicy sauce to the rice mix would have added a lot more punch to this, like maybe some Thai red curry paste, or a blend of green chillies+coriander leaves+mint leaves, etc.
Cooked this way, its a bit bland but went really well with the Banarasi Dum Aloo.