Tomato juice rasam recipe, a simple juice rasam recipe using tomatoes without tamarind.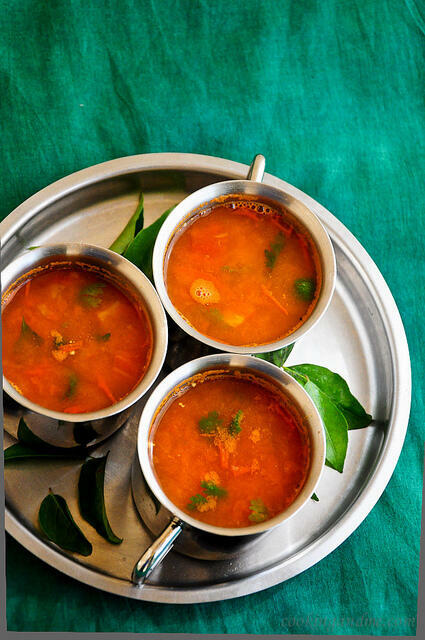 My MIL is a fabulous cook and she has what seems like an unlimited supply of rasam recipes that she can make on request or whim. What I particularly find fascinating with her cooking is, all her dishes are super quick and easy ones. They are simple, mostly with only 5-6 ingredients and get done in less than half an hour each, at the most. In fact, when I visit my in laws, most of MIL's cooking is done by the time I wake up (which I should admit is not very early!) and usually there's some type of rasam boiling in the eeya chombu, a unique tamil brahmin practice of making rasam in pots that are alloys of many metals including lead. Although there are many schools of thought regarding the harmful effects of lead in food, she continues to use it for rasam. The taste difference is said to be significant if you don't use an eeya chombu for your rasam!
One of my favourites of all the rasam recipes she had shared with me over the years is this juice rasam or tomato juice rasam recipe. It uses no tamarind, and since my FIL's mom doesn't take onion or garlic, this version doesn't contain garlic either. So that makes this a very tasty and easy recipe that can either be taken like soup, or poured on steaming white rice for a nice and hearty lunch.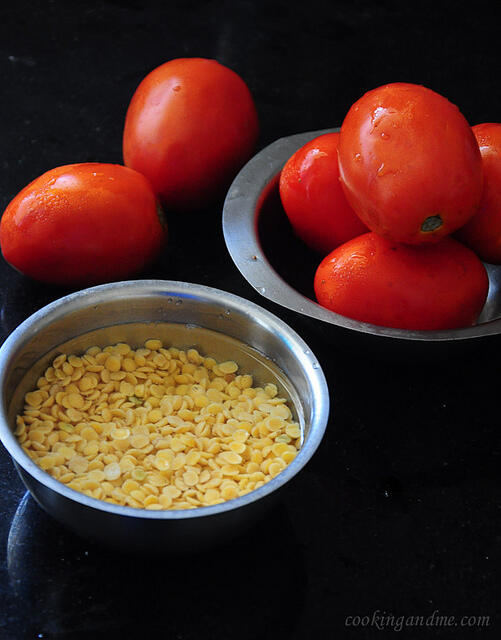 Black granite kitchen top in my MIL's kitchen works so well for food photos!
Tomato Juice Rasam Recipe
Tomato juice rasam recipe or simply juice rasam is a flavourful tomato rasam recipe from Tamil Nadu that uses no tamarind. Perfect to serve as hot soup or poured over rice.
Ingredients
5-6 ripe tomatoes
½ cup cooked, mashed toor dal (about ¼ cup uncooked)
1 heaping teaspoon rasam powder
A generous pinch of hing / asafoetida / perungaayam
A pinch of turmeric
½ tsp jeera / cumin seeds pounded in a pestle and mortar or coarsely ground in a spice grinder
¼ tsp freshly cracked black pepper
Salt to taste
Instructions
Pressure cook the toor dal with enough water until soft and mushy. Mash further with a potato masher to remove any lumps. Set aside.
Chop the tomatoes in small pieces, place in the pan, and add enough water to cover it by an inch.
Add turmeric, sambar powder, hing, and salt and boil for about 15-20 mins until the tomatoes turn soft.
Then, take out the chunky pieces and blend to a smooth paste and return it to the rest of the cooked tomato mixture along with the dal.
Add about 1 to 2 cups more water until rasam reaches the right consistency (not too watery but more soup-like).
Add pepper and cumin powder, bring to boil, and remove from heat.
Garnish with chopped coriander leaves (or you can add curry leaves when you add dal).
Note that my MIL does not temper this rasam but if you'd like to, heat some ghee / oil in a small pan, add mustard seeds and they pop, dunk into the rasam at the final stage.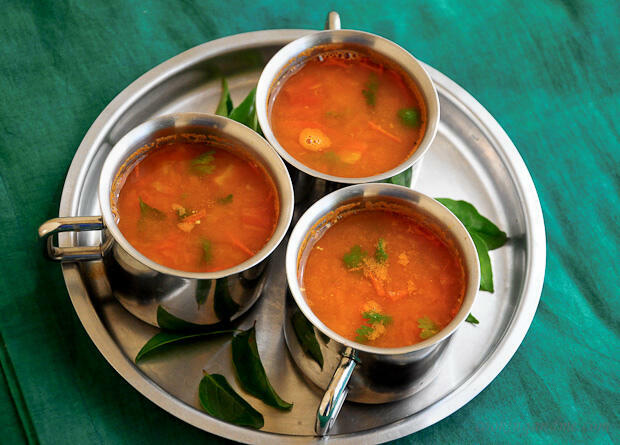 I must add this memory I have associated with the pictures of the tomato juice rasam above. This was made by Amma when I was visiting them this June. I was complaining about the lack of a good spot to take the final pics (the light in the kitchen was bad by afternoon). The balconies had harsh direct sunlight and I explained to Appa (my father-in-law) that that was not ideal. He immediately went and got a sheer white cloth and held it up beside the small table in the bedroom balcony while I clicked a few pictures. Thanks for the support Appa, otherwise this juice rasam recipe would've never shown up here on Edible Garden 🙂