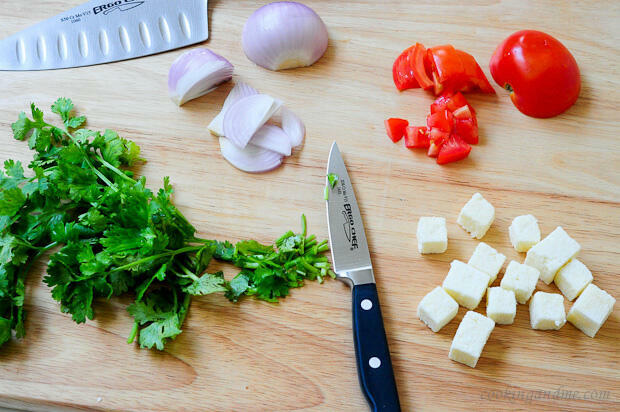 I love knives.
After cooking pots, they are my biggest kitchen obsession and I often try to pick up knives as varied as possible. I did get 2 knives from the US during my recent trip but that's for another post because today I am going to talk to you about Ergo Chef Knives.
Update: I would probably recommend Pure Komachi knives over these. They are cheaper and last equally as long.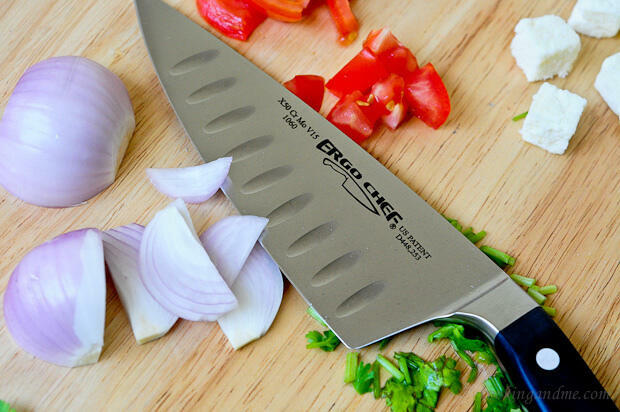 Pros:
– They are gorgeous
– They are ergonomic and that's great for people who spend a lot of time chopping
– They are super sharp, as knives should be
– The cutting blade is very thin and this allows for very smooth and thin slicing. I don't think I have ever sliced onions this pretty before or minced up coriander leaves so fine before
– The knives are heavy at the front so it naturally lends more weight on whatever you are chopping up. That's clever.
– They don't cost a bomb. I have ogled at Wusthof knives for a long time but I just can't afford them at this time. I am not sure how these compare to that brand but honestly, I am happy with Ergo Knives.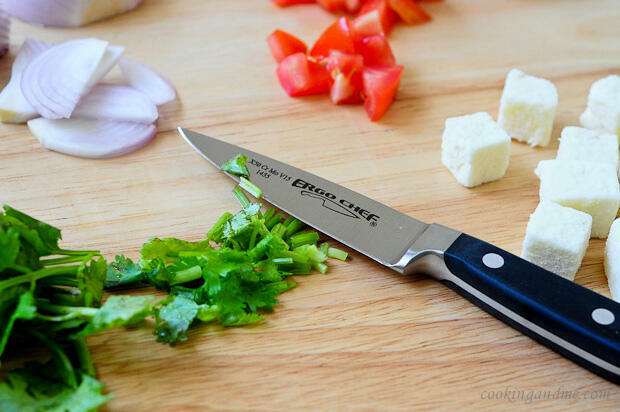 Cons:
– If you like light knives that are easy to hold in hand for chopping (the Kerala way, will post pics soon) or peeling, then the chef knife is too heavy for that job
– They look serious and don't come in colours. May not be a con to you but is somewhat of a boo for me
– You only get them in the US at this time and shipping to your country if you live outside it may prove a bit expensive. But then again, now you know what you can ask your friends and family in Amrika can bring a food-lover like you next time they visit!
Here are the two knives I picked form the website and have been using for the past 2 weeks.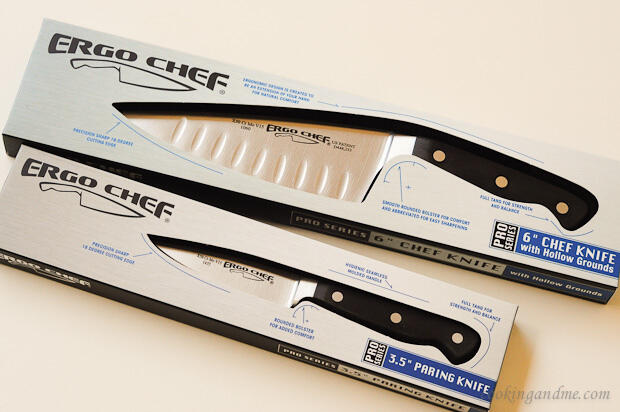 The 6″ Chef Knife and the 3.5″ Paring Knife.
Leave a comment if you have any questions on best uses, or any other details.
**disclosure – I have received no monetary compensation for this post. I did, however, get to pick two knives from the website and got these for free but under no obligation to review or say nice things about. All opinions are honest and my own**