I love chocolate chip cookies. But you know what's better than chocolate chip cookies?
Eggless Chocolate Chip or Chunk Cookies
. The chunks melt while baking and stay gooey while you bite into the cookies – yum!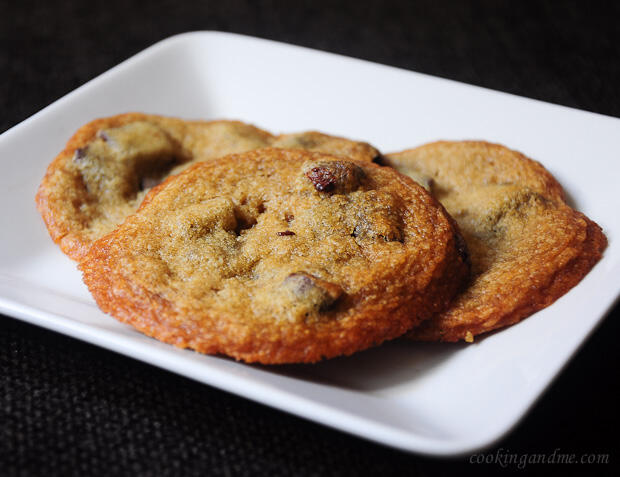 If you are a chocolate addict and love cookies, nothing should stop you from having what you like. That's why these eggless chocolate chunk cookies work really well, they can be eaten by anyone, especially those who don't eat eggs even in the "hidden" form.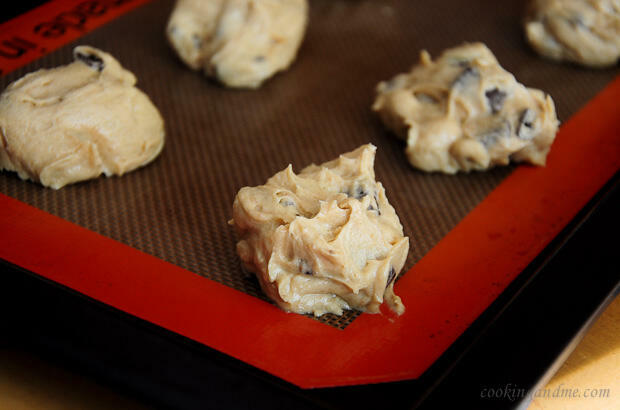 Eggless Chocolate Chip (or Chunk) Cookies
Makes 3 to 4 dozen cookies
Adapted from: A Passion for Baking by Marcy Goldman
Ingredients:
1 cup unsalted butter, softened to room temperature
1 cup firmly packed brown sugar
1/2 cup white sugar
1.5 tsp vanilla extract
2 tbsp flax seed powdered (to replace 2 eggs)
2 cups + 4 tbsp all purpose flour or maida
3/4 tsp baking soda
1/4 tsp salt
1 to 1.5 cups chocolate chunks
(I used Nestle chocolate chunks and love them! You can also use choc chips, but chunks are infinitely better)
How to make Eggless Chocolate Chip Cookies:
1. Preheat oven to 350F/180C. Line baking trays with parchment paper and baking sheets.
2. In a bowl, either by hand or mixer, cream butter and both sugars well together until very smooth (about 3-5 mins). Add vanilla and flax seed powder and mix until well blended. Add the flour, baking soda, and salt to this mixture. Fold well until all ingredients are combined well (you don't need to mix or sift dry ingredients before adding to the wet mixture but you can if you want to).
3. Fold in the chocolate chunks finally. Scoop out using a tablespoon (adding 2 to 3 tbsp per cookie) or small ice cream scoop and place the cookies atleast 2 inches apart on the baking tray.
4. Bake for 12-15 mins until the cookies have flattened out and the edges brown nicely.
The warm cookies are heavenly. Chocolate chunks, unlike chips, melt in the cookies and remain gooey and yummy for as long as the cookies last.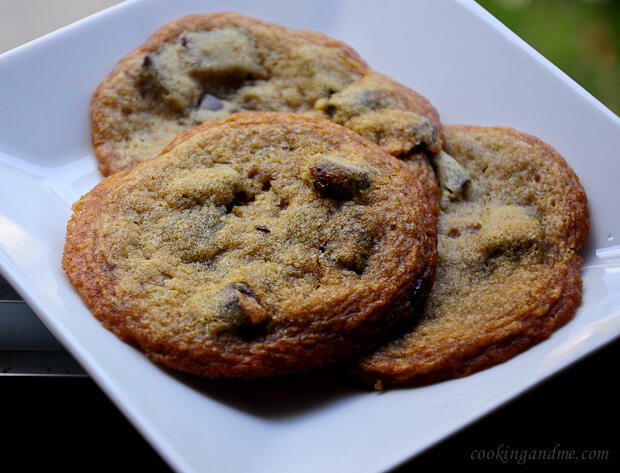 Store
Eggless Chocolate Chunk Cookies
in an air-tight container for up to 4 days.