These mushroom stuffed with cheese recipe has been in my mind forever now. I think I am very smart so what I do occasionally is, read a recipe and if I like it, I read the ingredients again and fool myself into thinking I can remember them all when I go shopping. Here's what happened the last time I did that.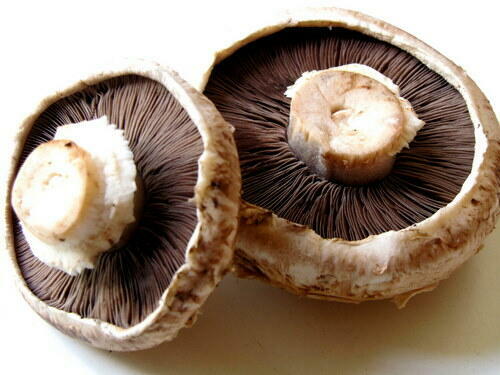 Mini Portobello Mushrooms
I saw this recipe on Pioneer Woman and instantly knew I'll be making it. I read through the ingredients list and thought they were easy, especially since I had some brie left over after making beetroot salad. Turns out that's the only ingredient that's common between her version and mine.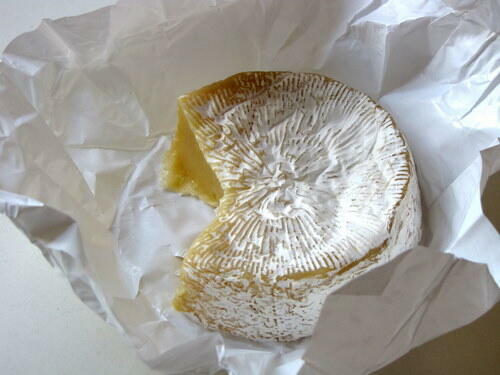 Brie Cheese
She used button mushrooms – I used portobello mushrooms
She used parsley and green onions – I used cilantro (coriander leaves) and totally forgot the green onions
She used brie – I used very little brie and then some mozarella
She didn't use onions – I did
But the bottom line is, this turned out super yummy! Its a quick appetizer and sure to win over any mushroom-lover. You can also make big batches in one go, so its awesome when you are entertaining.
Here's my version of mushrooms stuffed with cheese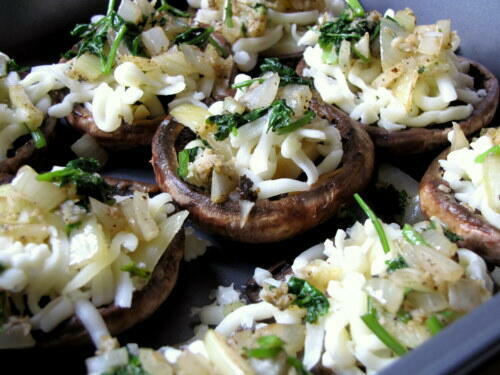 Mushrooms Stuffed with Brie Cheese
Serves 2
Ingredients:
12 mini portobello mushrooms
1 small onion, chopped fine
1 small block of brie cheese
3 tbsp grated mozarella
1/4 – 1/2 cup lightly packed fresh coriander leaves
2 cloves garlic, minced
1 tbsp butter
Salt to taste
How I Made It:
1. Wash and remove the stems from the mushrooms. Pat dry with a dry kitchen napkin.
2. Melt butter in a skillet and add the mushrooms. Sprinkle with some salt and toss them around until well coated with the butter.
3. Arrange these on an oven-proof dish stem side up and set aside.
4. In the same skillet, add minced garlic and onion and fry lightly for 30 seconds. Then add the chopped coriander leaves and sprinkle some salt. Toss around for a minute until the leaves soften. Take care not to fry or burn it.
5. Cut the brie into small squares and lightly press into the mushrooms, where the stems were removed from. Top off each mushroom then with grated mozarella. Finally sprinkle the coriander leaves mixture evenly.
6. Bake in a 180C/350F oven for 15 minutes/until the cheese is melted and soft.
This is one good-tasting appetizer. Its very forgiving so you can use pretty much any meltable cheese and any herb that takes your fancy. And yeah, apparently any kind of mushroom too 🙂