ut class="jpibfi" type="hidden">

I love those small recipe booklets by Neeta Mehta. They are nicely themed and mostly have traditional and easy recipes. This particular one where I got this Matar Khumb recipe has Punjabi recipes that are extremely popular yet I've never tried before, except maybe the

Paneer Butter Masala recipe

.

I've already tried two recipes from the book and loved them both. Here's the first one.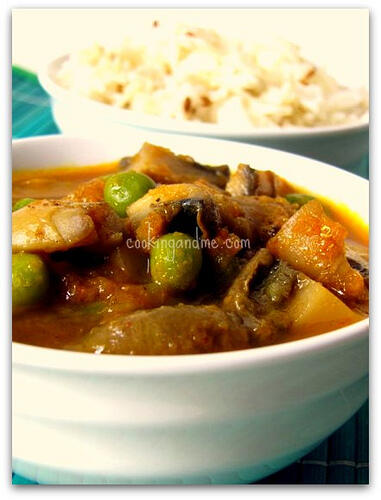 Adapted from Neeta Mehta's Punjabi Recipes

Serves 4




What I Used:

200gm/about 4 cups mushrooms, washed and chopped into 6 (I used white button mushrooms)

1 cup green peas

2 cardamoms/elaichi/elakka

2 cloves/laung/grampoo

1 tbsp dhania powder / malli podi

1 tsp red chilli powder

2 tsp garam masala

A pinch of turmeric powder

4tbsp oil

Grind together to a puree

2 large tomatoes

1 green chilli

Grind together to a paste

1 large onion

6-8 flakes garlic

1″ piece ginger

How I Made It:

1. Heat oil. Add the cardamom and cloves. Fry for 1 min.

3. To this, add the onion-garlic-ginger paste. Cook stirring continuously until light brown. Remove from fire.

4. Add the masalas now – dhania powder, red chilli powder, garam masala and haldi with some salt.

5. Return to low heat and cook for a few seconds. Add 1 tbsp water.

6. Add the tomato-green chilli puree. Cook till dry and oil separates from the gravy (about 10 mins)

7. Next, add the mushrooms and peas. Stir fry for 5 min.

8. Add 2 cups water. Cook on low medium heat for about 15 min till peas turn soft and oil separates. Adjust salt.