Learn how to make instant sambar powder – a sambar powder recipe that can make you instant sambar without having to make dal, tamarind water, etc.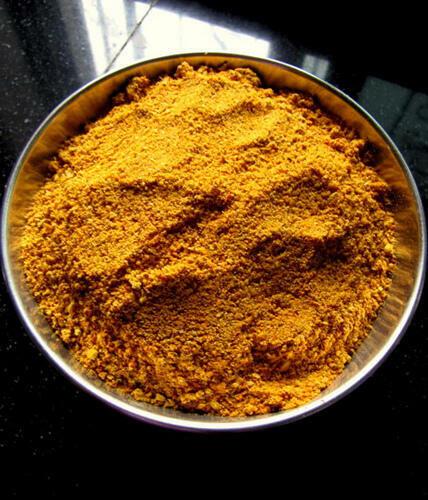 My mom-in-law has three sisters, each of them different and unique in their own ways. During this trip, TH and I stayed in Bombay with her elder sister, Geetha Perima. She is a cooking wiz, makes her own ghee in 10 mins flat, always has pickles, thokku and different kozhambu pastes in her fridge – all homemade, and makes ice-cream which makes one wonder why we ever buy ice cream! She makes all of this seem extremely simple too.
One recipe of hers that immediately caught my attention is the instant sambar powder recipe. Her son is studying in the US and recently, she sent him this powder. All you need to do is add it to boiling water with your choice of vegetable(s) and chopped onions if you like them. The powder has all other ingredients for a sambar, like toor dal, tamarind, chilly powder, hing, etc etc.
Here's how you can make this powder. Great for lazy people, working folks and of course, for you to pack it for your son/daughter who is moving abroad and needs a quick fix of homemade sambar in no time!
Instant Sambar Powder
Makes about 1.5kg sambar powder
Ingredients:
1kg toor dal
100 gm dhania / malli / coriander
25gm channa dal / bengal gram / kadala paruppu
50 gm dry red chillies
10gm fenugreek seeds / uluva / menthayam
A large lime-sized ball of tamarind
2 tbsp whole black pepper
2 tsp jeera
1 tsp hing / asafoetida / perungayam
1 tsp Kashmiri chilli powder (optional, added for the colour)
Instructions:
1. Heat about 2 tsp oil in a pan and lightly fry the red chillies. When they start to brown, remove and set aside to cool.
2. Remove all strings and seeds from the tamarind. Separate into pieces. Add these to the same oil and fry by pressing down, making sure all the sides are roasted. Keep flame low and continue to roast for about 5 mins. It will be very soft at this stage. Drain and set aside to cool. You will find that the tamarind has gone crisp and brittle to touch.
3. The other ingredients don't need to be roasted. Starting with the dal, powder each ingredient separately and keep adding to a big bowl. The tamarind will powder nicely once its cool.
4. Mix all ingredients well with salt. Store in an air tight container and use to make easy and quick sambar.
To Use:
To serve two, boil about 3 glasses water and add 2-3 tbsp of the instant sambar powder. Add chopped vegetables and onions. Let it boil on sim until the vegetables are cooked. Serve hot. This powder will make sambar that's a bit watery. If you want it thicker, also add some cooked toor dal while preparing it.