Kodi Iguru or chicken iguru is a spicy Andhra chicken recipe that has some gravy so it goes really great with rotis and even rice. Kodi iguru used to show up in a lot of Andhra thalis serves in popular restaurants in Hyderabad and that's how I got introduced to it. I miss my single, thali-eating days, you guys. Anyway, this spicy dish is popular and loved by all so why don't you prepare it at home?
So here it goes, Kodi Iguru Recipe from Andhra Pradesh. You may also like this Kerala-style chicken curry or easy chicken curry with coconut milk. Browse all chicken recipes in Edible Garden here.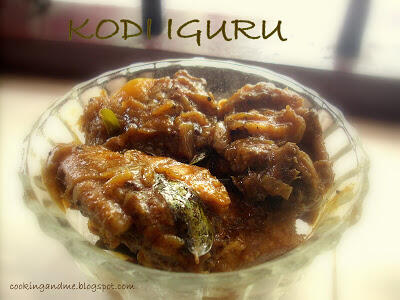 KODI IGURU RECIPE
serves 4
Ingredients:
Chicken – 1 kg, cleaned and cut into small pieces
Onions – 4, sliced
Tomatoes – 2, cubed
Ginger – 2 tbsp, chopped finely
Garlic – 5-6 cloves, minced
For the masala (powder coarsely together)
Cinnamon – a 2" stick
Cardamom – 3
Cloves – 2
Star anise – 3
Dried red chillies – 6
Turmeric powder – ½ tsp
Fennel seeds – 1 tsp
Powdered coriander seeds – 2 tsp
For tempering and garnishing
Curry leaves – 2 sprigs
Mustard seeds – ½ tsp
Chopped coriander leaves (optional)
Oil – 4 tbsp
How to make Kodi Iguru
1. Heat oil in a heavy-bottomed pan and temper the mustard seeds. Then add the onions and curry leaves and fry till the onions turn a dark golden brown. I stop short of burning them, since I like the flavor better then.
2. Next add the ginger and garlic and fry for 10 seconds before adding the ground masala. This mixture needs to be fried for about 2 minutes. Add some oil at this stage if the masala looks too dry.
3. Add the tomatoes and chicken pieces next and stir well. Do NOT add any water. Keep the fire on sim and cook covered for about 15 minutes till the chicken is tender.
4. When you remove the cover, there will be some more water left in the pan. So cook with the cover open till its dry, the masala sticks to the chicken pieces and the oil separates. Keep stirring at this stage, without breaking the chicken pieces.
5. Garnish with chopped coriander leaves.
Serve Kodi Iguru hot with rice.