Gobi and peas are a match made in heaven. Since Gobi takes a while to cook if you use large chunks, this Gobi Kheema Recipe is a great way to cook a delicious side dish for rice or roti with Gobi and fresh (ok, frozen too) Green Peas.I am in Kottayam now and my niece and nephew are visiting too. They are vegetarians and one day there was just
rasam and potato masala
for lunch for them. I quickly looked up this recipe and it turned so so yummy that I am sure to make this again and again.
Gobi Ka Kheema Recipe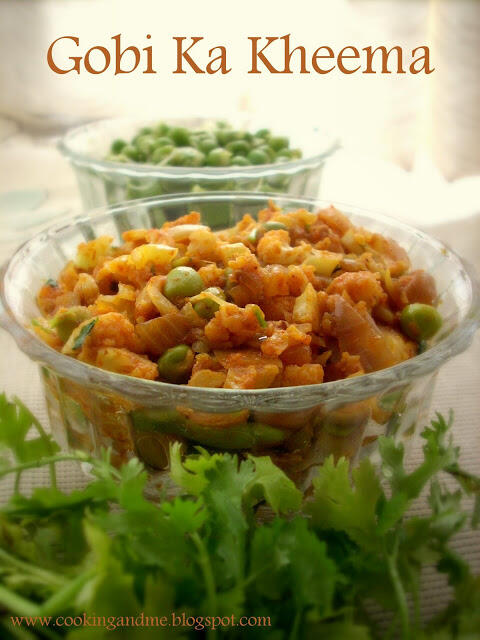 Ingredients:
(serves 4)
Cauliflower – 1 medium, cleaned and chopped fine
Bay leaves – 1-2
Cumin seeds – 1/2 tsp
Onions – 2 medium, chopped fine
Ginger garlic paste – 2 tsp
Tomatoes – 3 big, pureed
Peas – 1/4 cup, boiled
Red chilli powder – 1 tsp
Garam masala – 2 tsp
Salt – to taste
Oil – 3 tsp + 2 tsp
Instructions:
1. Heat 3 tsp oil in a pan and fry the chopped cauliflower till its semi-fried and golden brown.
2. Simultaneously, boil the peas till its cooked. Keep both aside.
3. Heat the 2 tsp oil in a pan and fry the onions till golden brown. Add the red chilli powder and the garam masala and fry for a minute.
4. Now add the ginger garlic paste and fry for another 30 seconds.
5. Add the pureed tomatoes and the peas. Mix well.
6. Now add the fried cauliflower and mix again till the moisture from the tomatoes leaves the curry.
7. Add salt and remove from fire when the curry is thick enough and the ingredients have blended perfectly.
8. Garnish with freshly chopped cilantro.
We had it with rice but next time I intend to make it as a side to chappathis. It was really yummy!