Omelette Curry is a fun and innovate Indian dish with eggs. My fiance is an eggetarian, so any recipe that is innovative and uses eggs in it is something I always give a shot. My grandmom used to make a variation with lentils added to the omelette and in a coconut based gravy. This is a much simpler version, but once I figure that one out, I will be blogging it too 🙂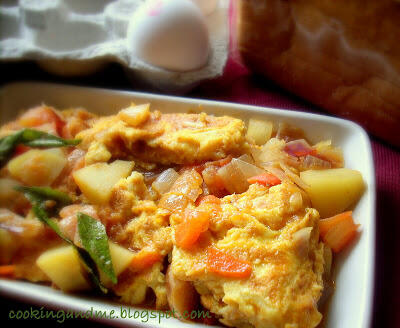 Omelette Curry – Omelette with Gravy
Ingredients:
For the omelettes:
Eggs – 4
Ginger garlic paste – 2 tsp
Red chilli powder – 1 tsp
Turmeric powder – a pinch (optional)
Shallots – 5, finely chopped
Salt – 1 tsp, or to taste
For the gravy:
Tomatoes – 2 big, cubed
Onions – 2 big, chopped
Potato – 1, cubed
Green chillies – 3
Jeera powder – 2 tsp
Coriander powder – 2 tsp
For tempering:
Mustard seeds – 1 tsp
Oil – 2 tbsp
Curry leaves – a few
How to Make Omelette Curry:
1. Beat the eggs lightly with all the ingredients for the omelette.
2. Depending on the pan size, make one thick omelette or as two separate omelettes. The omelettes should be thicker than usual, so that it doesn't dissolve or break off in the gravy when we mix it in.
3. Cut the omelette into smaller pieces and keep aside.
4. Heat the oil in a pan and temper mustard seeds. Throw in the curry leaves and the chopped onions and saute till transparent.
5. Add the jeera, coriander, chopped green chillies and fry for a minute. Add the potatoes and tomatoes with a bit of water and cook closed, till the potatoes are tender and done.
6. Now add the cut omelette pieces, mix gently and remove from fire.
Let the omelettes soak for an hour or two before serving with hot rice.
Other Egg Recipes on Edible Garden:
Pizza Omelette
Egg Dosa
Kerala Style Egg Roast