When Sig announces an event, there is no way I am going to miss it. She has been ever supportive in all my events and even otherwise, when I email her with really silly questions and doubts about blogging. March has been an incredibly eventful month for me so I was almost expecting to miss out on MBP this time. The other day I was randomly browsing through Sailu's blog and chanced upon this wonderfully refreshing drink – Majjige or Sambaram as well it in Malayalam – that fit in perfectly with the weather.
The merciless Hyderabad summer has started and temperatures can sore to upto 38 degrees centrigrade. There is no escaping it and weekends are even more horrid cuz you just don't feel like stepping out of the house. Moreover, it differs from the Kerala summers to which I am used to. In Hyderabad, its hot, but not humid. The sun will scorch your skin and leave you completely dehydrated.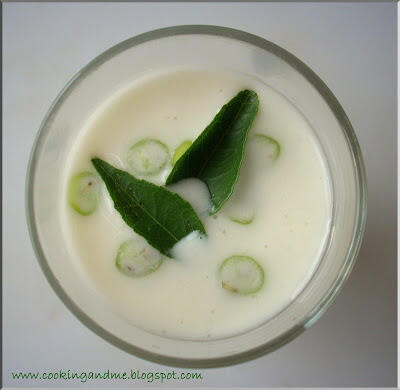 Buttermilk is known for its hydrating and refreshing properties. In Kerala, traditional Nair families used to give mildly spiced buttermilk or Sambharam to their guests. Even Christian families are known to have pacha moru (spiced salted buttermilk) or kachiya moru (buttermilk tempered with chillies and curry leaves) with their lunch. Buttermilk is known as Majjige in Telugu, Majjige Huli in Kannada, simply Mor in Tamil and Sambharam in Malayalam.
I enjoyed this refreshing drink on a hot summer afternoon, around 2pm in the afternoon. It was so refreshing that I felt like just relaxing and taking a nap after it.
How to Make Sambaram or Kerala-Style Spiced Buttermilk
2 glasses of buttermilk (made from 4 parts water and 1 part curds)
1 green chilli finely chopped
½" ginger piece grated
few curry leaves
salt to taste
Mix all the above ingredients and chill. Serve cold.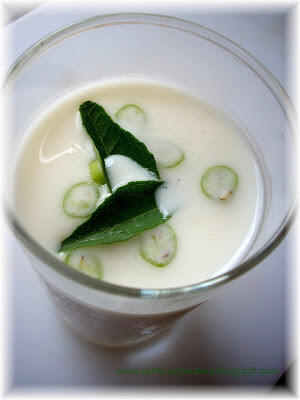 Try some Sambaram this summer and keep yourself hydrated and refreshed.