I am surprised I am sharing a dessert recipe with papaya today. It's not even a favourite among the many fruits available out there. But contrary to what we may have thought about this modest fruit, its loaded with nutrients too. We have always had papaya trees around our house wherever we lived in Kottayam and it was normally cut up and had with breakfast or at tea time but I never knew how nutritious this fruit really is.
Lets see what whfoods.com has to say: Papayas offer not only the luscious taste and sunlit color of the tropics, but are rich sources of antioxidant nutrients such as carotenes, vitamin C and flavonoids; the B vitamins, folate and pantothenic acid; and the minerals, potassium and magnesium; and fiber. Together, these nutrients promote the health of the cardiovascular system and also provide protection against colon cancer.
Now do you need more reasons to start 'cooking' up recipes with this wonder fruit also known as 'fruit of the angels?'.
Papaya Burfi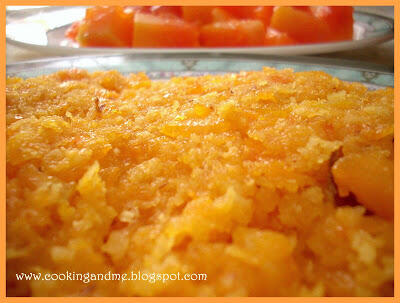 Ingredients:
Grated ripe papaya – 1 cup
Coconut – 1 cup
Sugar – 1/2 cup, adjust according to taste
Milk powder – 2 tbsp
Cardamom powder – a pinch
Ghee – 4 tbsp
How to Make Papaya Burfi:
1. Heat ghee in a kadai and add the grated papaya. Cook well, stirring continuously for 4-5 mins. It becomes a mushy pulp that starts leaving the sides of the kadai.
2. Add coconut and sugar and stir well for another 3-4 mins.
3. Mix in the milk powder and cardamom and remove from fire.
4. Place the burfi, when warm itself, on a flat plate and press well. Let it cool. Cut into squares and serve.
I didn't even get a chance to cut it into squares. My mom and uncle helped themselves with spoons directly from the plate 🙂