I made this
vellarikka parippu curry
(
cucumber dal curry
) last month when I had invited a fried and her grandmom for lunch, which was me reciprocating for all the dinners I had at their place the previous week. It is simple, easy, protein-rich and requires minimum amount of oil since the little amount of added coconut gives it a nice flavour.
Split yellow peas or moong dal is considered one of the most healthiest foods in the world and Indian cuisine uses it extensively, be it North, South, East or West. Kerala Cuisine is definitely not as lentil-rich as its northern counterparts, but there are some wholesome curries which use minimum oil and are still protein-rich.
Also check out Kerala Parippu Curry that's used for Onam and wedding sadya.
Vellarikka Parippu Curry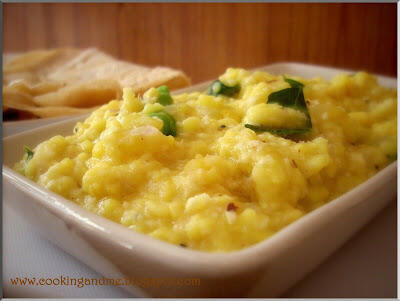 Serves : 2
Yellow split peas/split moong dal/mung dal/Cheru payar – 1 cup
Cubed cucumber/squash – 1/2 cup
Turmeric powder – one pinch
Grated coconut – 1/4 cup
Shallots – 4-5
Green chillies – 3
Hing – one pinch
Jeera powder – 1 tsp
Mustard seeds – for tempering
Curry leaves – one strand
Salt – to taste
Oil – 2 tsp
How to make Parippu Curry:
1. Pressure cook the dal, cucumber and turmeric with just enough water to cover it. I let it cook for 3 whistles since I like it cooked well.
2. Heat oil and cackle mustard seeds. Fry the shallots, split green chillies, jeera and hing for 2-3 mins. Then add the coconut and mix well.
3. Add the cooked dal to the above mixture, stir in well, add salt, season with curry leaves and serve hot.
I served this with wheat dosa since me and my friend were on a minimin-rice diet and preferred whole wheat food.
*Notes*
– moong dal may be replaced with toor dal but the taste changes noticeably.
– I made this with cucumber but my friend tells me using squash doesn't change the flavour much so feel free to experiment.