The Christmas spirit is really beginning to settle in with carol practices and white gifts and
fruit cakes
and cookies all around. I have a list of events happening in the food blogosphere this month and the one thing that has been upmost in my mind is Susan of Food Blogga's event, 'Eat Christmas Cookies'. I mean, when else do you eat them.
I haven't baked much cookies in my life. The one recipe that clearly comes to my mind is the butter cookies I used to make often when I was in college. It called for copious amounts of butter so I was on the lookout for a low fat Xmas cookie recipe. These cookies came out nice and crunchy and yummy. I halved the ingredients amount.
Christmas Sugar Cookies | Christmas Cookie Recipes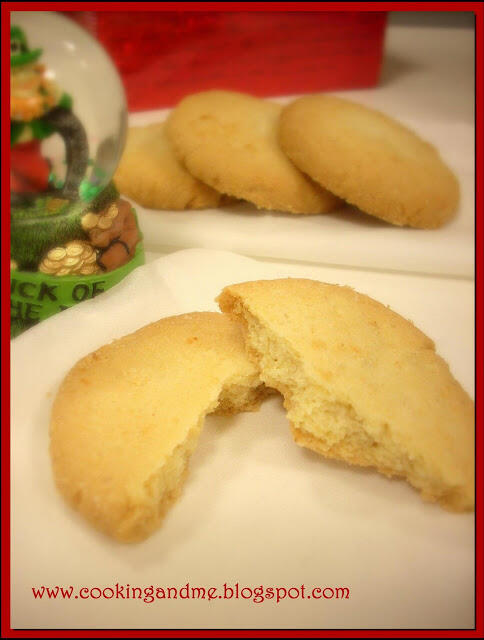 Makes 15 medium-sized sugar cookies
What I Used:
Softened butter – 2.5 tbsp
Sugar – 5 tbsp (Add more if you like sweet cookies, after all they are called sugar cookies!)
Egg – 1
Flour – 1 cup
Baking powder – 1/2 tsp
Vanilla essence – 1/2 tsp
Salt – one pinch
How to make Christmas Cookies:
1. Sift flour, salt and baking powder till all three have mixed properly.
2. Cream butter and sugar.
3. Slowly add the lightly beaten egg and the flour mix to this to make a dough that will be slightly crumbly.
4. Wrap in a plastic sheet and refrigerate for 2 hours.
5. Once cool, roll out the dough and cut into desired shapes. I dont have any cookie cutters so I made smal balls and flattened them out with my hand. I also sprinkled some sugar on top before baking.
6. Preheat oven and bake the cookies at 350 degree F/180 degree C. They were done in 8-10 mins, so stick around!