Peas and Gobi are a match made in heaven. If you add the right spices, this dish can really be elevated to a fantastic side dish for pulao, rotis, and chapatis. I was on a bit of a cooking hiatus for a while and wanted a simple yet tasty dish to get my groove back. I am also a fan of quick recipes that matches my cooking style and also gives me more time to just laze around and do nothing on a weekend.
Anyway, I am trying revive myself out of the hiatus with this quickie cauliflower peas recipes.
You may also like gobi manchurian gravy recipe, gobi biryani recipe, dry cauliflower manchurian, and this easy gobi paratha recipe.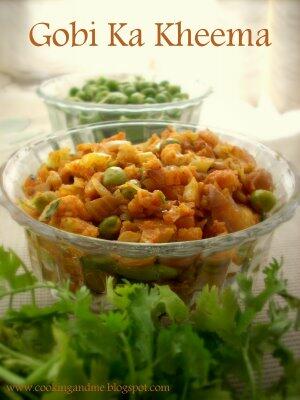 Gobi Peas Masala Recipe
Ingredients:
Cauliflower – one medium, chopped into fine pieces
Peas – 1/2 cup
Onions – 2 large
Tomatoes – 2
Ginger garlic paste – 2 tbsp
Green chillies – 4
Chicken masala – 2 tbsp
Chilly powder – 2 tsp
Turmeric – 1/4 tsp
Oil – 3 tbsp
Salt – to taste
Instructions:
1. Saute the onions in the oil, with some added salt, till golden brown.
2. Add the ginger garlic paste and the masala, along with green chillies. Fry well for 3-4 mins.
3. Next, add the cauliflower, peas and tomatoes and mix well. I like the gobi in small pieces so I chopped it up finely.
4. Add 1/5 cups water and cook closed.
5. Adjust salt to taste. For added taste, also add one pinch sugar.
It tasted fine but lacked the rich colour that I have normally seen in gobi peas masala. Please let me know what you do differently. This was just a quick fix for lunch on Saturday.