Fact: Pepper rasam is great for a sore throat. I had a terribly sore throat last weekend and roaming around entire day Saturday for a friend's birthday, didn't help it much. Sunday morning, I felt all crappy and grumbly. I started craving hot pepper rasam right about then. There were no vegetables in the house and we were too lazy to go out and get any. That's when the potatoes came handy. Quickly whipped up a lunch of pepper rasam, potato masala and rice. I have also shared my MIL's version of
pepper rasam recipe
for those of you who want a Brahmin-style rasam recipe. You can also find an easy
instant tomato rasam recipe
here, or, just browse all
rasam recipes
to find your favourite.
Pepper Rasam Recipe
Ingredients for Pepper Rasam:
Tamarind paste – 1 tbsp
Freshly ground peppercorns – 1 tsp
Garlic – 5-6 cloves, freshly pounded
Rasam powder (I am currently using MTR) – 1.5 tbsp
Water – as required
Salt – to taste
Fresh coriander leaves – for seasoning
Curry leaves – one strand
How to Make Pepper Rasam:


1. Heat oil and temper with mustard seeds and fenugreek seeds. I love the smell of fenugreek seeds as they are roasted. Make sure they are not burnt at this stage. Add the garlic and fry for a minute.
2. Then add the curry leaves and the rasam powder, fry for a good 2 minutes.
3. Add necessary amount of water and when it heats up, add the tamarind paste and stir well. When the water boils, add the pepper.
4. Don't boil for too long. Add salt, remove from fire and season with coriander leaves.
Pepper is ideal when we have a bad throat or a cold. I always crave rasam when I am feeling feverish. With rice, its not really a favourite.
Potato Masala-Aloo Masala Recipe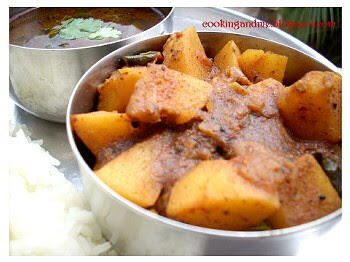 I made it exactly the way we make Kerala egg curry. Boil the potatoes and add it on just you do with the eggs. We love that gravy and though its not the best combination with rasam, we still enjoyed it.