I love egg, be it omelette, or curried, or hard boiled, or even on a dosa! (Only exception being bull's eye). Egg dosa is a favourite at home and normally we have it for dinner. Last week, we had this for breakfast though, with spicy onion-tomato chutney. Mom either makes tomato chutney or onion chutney but both are a little time consuming, especially the tomato chutney which requires a lot of time on the stove and when it boils, it falls all over the stove, dirtying it. Needless to say, I am too lazy to follow that so went for an equal amount of tomatoes and onions for this chutney.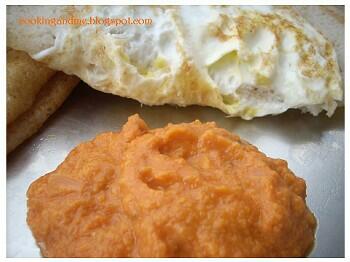 Egg Dosa with Onion Tomato Chutney
Egg Dosa Recipe
I used readymade batter for the dosa. To make the batter at home, take rice : urad dhal in 3 : 1 ratio, soak overnight (or atleast 5-6 hours) in water separately, grind separately and then mix together, adding salt. This batter should be kept covered for another 5 hours or so before you can start making the dosa. You can check this detailed post for how to make dosa batter at home.
Using this batter, pour a dosa on the griddle, break an egg and lay on top of dosa. Lightly sprinkle with gingelly oil, carefully turn and cook till the egg is cooked. I have a new and improved version of onion tomato chutney recipe but you can also follow the below recipe. Both are delicious.
Onion – Tomato Chutney Recipe
Ingredients:
Onions – 2 medium
Tomatoes – 2 large
Hing – 1 pinch
Red Chillies – 4-5
Garlic – 3 cloves
Instructions:
1. Fry onions in very little oil till it they turn golden brown.
2. Add the red chillies, hing and chopped garlic.
3. When the masala is done, add the chopped tomatoes, mix well and cook till the tomatoes are soft.
4. Cool this mixture and grind well in a coffee grinder or blender.
Serve with hot egg dosa.