I love litchis (lichi or lychees) and have been wanting to make something with it for a long time. I went crazy looking for a recipe with litchi in it. I found quite a few on the Internet. But then came the search for lychees. Since the season time is over, I had to be happy with lychee juice. I used it to make a tangy cooler paired with one of my favourite flavours – lemon!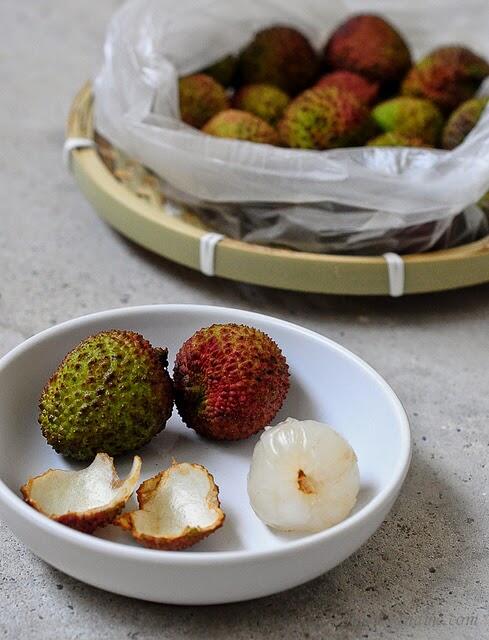 Fresh Lychees
In Hyderabad, I haven't seen fresh lychees but after moving to Singapore, the wet markets are full of seasonal fruits that are especially brilliant during summer. Mangoes make a parade during April/June, and then lychees from China start to show up. While using fresh lychee juice would taste amazing in this lemonade, packaged lychee juice woks in a pinch too.

LYCHEE LEMONADE RECIPE
Ingredients:
Lychee juice – 250 ml
Fresh lime syrup – 2-3 tsp (mix 2 tbsp lime juice + 5 tbsp sugar and use as required)
Ginger – 1/2 tsp, skinned and shredded
Salt – one pinch
How to Make:
Mix all the ingredients and serve cool and fresh. This will not taste good when refrigerated cuz the lime emits a bitter taste with the passage of time. (I learnt that the hard way!)
Lemonade is a great drink during hot summer drinks to keep our bodies hydrated. You can give many flavours to lemonade like this blueberry lemonade I made recently.