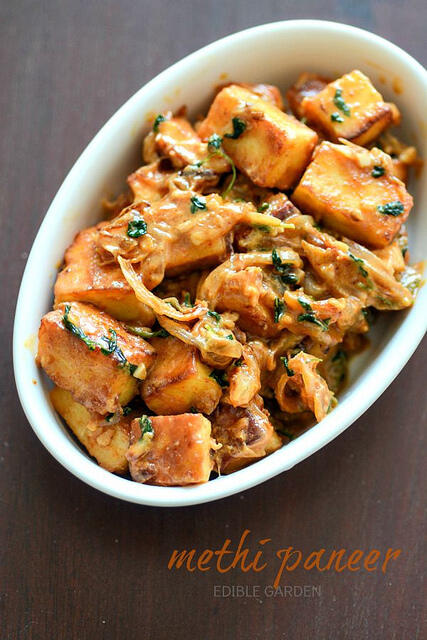 Learn how to make dry methi paneer, a delicious side dish recipe with paneer and fresh methi leaves.
I have an edible balcony garden, you guys. Actually, calling it a garden is a bit of a stretch but I do have a few gorgeous things growing there like methi leaves, okra, coriander leaves, carrot, cherry tomatoes, curry leaves, chillies, basil, and jasmine.
Here's a picture, see if you can spot all the plants I mentioned in the picture below.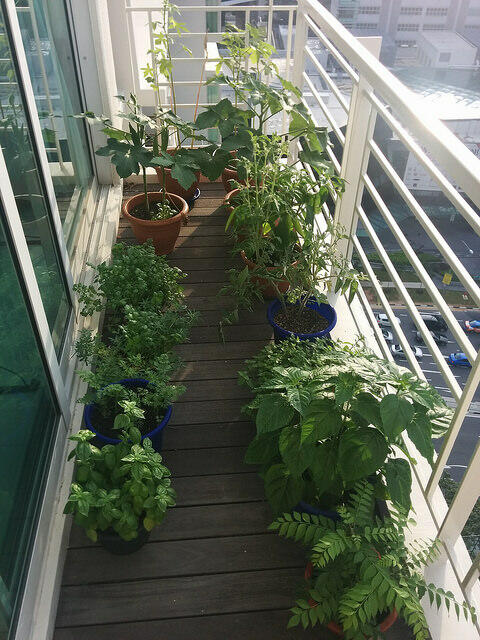 My balcony garden – picture taken on my phone
Methi is incredibly easy to grow. For my first batch, I just sowed some fenugreek seeds from my kitchen spice jar and had fresh leaves within a few weeks. While it wasn't enough to make a dish of its own, I had enough fresh methi to make this methi paneer, a semi-dry dish that went nicely with roti and dal fry.
Love paneer? Try:
Tomato paneer pulao
Matar paneer
Paneer shashlik
Palak paneer
Paneer payasam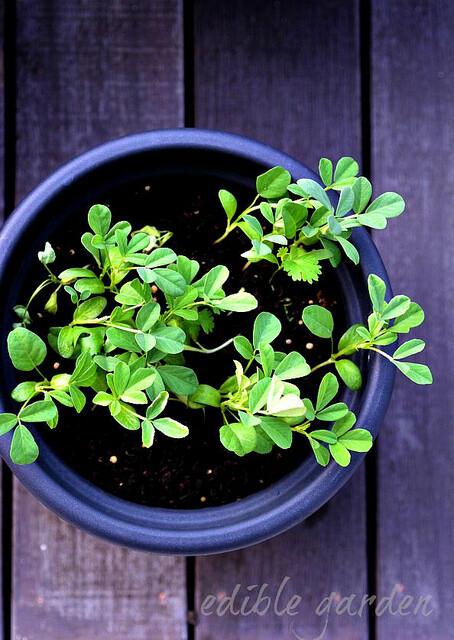 Fresh homegrown methi
For more pictures of my balcony garden and edible gardening journey in Singapore, please follow me on Instagram.
This is also the first time I tried frying paneer and then dunking it into warm water to keep them soft. I see this tip in almost all paneer recipes I see but had never tried it before. Verdict? It works but not as well as I had imagined. If you refrigerate paneer, it will turn hard so some gentle warming is definitely a good idea. Also, the excess oil floats into the water so it's not a bad move, all things considered.
DRY METHI PANEER RECIPE
Preparation time: 10 minutes
Cooking time: 20 minutes
Serves 2-3
INGREDIENTS:
2 cups of paneer cubes
1 cup of fresh methi leaves
1/2 tsp of cumin seeds (jeera)
1/2 cup of finely chopped onions
1 tsp of ginger garlic paste
1 tsp of coriander powder
1/2 tsp of red chilli powder (adjust to taste)
1/4 tsp of amchoor powder (or juice of half a lime)
1 cup of milk
2 tbsp of oil
1/4 tsp of methi seeds
INSTRUCTIONS:
If using fresh paneer, refrigerate for at least 30 mins so it's firm before pan frying. If using frozen paneer, defrost completely before proceeding
Heat the oil in a pan and shallow fry the paneer pieces until golden brown
Dunk them into a bowl of warm water directly from the pan
Let them soak in the water while you proceed with the rest of the recipe
In the same oil used to fry the paneer, add the cumin and fenugreek seeds
When they sizzle, add the onions and saute until light golden brown
Now add the ginger garlic paste and saute again for a minute or so until fragrant
Drain the paneer and squeeze out excess water. Add to the above along with the methi leaves, chilli powder, coriander, and amchoor (if using), and salt
Sauté and let the spices cook for a minute
Now add the milk and let it simmer in the gravy for a minute or two
Let the gravy cook down until it coats the paneer pieces. Adjust salt if needed and add a pinch of sugar (optional) to enhance the flavours
Step by step pictures to make methi paneer:
Heat oil in a pan and fry the paneer cubes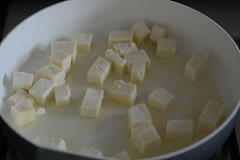 until golden brown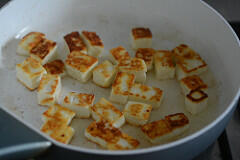 Drain and drop them into a bowl of warm water and set aside. This will ensure that the paneer pieces remain moist and don't become rubbery on further cooking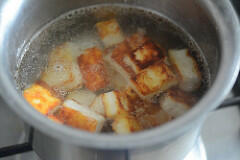 In the same pan with the oil, add the cumin and fenugreek seeds. When the cumin starts to sizzle, add the sliced onions. Fry until golden brown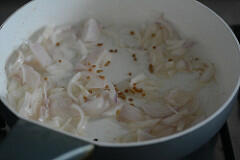 Add the ginger garlic paste and sauté for a minute or so until fragrant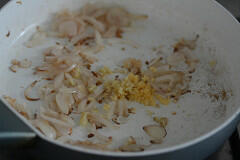 Drain the paneer and squeeze out excess water. Add to the above along with the methi leaves, chilli powder, coriander, and amchoor (if using), and salt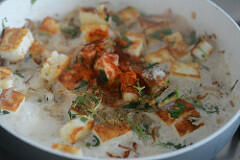 Now add the milk and let it simmer in the gravy for a minute or two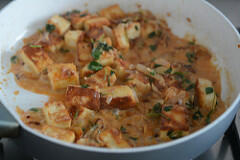 Let the gravy cook down until it coats the paneer pieces. Adjust salt if needed and add a pinch of sugar (optional) to enhance the flavours. You are all done. Remove from heat and serve warm with roti or rice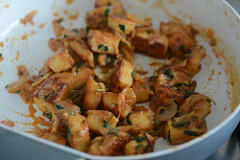 Note:
I made the methi paneer more of a dry version so if you want more gravy, you can add more milk, cream, coconut milk, cashew paste, etc